theartsdesk Q&A: Actress Greta Gerwig |

reviews, news & interviews
theartsdesk Q&A: Actress Greta Gerwig
theartsdesk Q&A: Actress Greta Gerwig
The former queen of mumblecore is playing her cards right
Greta Gerwig has been sneaking up on us for a while now, a star waiting to happen. If this were the Seventies, it would have happened already, since that was a decade when Gerwig's kind of effortlessly natural eccentricity was wholeheartedly embraced; it was when, indeed, the young Gerwig's role model Diane Keaton came to prominence, as Woody Allen's muse and onscreen foil. Gerwig, a writer and director as well as actress, certainly has the chops to be another Keaton.
The 28-year-old was born in Sacramento, California. She studied ballet until her early teens, performing with the Sacramento Ballet (including the lead in The Nutcracker). While in high school she began acting, with a preference for musicals. She switched coasts when she attended Columbia University's prestigious, all-girl Barnard College on a scholarship, where she studied English and Philosophy, while also acting and writing plays. A year after graduating, in 2006, she co-wrote and starred in Joe Swanberg's Hannah Takes the Stairs, and entered the world of "mumblecore", which is where we first got wind of her.
I have a great love for the giant Hollywood movie, as well as tiny, strange art house films. I think both are equally me
Mumblecore was the mini-movement of American independent films in the 2000s, whose directors included Swanberg, the Duplass Brothers, Andrew Bujalski and Lynn Shelton, films made on a shoestring, in an improvisational and hyper-realist style and with an often amusingly embarrassing honesty about the emotional inadequacies of their twenty-something characters. As a writer, star and, with Nights and Weekends, co-director, Gerwig became the poster girl for the mumblecores (all of whom, not surprisingly, hated the tag). It wasn't long before she stepped up to mainstream cinema with roles in Greenberg (opposite Ben Stiller), No Strings Attached (Natalie Portman) and Arthur (Russell Brand), scene-stealing from all of her more established co-stars.
It was only a matter of time before Woody Allen came calling. Gerwig has a role in his latest starry ensemble, in To Rome With Love, which is expected to premier at the Cannes film festival next month. She is currently to be seen in London in Damsels in Distress. This wonderfully oddball comedy is written and directed by Whit Stillman, whose literate and wry tales of young, well-heeled Manhattanites – Metropolitan and The Last Days of Disco – have attracted comparisons with Allen.
Gerwig plays Violet, leader of a quartet of philanthropic East Coast college girls, whose mission is to quell the suicidal tendencies of fellow students who can't stop throwing themselves off the frat house roof.
DEMETRIOS MATHEOU: Whit Stillman's films have a very particular tone. One might even say they're an acquired taste. Were you aware of his work and what did you make of it?
GRETA GERWIG: I've always loved his films. Metropolitan is one of my favourites. I'm a huge fan of what he does. It's very identifiably Whit. Actually, this is one of those strange coincidences, I had just put together a list of directors I would do anything for, as small a part as they wanted. He was on the list, but I knew he'd not made a film in a long time. Then two weeks later my agent called me and said 'You'll never guess who's making a film.'
Although you're from California, you actually when to an East Coast college yourself.
Seven Oaks, the college in the film, is a co-ed, and I went to an all-girl's college. But yes, these are liberal arts colleges of a type that only exists on the East Coast. My experience was not like this movie, but that was the world in which I went to college.
So did you have a pack of girls you hung out with? And are you still in touch?
Oh yeah. They're six of us. They are like my family by choice. And they all live in New York, as I do, doing different and interesting things.
Violet is an odd creature – so self-assured on the outside, but a bit of a mess.
Violet is convinced that she's right about certain things, but she's also pathologically open to being wrong. She's a glutton for punishment – she almost seeks disapproval so that she can improve herself, which I think is very funny.
The tone of the dialogue is incredibly deadpan, almost flat. Was that inherent in the script, or did it develop on set?
I always tended to start each take bigger, more animated and crazier, and Whit would always stay, 'Whatever you're doing, stop'. Because what they're saying is often so heightened, he really wanted there to be a kind of muted sincerity to the tone of the performances. And he really guided us there. I think if I had directed myself it would have been over the top.
Bearing in mind she's a pretty decent person beneath this strange veneer, was it difficult to play it like that? These girls are a little like Stepford Wives.
Well I found that doing the 'big' version first was useful, because then I actually knew what that feels like. Then you can bring it down and still have that emotion inside. I also think the character is so mannered and so layered – and such a liar – that the style works really well. She is kind of Stepfordy; she's smart, and has reinvented herself, but is also a little lobotomised, in a way, because she wants to be this perfect, plastic, moulded thing.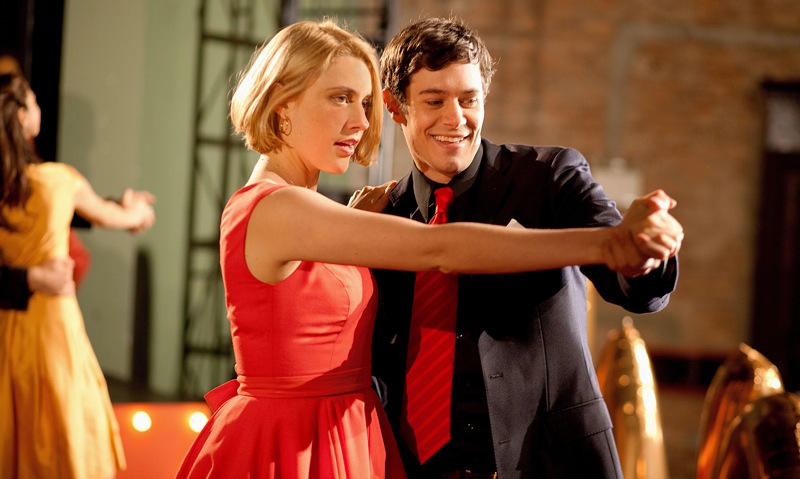 Dance features a lot in the movie, including Violet's invented dance craze, the Sambola. Is there a song and dance girl in there, waiting to burst out?
No question. I grew up singing and dancing. I really love musicals, the old Songbook musicals – Rogers and Hart, Rogers and Hammerstein – and pretty much everything Stephen Sondheim has done. My favourite movie musical is Singing in the Rain. It's so glorious.
Were you were tap dancing for real in the film?
Yeah. I actually tap danced for the audition. They were saying, 'You don't have to do that!'
You've moved on from mumblecore. How do you look back on those films now?
Really, the group of films that people call mumblecore happened over a period of a year and a half, four of five years ago now. I'm very proud of them, because I think they were brave and strange, and exciting to make. At the same time, I don't actually connect as much with the aesthetic and the storytelling of those films – I prefer written sentences! But I think everyone has the thing that they are associated with early on, and I'm really happy that it's that.
How do you compare studio productions like Arthur and No Strings Attached to independent films like the mumblecores, or this?
I have a great love for the giant Hollywood movie, as well as tiny, strange art house films. I think both are equally me. The biggest difference making studio movies is that they have more voices, more people creatively contributing, whereas a movie like Damsels in Distress is all Whit, and his vision. It's much more singular.
I like working with directors who are very specific, especially when they have a weird vision – it's like you're sinking into their unconscious. I think directors more than anything are world builders, and with each movie they're building a little imaginary world, with its own music and books and visual references, which they think is a part of who they are. And you get to live in it.
Would you say you're a West Coast person with an East Coast personality?
Yes, I would. And I think if you don't grow up on the East Coast, you want to be part of it that much more. I think New York and the East Coast are partly made up of people who are doing the reverse of what people did in the 19th century – they seek their fortune east. I was attracted by that tradition of art and filmmaking and theatre.
Are you part of a creative community in New York?
A lot of my friends in the city are filmmakers and writers and actors. It's a pretty small community, and everyone knows each other. There are never that many productions at one time, so it does feel like it's own world and everyone's in it together.
And of course one of the greatest chroniclers of the city on screen is a hero of yours, Woody Allen.
There's almost no-one who has influenced my life trajectory more than him. I grew up in California idolising Woody Allen and his films about New York. That's why I moved to the city and dressed like Diane Keaton – I really did try to be Annie Hall, to create experiences that were like hers. I read books because he mentioned them and sought out his favourite films, like The Sorrow and the Pity. Woody gave me a guide book to a life I didn't have.
What's your favourite moment from one of his films?
It's so small, and I find it so touching. In Manhattan, when he leaves Mariel Hemingway, Tracy, and he tells her he's going to date someone else. They're in a soda shop and she's drinking a milkshake or something, and he's like, 'You know, you go date Bobby or Billy or whoever'. And she just says, with such purity, 'You've found someone you like better than me?' I just thought, he's so witty and so funny, but this was this distilled moment of innocence.
How was it to finally meet him?
Nerve-wracking. I had heard from so many people that when he meets you for a role it's really fast – you just walk in and he looks at you and sort of says 'thanks and goodbye' and you either get the part or you don't. And I talked to him for probably under two minutes, and then he said 'thanks, bye'. But then he wanted me to actually audition for him, which I have never heard happening. So I went in and acted for him, and he gave me direction, and I thought this was a sure sign of never getting the part. But I did.
It was the thrill of my life to meet him and to work with him. But it's very surreal to meet the person who you realise you've based most of your life decisions around.
Did you tell him that?
No, I didn't tell him that! I would just come off as a stalker.
I like working with directors who are very specific, especially when they have a weird vision – it's like you're sinking into their unconscious
Explore topics
Share this article