The Way Way Back |

reviews, news & interviews
The Way Way Back
The Way Way Back
A witty and perceptive coming-of-age story from the writers of The Descendants
Wednesday, 28 August 2013
'I get by with a little help from my friends': Liam James leans on pal Sam Rockwell in 'The Way Way Back'
Coming-of-age films have frequently featured inebriated antics and ill-advised hook-ups, but it's usually the teenagers behaving badly. The Way Way Back sees a family decamp to an East Coast beach house for a summer vacation described witheringly by one teen as "Spring Break for adults". The film is the directorial debut of Nat Faxon and Jim Rash (two of the Oscar-winning screenwriters of The Descendants), who also pen the excellent screenplay and take supporting roles.
Duncan (Liam James) is a painfully shy 14-year-old from Albany who hangs uncomfortably in his own skin and can't seem to shrink enough to avoid attracting attention. His adolescent's lot is compounded by the presence of his mother's boyfriend, Trent (Steve Carell, playing against type), a passive-aggressive bully with a daughter from a previous marriage, Steph (Zoe Levin). Though her taste in men is questionable, Duncan's mother Pam (Toni Collette) at least seems sweet. When this new, ill-fitting family arrive at Trent's summer house, they set down amongst regular holidaymakers Betty (a fantastically exuberant Allison Janney, pictured below right) and Kip and Joan (Rob Corddry and Amanda Peet).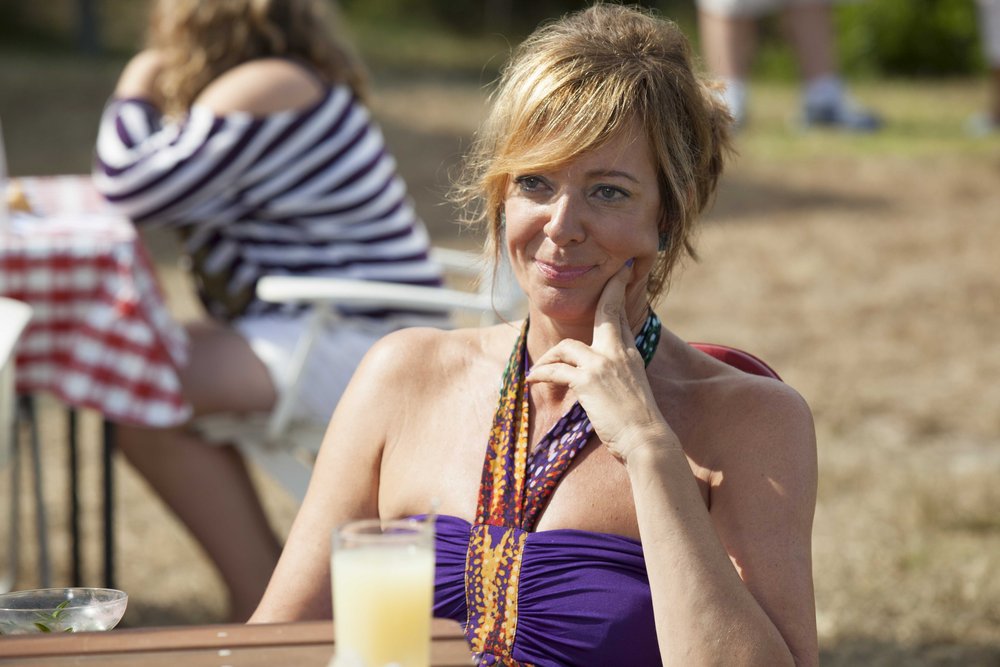 Although his initial interactions are resoundingly awkward, Duncan lucks out when he's befriended by the man-child manager of the Water Wizz Park, Owen (a reliably fizzy Sam Rockwell), who gives Duncan a job away from the judgemental stare of his soon-to-be-stepdad and the concerned glances of his mum. He's able to cut loose, bust some awful moves and find out who he really is. There's even a flicker of possible romance with Susanna (AnnaSophia Robb), Betty's slightly older daughter who she describes as "a walking mood".
The Way Way Back is far from preachy but it doesn't shy away from showing the toll that the adults' hedonism takes on the kids and their own relationships. Betty might be a hoot but she's clearly a woman with issues - she relays her niece's rape as just another piece of thrilling gossip and makes her son Peter (River Alexander) wear an eye-patch so that he doesn't make others feel uncomfortable. Even Owen, the loveliest big kid of them all, is risking his relationship with colleague Caitlin (Maya Rudolph) by refusing to take his job - or indeed anything - seriously.
Faxon and Rash (better known to fans of TV's Community as Dean Pelton) penned the screenplay nearly a decade ago and in 2007 it appeared on the Black List - an annual poll of the best unproduced screenplays in Hollywood. It's nicely handled directorially but this is largely a triumph of terrific, primarily comedic writing which reaches its potential thanks to a precision-picked ensemble. The Way Way Back will appeal to those looking for Little Miss Sunshine-esque family dysfunction or Adventureland-style summer of discovery angst - there are elements that are familiar but it still feels as fresh and welcome as a summer's breeze.
Overleaf: watch the trailer for The Way Way Back
The script appeared on the Black List - an annual poll of the best unproduced screenplays in Hollywood
rating
Explore topics
Share this article