The Descendants |

reviews, news & interviews
The Descendants
The Descendants
George Clooney plays a father on a learning curve as director Alexander Payne turns redemptive
Wednesday, 25 January 2012
Father knows least: George Clooney and Shailene Woodley in 'The Descendants'
"Paradise can go fuck itself": the candid words of a disillusioned middle-aged man in director Alexander Payne's latest road-to-redemption dramedy. He's referring to the irritating presumption that Hawaii's idyllic surroundings in some way shield its residents from the mire and misfortunes of life.
Although there's a smattering of such sourness in Payne's adaptation of the novel by Kaui Hart Hemmings, for the most part this tale of a father reconnecting with his daughters is surprisingly sweet.
In The Descendants a pleasingly shaggy George Clooney plays Matt King, a Hawaiian lawyer and landowner, based in Honolulu, whose wife Elizabeth (Patricia Hastie) is involved in a near fatal powerboat accident at the film's outset. The crash leaves her in a coma and him haplessly in charge of their two headstrong, bratty daughters, 17-year-old Alexandra and 10-year-old Scottie (Shailene Woodley and Amara Miller, pictured below with Clooney). To them he has been a practically estranged father; in workaholic Matt's own words he's "the back-up parent". In his eagerness not to ruin his family with access to wealth, he has instead allowed them to become burned by his neglect.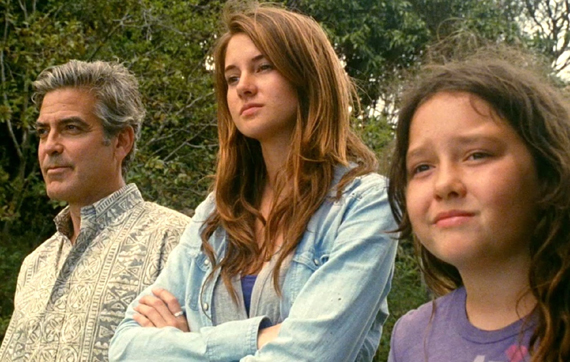 Matt, as the mixed-heritage descendant of Hawaiian royalty, is in the process of arranging the sale of an unspoilt quarter of Hawaiian land, left in trust to his family. He is acting on behalf of a number of his relatives, yet he alone has the final say. And so, weighing heavily upon him are responsibilities passed from his ancestors, responsibility for the fortunes of his extended family and the new pressing responsibility for the welfare of his immediate family. Then, when Alexandra reveals that prior to the accident his wife had been cheating on him, Matt's deluded picture of a family life just about holding together crumbles to dust. However, Payne keeps things light when the revelation inspires Matt to turn detective - the zany inexperienced kind. His investigations take him to the neighbouring island of Kauai, in pursuit of his wife's lover, cheesy estate agent Brian Speer (Matthew Lillard).
Payne directs with his usual eagle eye for comedy in the midst of tragedy. It's become a recurring trait of his body of work: a harangued, slightly askew protagonist haphazardly negotiates a crisis. When he first learns of his wife's affair, Matt's understandably floored, and then - all of a sudden - he hightails it out of the house, shoes barely on his feet. His frantic, flustered waddle is both believably desperate and wonderfully ridiculous. Also in this vein is the absurd but inspired presence of Alexandra's intellectually challenged friend Sid (Nick Krause) who accompanies the family throughout their many trials, as solid and stupid as a stone.
The Descendants, it seems, is the next step in Payne's incrementally more sentimental trajectory
As Matt, Clooney brings a hint of the mania he brought to O Brother, Where Art Thou? This is particularly pronounced in sequences where competent businessman Matt is forced awkwardly outside his comfort zone. His rabbit-in-the-headlights run, his (crap) attempts at stealth (pictured below left) and his clumsy interactions with his daughters are charming precisely because he's so darned hopeless, yet earnest with it – and don't audiences love a trier? In desperation he leans heavily on his eldest Alexandra, herself hardly the picture of stability. She in turn responds to his trust and reliance admirably and they develop a touching and believable bond. Both young actresses are major finds, and together with Clooney they make for an appealing trio. The strong supporting cast includes Beau Bridges, Robert Forster and Judy Greer.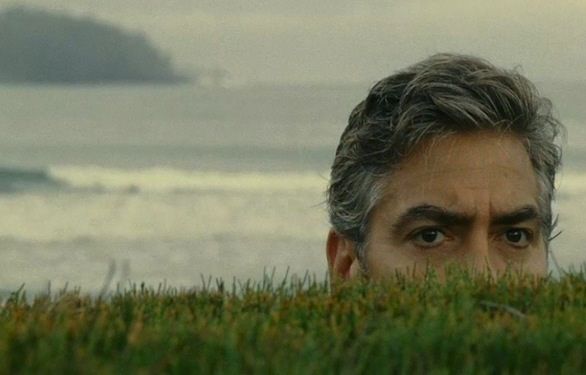 Payne's early films - the ballsy Citizen Ruth and the gleefully nasty Election - are spikier, more scathing and non-conformist fare which utterly reject the concept of dewy-eyed redemption. The Descendants, it seems, is the next step in Payne's incrementally more sentimental trajectory – but don't panic, it's still miles from syrupy. It is a likeable journey and, for the most part, emotionally engaging, but not quite as accomplished a balancing act as Payne's last two films. In Sideways and About Schmidt the humour and pathos were tempered perfectly throughout, whereas there's an indecisiveness to the first third of Payne's latest. It's as if, initially, he doesn't seem to know what kind of film he wants it to be and it's a little too long before the humour successfully kicks in. Nevertheless, once it hits its stride The Descendants is more than charming enough; it's certainly convinced the Academy and - with two Golden Globes already in hand – it heads into this year's Oscar race with five nominations.
Watch the trailer for The Descendants
Payne directs with his usual eagle eye for comedy in the midst of tragedy
rating
Share this article