Two of Us review - a lesbian love story with a difference |

reviews, news & interviews
Two of Us review - a lesbian love story with a difference
Two of Us review - a lesbian love story with a difference
Everybody needs good neighbours: director Filippo Meneghetti's brilliant debut
Out of the closet at last: Mado (Martine Chevallier, left) and Nina (Barbara Sukowa)
"Do you have a problem with old dykes?" demands Nina (the superbly ferocious Barbara Sukowa) of a bland, nervous young estate agent, halfway through this wonderfully original first feature from director Filippo Meneghetti. No, he stammers.
"You see, no one gives a damn, except you, Mado," she hisses at her secret
lover
Madeleine (Martine Chevallier).
Two of Us – the French title, Deux, is a more elegant fit – is a story of closed doors, peepholes and passion. Sukowa, known for her youthful roles in Fassbinder's films, and Chevallier, both in their early seventies, shine as a closeted lesbian couple, living in neighbouring flats on either side of a hallway in an unnamed town in France (it's filmed in Montpellier and Sommières in the Gard region, where the tree-lined avenues and river-side parks are beautifully shot by cinematographer Aurélien Marra).
They've been together for about 20 years, having met in Rome where Nina, originally from Berlin, was a tour guide. Now that Mado is a widow, Nina, the more glamorous and impulsive of the two, with a wonderful mane of hair and a cigarette in hand, is full of plans for them to sell up and move to Italy together.
But Mado has two conventional adult children and a grandson, and has never told them about her relationship with Nina, who they know with French formality as the pleasant Madame Dorn across the corridor, or about selling the flat. She can't quite muster up the courage, partly because her son, Frédéric (Jérôme Varanfrain) guilt-trips her constantly about what he believes was her infidelity in her marriage, though there's no proof provided. He's also concerned about his inheritance. Her divorced hairdresser daughter, Anne (Léa Drucker; Custody, The Blue Room, The Bureau; pictured below with Mado), who blow-dries her mother's hair every Thursday, is much more loving, as is her grandson, Théo (an impressive, melting-eyed Augustin Reyes). But yes, perhaps they do have a problem with old dykes.
There's no overt sex but Nina and Mado's passion for each other is clear, whether they're embracing in front of the bathroom mirror, picking out clothes in a boutique or dancing to Betty Curtis's "Chariot", a rousing Italian version of the Sixties hit, "I Will Follow Him", which provides an increasingly meaningful and effective backdrop as time goes on.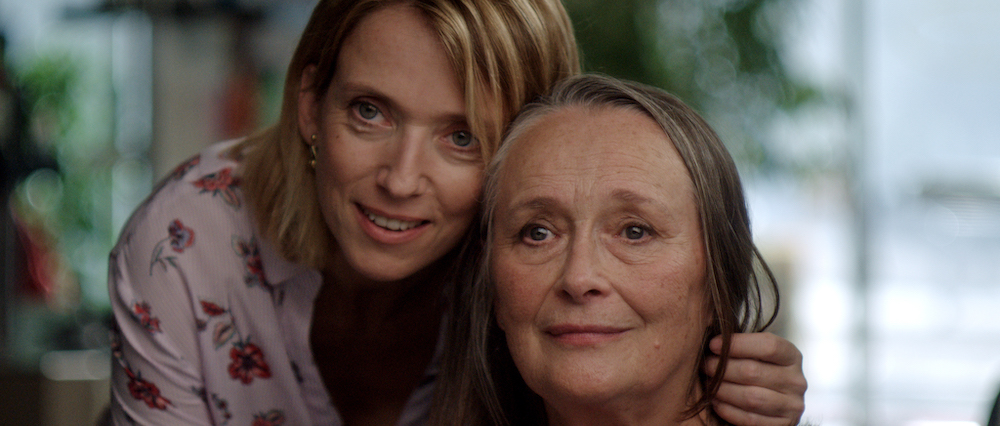 But when Nina realises that Mado hasn't told her children or put her flat on the market as promised, she erupts in the middle of the street, leading to the outburst about vieilles gouines with the estate agent. This hysteria is too much for the careful Mado. Back in her beautifully furnished, bourgeois apartment (Nina's is a mess in comparison), she has a stroke.
We see Nina's agony as she finds herself alone and helpless – as helpless in some ways as the speechless, incapacitated Mado. She is glued to the peephole on her front door, observing the comings and goings and trying to seize her moment with a polite "Bonne journée." Doors are constantly unlocked and locked, bolts slide, locks are changed. Tension mounts, as if in a thriller. The screenplay, written by Meneghetti with Malysone Bovorasmy and Florence Vignon, is powerfully restrained.
At first, Anne and the schlumpy live-in carer Muriel (Muriel Benazeraf), are surprised at Nina's willingness – and steely determination - to look after Mado. But slowly suspicions grow, especially when Théo spots a photo of a younger Mme Dorn with his granny at the Colosseum. And then there's the little matter of Anne finding the two together in bed one morning, Nina in stylish black pyjamas. Soon after Muriel is sacked (partly engineered by Nina, who resorts to violence on a couple of occasions) and before the locks are changed.
You do sometimes feel that Mado looks a little too soigné to be a stroke victim, but there again, her daughter's still doing the blow-dries. In the end, it's Frédéric – his character and motivations are a little opaque - who says that the nursing home where he and Anne eventually deposit Mado (the appalled Anne, whose aim is to separate the lovers, never tells her brother about the Mme Dorn revelations) is making their mother over-medicated and depressed. Not so drugged-up, however, that she can't make a crucial phone call, which does, perhaps, test one's credibility. But it's a clever role reversal: from being the circumspect one, Mado is ready now to throw caution aside. To hell with what her children think.
There are a few loose ends and plot holes. But the virtuoso performances from Sukowa and Chevallier carry the day in this sensitively directed film, where every sound – a hairdryer muffling the desperate ring of a doorbell, the rustling of leaves and the creaking of floorboards – contains depth and beauty.
Doors are constantly unlocked and locked, bolts slide. Tension mounts, as if in a thriller
rating
Share this article