theartsdesk's Top 13 Films of 2013: 13 - 6 |

reviews, news & interviews
theartsdesk's Top 13 Films of 2013: 13 - 6
theartsdesk's Top 13 Films of 2013: 13 - 6
Part one of our best of the year countdown
Jessica Chastain is left speechless by Zero Dark Thirty's prominent placing in our countdown of the year's finest films
There are some that will tell you that they don't make movies like they used to. But even if that's true, film is an art-form that continues to thrive by moving with the times - reflecting change, reinventing itself and each year we're supplied with no shortage of outstanding cinema from across the globe. It's a fact that makes compiling the traditional end-of-year list far from a chore, and more like greedily picking your way through a banquet.
So why have us film bods at theartsdesk plumped for a top 13 this year? Well, 13 is the number of TAD's film critics that voted in our end-of-year poll and, this way, each of our wonderful writers can act as a champion for one of their personal picks. 13 also reflects what a tremendous year it's been for film, with sensational cinema spilling out and over the confines of a traditional top 10.
To compile this year's list, each of our critics provided us with their 10 favourites, the only restriction being that the films had to be released in the UK in 2013. A source of pride is that the resulting top 13 reflects the best and most diverse offerings in world cinema, whilst also featuring a home grown gem. And - in line with the quirks of film releasing and awards scheduling - American films that featured heavily in this year's Oscars line-up sit alongside those that seem sure to dominate 2014's ceremony. It's a list that features space, sex, silence and surrealism and one we are delighted to present - so, without further ado, let the countdown commence!
13 Enough Said (dir. Nicole Holofcener)
Pinpointed as the last film of James Gandolfini, who passed away in June, Enough Said is not actually his final film – but it may turn out to be his best. In fact, it's also one of the best from director/writer Nicole Holofcener (Friends with Money), who's made five films in 17 years of filmmaking. In this romantic comedy about middle-aged missteps Holofcener once again shows she has a magic touch – she's capable of creating characters that ring true yet are better than reality. With dialogue that's funny and believable, a situation that is palpably real, a story so well observed you feel that you're there - Enough Said is one of the best, most rewarding films this year. James Gandolfini was a good ensemble actor – never hogging the screen from others and here Julia Louis-Dreyfus (best known for her work on the small-screen) matches him stride for stride in drama, timing and comedy. Enough Said is a film of equality, of immense humour, keen honesty and an applicable moral message. See it and be enriched. Karen Krizanovich
12 Upstream Colour (dir. Shane Carruth)
The enigmatic, discomfiting and new are rare in cinema, as elsewhere. Shane Carruth's second film explores body-farming, body-snatching, identity theft and identity blurring, as it cuts between a man and woman whose lives, and sides, are ripped open by alien intervention. They are each milked and mutated, and return to their old lives traumatised, penniless and, swiftly, jobless. Why isn't the issue: narrative logic only reluctantly and ambiguously takes hold near the end. What makes this innovative yet approachable cinema is the way these two guinea-pig victims find and recognise each other in atomised, North American suburbia, and cling together as if on a life-raft, with no one else capable of rescue. This subdued but desperate emotional current trickles through Upstream Colour. It's about human beings trying to remember who they are, or could be; a Midwest UFO nut's alien vivisection bad dream, played out as existential reverie. From Sundance-winning sound design to script, a one-off. Nick Hasted
11 Blancanieves (dir. Pablo Berger)
Although it tells a familiar tale – Snow White – in a way which draws on the cinema of Tod Browning, director Pablo Berger's fellow Spaniard Pedro Almodóvar, David Lynch, Douglas Sirk and more, Blancanieves is a totally fresh film. Although, like The Artist, it's silent and shot in black and white it stands on its own. It also has a political agenda rooted in place and period – 1920's Spain. Berger's preoccupations coalesce in a melodrama which is affecting and humane, atmospheric and stylish, and entertaining and funny. Evil takes a human form, a cockerel assumes a personality, sado-masochism crops up, dwarves fight bulls and gender roles are challenged. In a year of strikingly original films, Blancanieves paints its picture – despite the limited tonal palette – with a strength more powerful than the most gaudy of short-lived confections. Succeeding on many levels, Blancanieves is though, above all, fun. Kieron Tyler
10 A Field in England (dir. Ben Wheatley)
A Field in England is a heady and unsettling brew of British folk horror and superstition set in Civil War era England, which pays loving homage to late 60s and 70s cult classics such as Witchfinder General and The Wicker Man with its acerbic tongue. Reece Shearsmith's extraordinary physical performance is vomit inducing - the moment where a hideous grimace emanates from his face on exiting a tent from whence we have no idea of what happened lays claim to one of the most alarming sights of cinema in 2013. Add to that the startling sound design, and beautiful black and white cinematography from Laurie Rose and you have a most overwhelming cinematic experience. Writer-director Ben Wheatley and his co-writer Amy Jump stick to the golden rule that the scariest things are those we can't see and Shearsmith exquisitely relays the terrors of the tent through his maniacal expressions. Equally funny and disturbing, A Field in England is a giddy, grotesque pleasure and a rather exciting entry into modern British cinema. Katherine McLaughlin
9 Gravity (dir. Alfonso Cuarón)
Alfonso Cuarón's jaw-dropping drama, with Sandra Bullock and George Clooney as luckless astronauts lost in space, is a cinematic tour-de-force that represents much more than a state-of-the-art box of tricks. The special effects, photography and sound design are certainly amazing – together evoking the beauty, strangeness and danger of space. But what makes the film both incredibly gripping mainstream entertainment and significant cinema is the marriage of technology with story, character, and scintillating direction. The result is high concept yet humanist, epic yet intimate, the product of illusion yet still offering Bullock an opportunity to act her space boots off. Gravity's closing sequence, with a meaningful glimpse of terra firma, brings to mind the opening of Kubrick's 2001: A Space Odyssey. And there can be no higher commendation than that. Demetrios Matheou
8 American Hustle (dir. David O. Russell)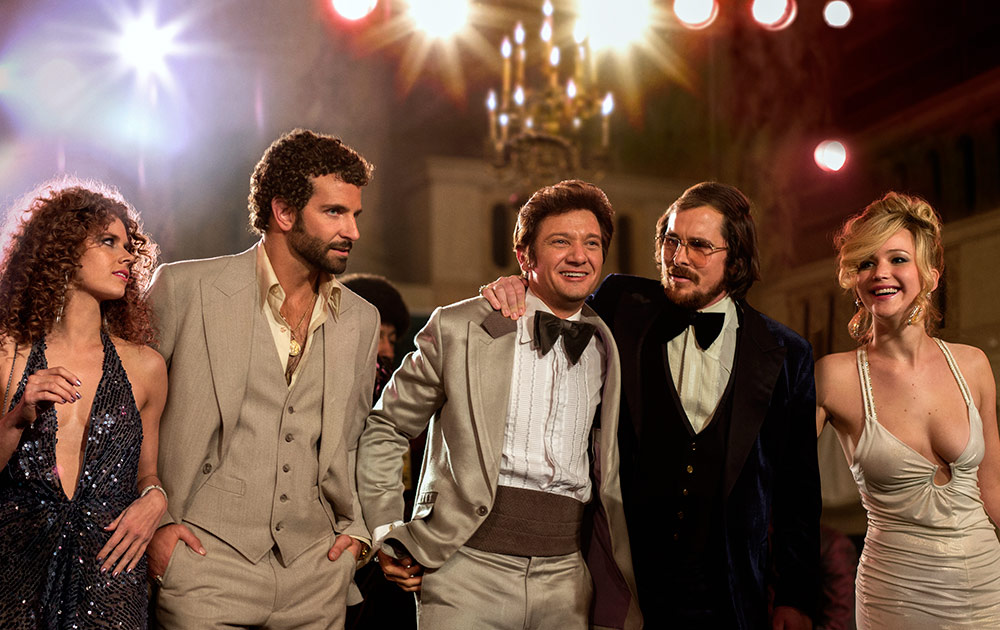 What a remarkable result for a film that only went on a limited London release on the 20th December (it's at cinemas nationwide from the 1st January). Straight in at number eight with a bang and a shower of glitter, American Hustle's strong showing in our best of 2013 is testament to director David O. Russell's winning formula - he serves up a fizzing cocktail of amusement and filmic finesse, which eschews the truth of the tale for something more fabulously cinematic. In this cornucopia of con-artistry, Generation Y screen goddesses Amy Adams and Jennifer Lawrence rock sublime 70s hair and costumes, while the men (Christian Bale, Bradley Cooper and Jeremy Renner) are hilariously and deliberately short-changed style-wise, although everyone gets a character juicy or crazy enough to sink their talented teeth into. As deliriously daft as it is glitzy and glamorous, American Hustle is a vintage crime caper for the modern age. Emma Simmonds
7 Zero Dark Thirty (dir. Kathryn Bigelow)
There are so many ways in which the big-screen retelling of the hunt for Osama bin Laden could have gone awry. When the news of Bin Laden's death emerged in 2011, it transformed what director Kathryn Bigelow had planned as a sober study of a futile mission into a much more conventional Hollywood narrative, a potentially jingoistic tale of the US triumphing over its shadowy foreign foes. But Bigelow and screenwriter Mark Boal neatly sidestepped this tonal pitfall by telling their story of national victory through the prism of human tragedy. Jessica Chastain's Maya starts out chilly and guarded and only gets more hardened as the years go by on screen, Chastain's delicate features becoming mask-like as the mission gradually hollows her out. The final scene depicts her not as someone who has won, but someone who has lost beyond all measure. Unflinching, morally thorny in all the ways it needed to be and steeped in the kind of sharply choreographed action that made Bigelow's name, Zero Dark Thirty is a rigorous and gripping gem. Emma Dibdin
6 Lincoln (dir. Steven Spielberg)
Out of the tumult of history and the psychic torture that is the legacy of slavery, Steven Spielberg forged his most accomplished film since Schindler's List: a ruminative epic that used America's 16th president as a totemic figure against which a nation's progress over the centuries since could be gauged. That the film skirted hagiography owes much to a notably expansive script from playwright Tony Kushner (Angels in America) and an unsentimental clutch of performances from Sally Field, a feisty Tommy Lee Jones, and a deeply human Daniel Day-Lewis, an actor who at this point all but has the word Oscar scrawled in invisible ink across his forehead. That Lincoln didn't do rather better in the 2013 Oscars overall (Day-Lewis's expected trophy aside) says more about a possible disaffection with politics per se than it does about a movie that took the measure of a society in embryo and found the heroic and the horrific engaged in a face-off that many would argue continues across the Atlantic still. Matt Wolf
Want to know what comes next? Join us tomorrow for our final five
It's a list that features space, sex, silence and surrealism
Explore topics
Share this article