theartsdesk in Moscow: Blood brothers on film |

reviews, news & interviews
theartsdesk in Moscow: Blood brothers on film
theartsdesk in Moscow: Blood brothers on film
No avoiding contemporary realities at the Moscow International Film Festival
Undisputed star: Russian actress Inna Churikova with her Konstantin Stanislavsky: "I Believe"' award
"We are not politicians – we are artists." It's the familiar cry of creatives all around the world, but it came with an added, rather surprising accent when uttered by Moscow International Film Festival (MIFF) president Nikita Mikhalkov at the event's closing ceremony.
Specifically, he was responding to similar optimism from Ukraine's Sergei Trimbach: "Culture must resist political madness. Political lunacy should not dictate the rules of life; artists should be together." Trimbach is the head of Ukraine's Union of Cinematographers, while Mikhalkov has long been head of Russia's analogous organisation, and the Ukrainian critic was collecting MIFF's Best Actress award on behalf of Natalka Polovinka for her lead role in the Ukrainian competition entry Brothers. Last Confession, Victoria Trofimenko's screen adaptation of Swedish writer Torgny Lindgren's bestselling novel. Given the parlous current state of relations between the two countries, it was undoubtedly a good thing that there was a Ukrainian film at MIFF: it can only be hoped that its story, of two elderly brothers living in long-term conflict where the only satisfaction either can hope for is outliving his sibling, is coincidental, rather than metaphorical.
Nikita Mikhalkov is certainly no stranger to politics
Ukraine certainly coloured the festival's context, not least because Trimbach's other request, addressed directly to Russian president Vladimir Putin, was the release of Crimean director Oleg Sentsov, taken from his home in Simferopol on alleged terrorism charges and currently in detention in Russia. Mikhalkov did not allude to that one, though European filmmakers have signed an open letter calling for Sentsov's release.
Nikita Mikhalkov (pictured below right, at the MIFF opening ceremony) is certainly no stranger to politics: an avowed Russian statist as well as a loyal friend of Putin who has duly signed all the "official letters" in recent months, he admitted at the festival's opening ceremony that "sanctions" – that loose response from the EU and US to Russia's annexation of Crimea back in March – had affected the MIFF guest list. US presence was almost non-existent (unless you count a co-production interest in Anton Corbijn's Sundance-premiered A Most Wanted Man, of which more later), while allies in attendance, like France's Claude Lelouch (presenting the – aptly titled? - We Love You, You Bastard) and Poland's Krzysztof Zanussi, feted with a 75th-birthday retrospective, even though he has articulated his opposition to Russia's recent actions – were the exceptions that proved the rule.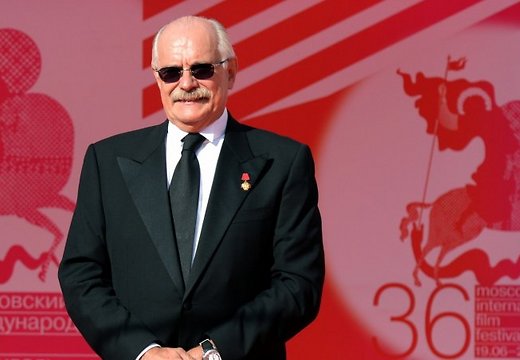 Putting what might be considered a brave face on it, Mikhalkov expressed hope that such foreign absences might stimulate development of future domestic presences on the filmmaking front (if only Russia could manage anything similar with its industry). MIFF has long had trouble attracting international star power to its regular programmes, but its honorific awards have brought a stream of international stars to the Russian capital, most notably to receive the Konstantin Stanislavsky "I Believe" acting award: past recipients have included Jack Nicholson (pictured below left, at an informal festival gathering with Vladimir Putin, in happier times), Meryl Streep, Harvey Keitel, Gerard Depardieu (before he took Russian citizenship), Isabelle Huppert, Catherine Deneuve and Helen Mirren. There was no international presence this year, but equally no quibbling with the honour going to the classic Russian actress Inna Churikova (pictured, with the award, main picture), nor the Special Prize for Outstanding Contribution to World Cinema, that went to her husband and frequent collaborator, director Gleb Panfilov, who recently turned 80, and was president of this year's MIFF jury. More than deserved on both fronts, no compromises there.
All of which made MIFF an event of contradictions. Unlike other branches of Russia's cultural community, parts of its film world (which is far from concentrated around the official Mikhalkov position, more below) came out strongly in favour of Ukraine's position this spring. Before Ukraine, Russia's most recent local conflict was with Georgia – which went to open warfare back in 2008: luckily political difficulties no longer intrude on cultural friendships between the two countries. Witness the presence of director Levan Koguashvili on the Moscow jury, as well as the screening of his Blind Dates in a supporting programme (it's been going round festivals since Toronto last year), definitely one of MIFF's best films. Blind Dates follows on in the same somewhat melancholy naturalist style as the recent acclaimed Georgian In Bloom, and if no UK distributor picks it up, it will be our loss.
MIFF 2014 proved unexpectedly independent in some of its selections. That follows on from its Soviet heritage when, running biannually in rotation with the festival at Karlovy Vary in Czechoslovakia, it was the only real window onto Western cinema for local film lovers (they queued for tickets as diligently as for anything else). Most notable was the award of the 1963 top prize to Federico Fellini's 8 1/2 (one of MIFF's best supporting programmes has adopted that moniker) at the insistence of jury president Grigory Chukhrai, a decision that memorably went right up to Politburo level.
2014 certainly saw surprises. Given legislation that, mildly put, has placed homosexuality (or, in a spurious legal distinction, its "propaganda") in Russia out on a limb, a local gay publication counted nine gay-themed films at the event. Last year Mikhalkov admitted in an interview to the critics' body FIPRESCI that he didn't exactly approve of homosexuality, but he wasn't going to overrule his selectors; he certainly didn't this year either, given that one of the films was Bruce Labruce's Gerontophilia.
Equally, you might have wondered if the script of Corbijn's A Most Wanted Man, the John le Carré-based espionage drama about the arrival of a Chechen Islamist in Hamburg, after obvious torture from the Russian secret services ("After 24 hours of Russian interrogation, anyone would confess to anything"), wouldn't exactly go down a treat. But there it was in competition, even if Corbijn didn't make it to Moscow, presenting his movie instead at the simultaneous Edinburgh festival and leaving his Russian actor Grigory Dobrygin to face the press (questions about the role of secret services in society were resolutely turned down).
Los Angeles would lobby with all its might against any such sanctions
The only scandal surrounding the film was how the jury failed to give the Best Actor award to Philip Seymour Hoffman (pictured, below) posthumously for his final role as a challenged and out-of-the-loop German anti-terrorist operative (the film's closing scene is as impressive as anything the actor ever accomplished). Instead the best actor award, as well as MIFF's top Golden St George prize (named after Moscow's patron saint) went to Japanese director Kazuyoshi Mukariri for My Man: MIFF has a well-established tradition (it's not the only such festival to do so) of awarding top prizes to Japanese films that are very unlikely to find release outside their homeland. Another outstanding film, Israeli director Amikam Kovner's Haven, also came away without awards: it proved very topical for Russia today, with its drama drawing on the Second Lebanon War, reported on television screens in Tel Aviv, just as the conflict in eastern Ukraine dominates news reports on all the main Russian channels.
More contradictions with Russian-American documentarist Maxim Pozdorovkin. There he was at MIFF with his latest film, co-directed with Tony Gerber, The Notorious Mr Bout, when six months ago his last one, Pussy Riot: A Punk Prayer (co-directed with Mike Lerner) had a single non-commercial Moscow screening cancelled after government pressure. Mr Bout is about the alleged arms dealer Viktor Bout (portrayed as the "merchant of death" by Nicholas Cage in Lord of War) and, like Pussy Riot, combined Pozdorovkin's interviews with use of extensive archive material provided by his subject, in this case home videos form the family archive detailing the colourful figure's life from his career beginnings in air freight transport in the early Nineties through to his extradition from Thailand and trial in New York in 2008, which ended with a 25-year prison sentence.
The family footage captures moments of celebration – birthdays, holidays and business accomplishments – over a remarkable life that took Bout, his wife Alla, and various employees all around the world, including most of the hot spots of Africa. Pozdorovkin's film, inasmuch as it reached any position, seemed to back the view that Bout was a freight transporter, innocent of the fact that some of his cargos were arms (a considerable amount of such cargos were humanitarian), before he was enticed by the US authorities to Bangkok. That didn't stop Alla Bout from expressing her disagreement with the way the family archive had been used, as well as the directorial provision of a voiceover that was not directly drawn from Bout's words – though she was content to sit next to Pozdorovkin on the same press platform. British viewers can judge for themselves when The Notorious Mr Bout receives limited cinema release in August, followed by broadcast in the BBC's Storyville strand, which, as with Pozdorovkin's Pussy Riot film, was a main commissioner.
The Bout story brought the issue of sanctions-busting to the foreground. Despite Mikhalkov's remarks about festival guests, the main sanctions that weren't being applied to MIFF were any from Hollywood, as witnessed by the arrival mid-festival of the latest Transformers press juggernaut, as well as Dawn of the Planet of the Apes as the festival's closing film. The appearance of such blockbuster fare at MIFF has been standard in recent years (just as well this year wasn't bringing us The Empire Strikes Back – Again. With Russia ranking in the top five or six box office territories in the world, with annual takings of well over $1 billion and Hollywood product trouncing all but a very small handful of Russian films, Los Angeles would lobby with all its might against any such sanctions. That still doesn't prevent Russia's parliament, the increasingly loopy Duma, from periodically considering the wisdom of introducing a quota system designed to limit the presence of foreign films in the local market, and, so their logic goes, encourage the local industry. The reality is that, if they did, ticket sales would drop dramatically: with the exception of a few local blockbusters like Fyodor Bondarchuk's recent 3D Stalingrad, which topped the local box office (as well as, interestingly, doing very well in China; UK reviews were negative), it's Hollywood that dominates.
The story of alcoholic dissipation in a bohemian Moscow counter-cultural art world leaves you impressed
The two Russian films in MIFF competition this year were as radically different as you could imagine. Vladimir Tumayev's White Moss was a conventional drama set in the reindeer-hunting, snow-bound landscapes of the Nenets indigenous people; rather beautifully shot and telling a convincing story of the discrepancies between life in the tundra and the fate of the young people who move away into the wider world, it won the festival's Audience Award – but realistically, it's not going to be hitting many screens around the country.
Which shouldn't be the case with Valeria Gai Germanika's Yes and Yes (rebel with a cause, lead actress Agnia Kuznetsova, pictured below left), which took both the Best Director award and the FIPRESCI prize. I only hope that Russia's minister of culture Vladimir Medinsky hasn't seen the film, mainly out of concern for his blood pressure. Many in Russia's cultural world consider that Medinsky is far from the best man for the job, except that in Putin's Russia he's just the right man for it. Shortly after his appointment he stated that his ministry wouldn't be funding films that portray Russian life in a bad light (there go most of the Russian international festival prize-winners of the last decade, then). Gai Germanika didn't even apply for such state support (a luxury you can afford when Bondarchuk is one of your producers): her story of alcoholic dissipation in a bohemian Moscow counter-cultural art world may leave you impressed filmically, but hardly reveals many positive sides to life.
Yes and Yes is up against a more immediate distribution challenge, however, namely the latest initiative from Medinsky's Culture Ministry that banned, from July 1, screening of any film that includes mat, the distinctive local slang that is an intricate part of everyday Russian life (it can be found in the works of Pushkin and Dostoevsky: the new edict also applies to theatre and literature). So Yes and Yes managed three days of uncensored cinema release after its MIFF triumph, before it was pulled. At the film's press conference, producer Bondarchuk suggested he would go for a revision, most likely "bleeping" the offending words out. Gai Germanika rolled her eyes at that one, but Bondarchuk has since apparently gone ahead with his decision.
Whether other directors and producers are going to follow him remains to be seen. The test case will surely be Andrei Zvagintsev's latest film Leviathan, a Cannes prize-winner (which was notable by its absence from the MIFF programme, even as a gala screening: a remarkable failure to reach agreement between the festival authorities and the film's producers). Leviathan's story of corruption in regional power structures would surely look inauthentic without the fruity vocabulary of mat, and Zvagintsev is an uncompromising director. It would be strange indeed if his new film is forbidden release in Zvagintsev's homeland, since it will travel round the world to all the territories – a record number by the standards of recent Russian cinema – that have taken his work so far, from his debut The Return to his recent Elena which also included what is termed locally "non-normative lexicon". But I wouldn't be surprised if it ended up that way, not least because there seems no leeway to decide whether the use of such slang is "justified" by the social context of the work of art, rather than just outlawed indiscriminately.
For all the perceptions that Mikhalkov remains the official face of the entire Russian cinema world, that isn't the case
The same new law also requires that future film festivals can only show films that have passed the same tests on language, a change that is going to scupper a number of them purely because of the time demands involved in the process (MIFF screened close on 400 films – features, shorts and documentaries). So Mikhalkov inevitably was drawn into the debate, admitting himself that he resorted to mat, in relative privacy, in times of exasperation (another film producer who worked with MIFF at the end of the Nineties remembered how it was practically the chosen jargon of then Prime Minister Viktor Chernomydrin). It's hard to explain the significance of mat even approximately to non-Russian speakers: it's far more than the likes of the f-word, for which distributors of foreign cinema in Russia get away with much milder translations (the exception that proved the rule: the Russian release of Billy Elliot failed locally just because it did translate the f-word into mat).
"Russian mat is one of the greatest, most sophisticated inventions of the Russian people. It can't be translated into other languages," Mikhalkov said at a closing MIFF briefing. "It can be the ultimate expression of a state of human emotions – like fear and pain. This, in my opinion, is justified by the situation and from the perspective of a normal person would be perceived adequately. But when mat becomes a means of [regular] communication, it's disgusting. When mat sounds from the screen, the artist should turn on his inner artistic censor."
But in a society where open censorship is rife, the concept of self-censorship is even more dangerous. Don't think that Russia's film community will take it lying down, even though rights of appeal are limited. For all the perceptions that Mikhalkov remains the official face of the entire Russian cinema world, that isn't the case: a rebel organisation, Cinema Union, appeared in 2010, as direct opposition to the Union of Cinematographers that Mikhalkov heads, and includes many of the country's most respected film figures. It proclaimed itself with the slogan We Don't Like, which included the clause: "We don't like the totalitarian style of the leadership of the Union, when one person [Mikhalkov] appoints people who are convenient for him to all posts, who then take crucial decisions behind closed doors at congresses to which we are not admitted, and where our opinion is of no consequence." Hard to imagine, but it's like having two rival BAFTAs in the UK; there are even separate competing annual film awards. As the Chinese curse goes, "May you live in interesting times."