Off the Rails review - go for the scenery, not the script |

reviews, news & interviews
Off the Rails review - go for the scenery, not the script
Off the Rails review - go for the scenery, not the script
'Mamma Mia!' wannabe features lots of Blondie but very little sense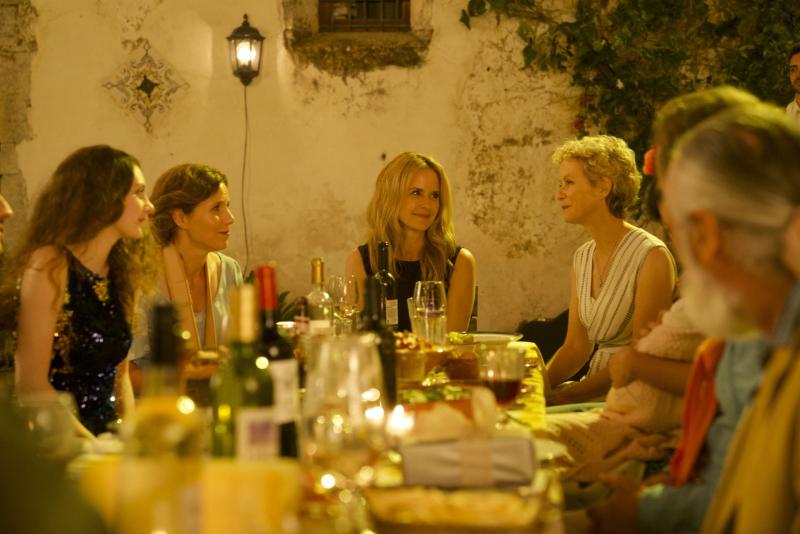 Cheers! Sally Phillips, Kelly Preston, and Jenny Seagrove in 'Off the Rails'
Mamma Mia! hovers unhelpfully over every frame of Off the Rails, a road movie of sorts in which three women make a music-fueled pilgrimage to Mallorca to honour the wishes of a fourth friend, who has died before time of cancer.
The difference here is that the scenery keeps changing and the music of choice isn't ABBA but Blondie. And while no one would cite Mamma Mia! as a paragon of writing for our time, it at least makes sense within the particular world it describes. That's more than one can say for this collaboration between Jordan Waller (screenwriter) and Jules Williamson (director), whose heart clearly is in the right place even as the narrative descends into hokum.
Anna has passed away, leaving behind Interrail tickets that allow her three besties to make the trip to Palma in time for the rare light show proffered at the Mallorcan capital's cathedral of La Seu, a lighting effect in its Gothic rose window referred to in the film as "God's disco ball". (The Spanish description of the same twice-yearly event is rather more elegant.) And so GP Liz (Sally Phillips), hard-living actress Cassie (Kelly Preston, marking her last film role before her own death from cancer), and quietly impoverished Kate (Jenny Seagrove) head off, taking with them Anna's teenage daughter, Maddie (Elizabeth Dormer-Phillips), who seems unable to turn her phone on at key moments, without which there would be no plot.
There isn't much of one anyway, at least not one that makes sense. You roll one eye and then the other as the ladies lose their passports and then seem to carry on regardless, which happens somewhere in between a scene in which Cassie is gratuitously cruel to a Parisian shopkeeper (the ugly American indeed) and the gals happen upon a folk festival in the Spanish locale of Girona, where they happen to be playing Blondie. As, I guess, you do.
One way or another, our intrepid trio make it to Palma in time, Maddie having gone on ahead solo though not before a gentle romance with this film's equivalent of Mamma Mia!'s Sky, a doe-eyed Italian whose presence brings with a rather older love interest for Cassie in the presence of Franco Nero (pictured above with Preston), whose eyes seem to burn a hole through the screen. (Cassie, ever the opportunist, isn't much nicer to thiis cultivated Italian than she was to the hapless Frenchwoman earlier on.)
Liz suffers an injury and deals with domestic upheaval back home, while Kate falls under the sway of a British expat played by Ben Miller, who comes with a motorbike that proves improbably useful in getting everyone to the church on time. (Nero's smitten Giovanni, meanwhile, has access to a private plane, albeit one piloted by the sort of chap who wouldn't readily instil confidence on the ground, much less in the air.)
Mike Eley's camerawork catches the range of locales with an understated lustre that is all the more striking in today's climate of restricted travel, and Judi Dench stills the heart, as is her wont, in a brief appearance near the start delivering an angry eulogy for a daughter taken from her too soon. (Peter Bowles, another member of the producer Bill Kenwright's ad hoc repertory company over time, plays a vicar in the same scene, which brings back memories of Bowles and Dench in a long-ago, and glorious, West End revival of Hay Fever under Kenwright's auspices.)
Throughout it all, the locals are seen as either gormless or strangely quiescent, as three ladies who quite frankly should know better commandeer their way to a preordained destination that on this evidence defies all logic. That's a shame, really, given how nice it is to see a film that puts women of a certain age centre-screen. When someone comes up with a richer script offering the same potential, I hope Kenwright will return to the well and say, "Call me!"