A World Without Down's Syndrome?, BBC Two |

reviews, news & interviews
A World Without Down's Syndrome?, BBC Two
A World Without Down's Syndrome?, BBC Two
Sally Phillips ponders the ethics of prenatal screening in a passionate documentary
Thursday, 06 October 2016
Flashmobdance: Sally Phillips among people with a Down's Syndrome
We're all comfortable with the concept of actors presenting documentaries about endangered species. A famous name helps to bring an issue into the light. It was slightly different with A World Without Down's Syndrome? Sally Phillips, the much-loved comic actress who plays sidekicks to Bridget Jones and Miranda Hart, has a son with Down's Syndrome. Olly, as the opening sequence amply revealed, is a delightful boy at the heart of a loving family.
"I was expecting tragedy," explained Phillips, "but I got comedy."
And yet people like Olly may be on the way out. This carefully researched, passionately argued counterblast explored the rapidly changing world for people with Down's Syndrome and those who give birth to them – or choose not to. Prenatal screening for Down's Syndrome, previously a niche privilege for the wealthy or offered to women deemed to be in a vector of risk, is about to become available to all. Phillips read the high-fiving headline in The Sun – "Win on Down's testing" – and wept. No sooner has society learned to accommodate people with Down's into the mainstream than it seems to be plotting a future without them.
Lyn Chitty, the professor who has developed non-invasive prenatal test (or NIPT) for the NHS, did not accept Phillips's argument that it would lead to a total wipe-out. But a trip to Iceland revealed that is exactly what might happen: there the abortion rate for foetuses with Down's Syndrome is 100 percent. Like a mountain village with only the ageing residents left, there are no young people with Down's in Iceland. Phillips met one of the survivors, a 32-year-old woman called Halldora who had written an article protesting her right to life. "We have lives just like anybody else," she told Phillips.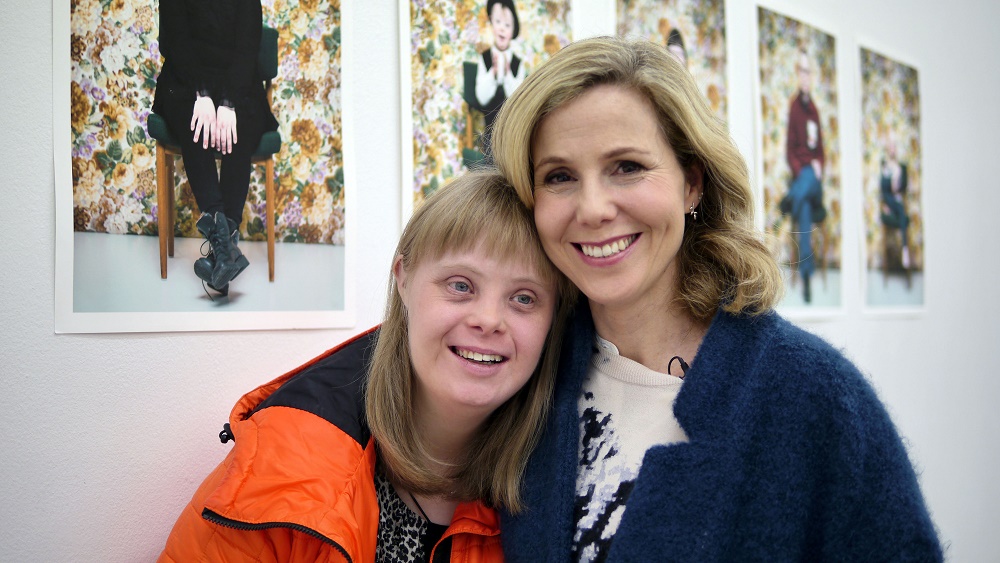 There were two goals in Phillips's quest. One was to ponder the ethics of a future in which screening may eventually make it possible to weed out not only the likes of Olly and Halldora (pictured above with Phillips), but also any child likely to have anything from depression to diabetes. She didn't use this loaded comparison, but science, which has no morality, and society, which does, may one day combine to do the work of Hitler's eugenicists.
She met one mother who had chosen on just such a course, having trawled the internet and found mainly negative predictions for the future of her child, backed by NHS literature which lists outcomes only in terms of potential illnesses. Phillips was clearly traumatised to be talked through the clinical termination procedure deemed "the best route for the baby" by a woman who "didn't want a child like mine. That was difficult for me to hear".
Her other goal was to show Down's Syndrome in a positive light. She met Liam Bairstow, an actor with Down's currently in the cast of Coronation Street who groaned that his mother can't stop crying when she sees him on the telly. "Mum," he says, "will you pack it in?" In a programme with a big carbon footprint she met Karen Gaffney, an inspirational speaker who is raising awareness in America, and a Harvard professor of genetics who laid out the bare facts about rebranding Down's: "Parents will exert their will," he said. "That depends on what they see on television. If you want to instill certain values, spread the word that these are valuable members of society."
The documentary has already been subject to criticism which suggests the charming and persuasive Phillips puts a rosy glow on an area fraught with difficulty. She's certainly a joyful presence on camera, savvy and goofy and adept at explaining complex issues through graspable visual metaphors. It's true that Phillips made no attempt to encounter anyone with Down's from the more problematic end of the spectrum. So this was a partial account, no question. But her point was that risk brings its own reward, and that some sort of post-Paralympic Utopian future which weeds out difference and imperfection will make moral minnows of us all.
Science, which has no morality, and society, which does, may one day combine to to do the work of Hitler's eugenicists
rating
Explore topics
Share this article