Volcano, Vaudeville Theatre |

reviews, news & interviews
Volcano, Vaudeville Theatre
Volcano, Vaudeville Theatre
This Noël Coward discovery is one for completists
Tremor cordis: Jason Durr and Jenny Seagrove co-star in Noël Coward curiosity
The ever-libidinous Guy (Jason Durr) is "as subtle as a fire engine" when it comes to sex, or so we're told during the course of Volcano, and it's difficult not to feel that this belated Noël Coward discovery could be similarly described in theatrical terms. Never performed during Sir Noël's life, the 1956 play will constitute essential viewing for completists of the Master who want a further sense of how this protean talent's singular career evolved.
And yet it's hard not to feel that the keenly aware critic in Coward would have taken a blue pencil to some of the play's more pulpy, banal passages, however much a committed cast attempts to make two hours of bitchery and betrayal land.
This has been quite the season for dramatists delivering up their esoterica, from Ibsen's St John's Night just recently through to the concurrent opening this week of JB Priestley's Cornelius and a rarely seen Beckett play (All That Fall, with Michael Gambon and Eileen Atkins) still to come. And there's no denying that such putative also-rans can astonish, as was proven by the National Theatre's reclamation of Rattigan's After the Dance two summers ago.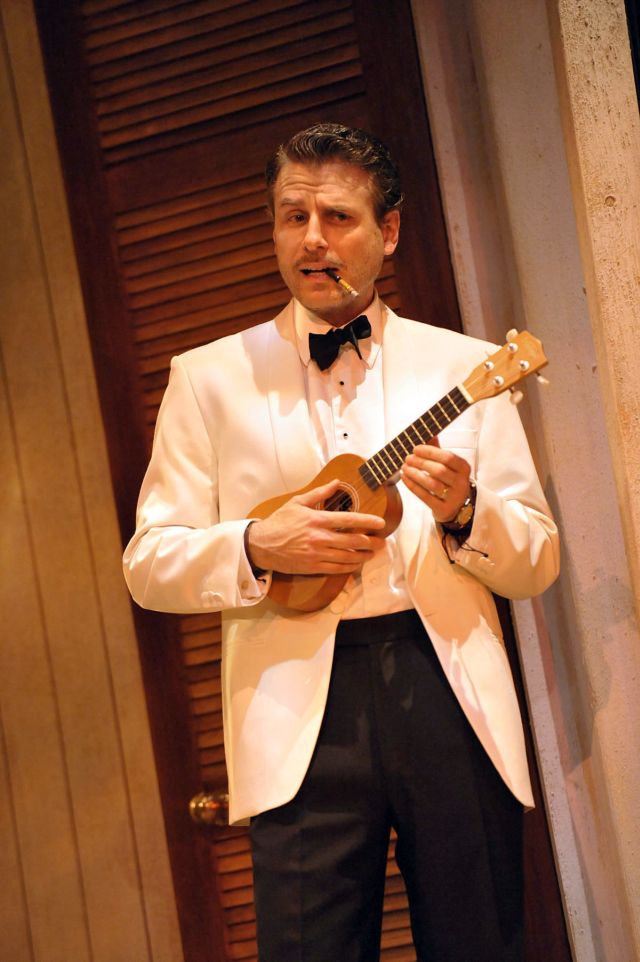 But whether because he was writing more than ever from direct experience, or perhaps because he was pushing the sexual envelope, Volcano emerges not so much a lost masterpiece as an intriguing if clunky attempt to push open the gay authorial closet, all the while anatomising heterosexual carnality in the process - Durr (pictured right) getting the lion's share of the latter. It's no surprise that Volcano was written a year after Cat on a Hot Tin Roof won Tennessee Williams the 1955 Pulitzer Prize: there's something of that play's simmering embrace of same-sex longing in the mosaic of desire with which this slow-aborning roundelay of eroticism deferred or denied finally erupts.
At the same time, one can't help but feel that the glistening wits who populate Hay Fever and Private Lives would have scant time for the ponderous symbolism of a volcano that churns away, in keeping with the variably fork-tongued passions of those assembled at the home of the widowed, plantation-owning Adela (Jenny Seagrove), the psychologically dampened-down fulcrum of the play.
The fictional island of Samolo might not seem on anyone's direct flight path (Coward's actual island of choice was Jamaica), but it nonetheless has offered a home to Adela and a retinue of English expats as well as a smattering of visitors who show up, hurl some well-aimed barbs, and take their leave. The conversation, meanwhile, owes less to Coward's customarily delicious turns of phrase - "it's unattractive to be disagreeable in defeat" is among the few utterances to give off the author's characteristic tang - and more to such immediate concerns as insecticide, loo roll, and airline bookings. Oh, and the gathering rumble of that eponymous volcano, whose activity gives the closing passages of the first act the feel of a disaster movie, of all unlikely Cowardian associations. (We're told, for instance, that the phone lines are down: eeek!)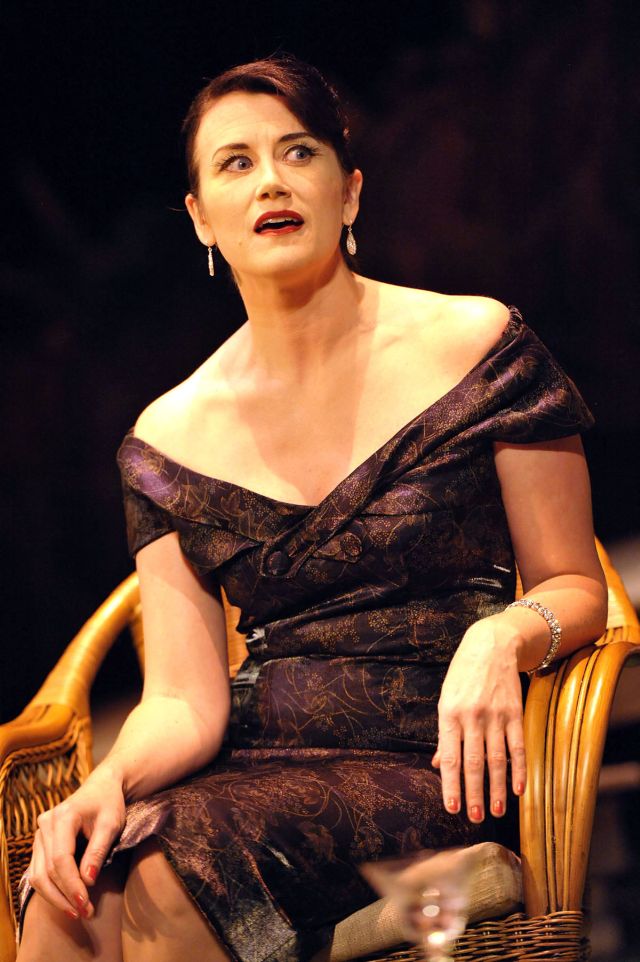 In context, the actors and their director Roy Marsden deserve credit for meeting the comparative bluntness of the text head on, even if one might wish for more truly smouldering sensuality across the board. Projecting a sartorial swagger at the outset that puts one in mind of James Bond, Durr brings many a raised eyebrow to the role of the philandering Guy (his intimates call him Guido), said to have been based on Ian Fleming, and he's notably relaxed in the second-act scenes with a younger one-time male admirer (Tim Daish, very good), which is where for all his escapades with the ladies one feels the character is most at home. (Tellingly, Guy dismisses women near play's ends as "bitches", though Adela's swift reply shows Coward's even hand.)
Dawn Steele (pictured above) enters readily into the sharp-tongued spirit of the discourse as Guy's knowingly cuckolded wife, and her aspishness is echoed now and again by Finty Williams's (wonderfully named) Grizelda Craigie, a Londoner abroad given over to occasional musings about Harrods on the one hand and annihilation on the other.
Seagrove's Adela, in turn, exists sveltely on the fence as a Chekhov-savvy hostess - The Cherry Orchard gets an unexpected name check - caught between the prospects of a roll in the hay with Guy in the here and now and obeisance to the dead, which is to say to a love she may never know again. She exists in limbo, one feels, rather like her playwright, who with this play seemed to be easing toward self-revelation only to slam the lid down on its content. Until now.
Volcano at the Vaudeville Theatre until 29 September
The gathering rumble of that eponymous volcano gives the closing passages of the first act the feel of a disaster movie, of all unlikely Cowardian associations
rating
Share this article