Pitch Perfect |

reviews, news & interviews
Pitch Perfect
Pitch Perfect
'Avenue Q' director Jason Moore's first film is an all-singing all-dancing campus comedy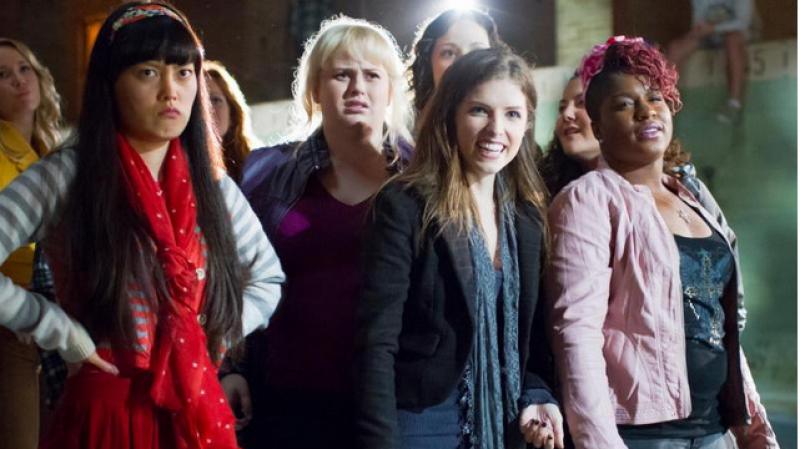 Chorus girls: The cast of 'Pitch Perfect' do battle, a cappella style
Cinemagoers with an aversion to musicals need not fear, as in Pitch Perfect most of the singing is in a sane context, rather than its characters breaking into lavish routines in the street. After the fun but exhaustingly naff Rock of Ages, this comes as something of a relief.
And if its chart pop mash-ups and campus antics seem squarely targeted at the teenage and twenty-something market,
Pitch Perfect
broadens its appeal shrewdly with some cross-generational acerbic and offbeat humour.
The first thing Pitch Perfect gets right is its cast. Oscar and Tony nominated actress Anna Kendrick (pictured right) stars as aspiring DJ and reluctant warbler, Beca. It's her first term at Barden University and she's being aggressively courted for luckless a cappella group The Bellas by body-confident Chloe (Brittany Snow). The group's reigning queen bee is all-American dictator Aubrey (Anna Camp), who also provides the uninspired musical direction. The film's primary cast is rounded off with rising star Rebel Wilson (Bridesmaids) as Fat Amy, the self-professed "best singer in Tasmania, with teeth" and Skylar Astin as Jesse - a member of rival group The Treblemakers and Beca's ever so earnest love interest.
The Bellas are stuck on repeat. Dressed like air stewardesses they perform dated routines wearing rictus grins. To make matters worse, they're not even emulating former glories having "puked their way to the bottom" of the previous year's International Championship of Collegiate A Cappella (ICCA) when Aubrey projectile vomited into the crowd. This year they're mixing things up with some stock misfits: a fat girl, a promiscuous girl, a girl who wears eyeliner but who will learn to fit in and love (a la the heavily referenced The Breakfast Club) and even (shock horror) a lesbian. Could this be a recipe for success?
Pitch Perfect is based on the book by Mickey Rapkin, while the snappy one-liners come courtesy of screenwriter Kay Cannon (30 Rock, New Girl). Its bitchy but authentically female wit is in the spirit of Mean Girls and Bridesmaids, though it won't surprise anyone who's seen any of the promotional material to learn that there's plenty of Glee here too. So, yes, it's not terrifically original but it is done rather well. In fact one of its most obviously "borrowed" features – the inclusion of oddball competition commentators (see also Best in Show and Dodgeball) – is actually its most successful. This is down to the quality of the quips ("Nothing makes a woman feel more like a girl than a man that sings like a boy") and the comedic skills of Elizabeth Banks and John Michael Higgins (pictured above left).
Whether it's West Side Story's prancing gangs or Guys and Dolls' crooning crooks, for some, musicals will just never be cool. Moore's stage sensation Avenue Q has itself done plenty to draw cynics in and he makes reference to it here - most obviously with a sock puppet group singing a cleaned up version of Lily Allen's "Fuck You". Pitch Perfect's belief in the freshness of mash-ups and the artistic potential of a cappella may render it a little cringing, but in many ways this is a thoroughly modern musical, replete with puke and put-downs. And at least it has the decency to make light of the inherent daftness of such competitions, with their air-grabs and strange synchronicity. Bouncy, bitchy and less swaddled in sentimentality than Glee, Moore's debut is far from perfection but it hits many of the right notes.
Follow @EmmaSimmonds on Twitter
Watch the trailer for Pitch Perfect
This is a thoroughly modern musical, replete with puke and put-downs
rating
Share this article