Opinion: How soon is too soon for plot spoilers? |

reviews, news & interviews
Opinion: How soon is too soon for plot spoilers?
Opinion: How soon is too soon for plot spoilers?
Readers of theartsdesk answer an ever more topical question
Bad news, ladies. Though we'll NEVER reveal why in this caption
Last November, for the 25,000th time on the stage, the actor playing Sergeant Trotter in The Mousetrap stepped forward during the curtain call and asked members of the audience not to reveal the play's surprise ending to others. To do so would, by implication, spoil the whodunnit for future audiences. Over the years the odd clever-clogs stand-up has disobeyed the injunction. And whoever wrote the play's Wikipedia entry also gives the game away.
The play being an old warhorse that even Agatha Christie thought no more than workmanlike, the revelation is all
The Mousetrap
has, and it has been filling the house for 60 years.
From the concept of spoiling it for others we get the nowadays ubiquitous terms "spoiler" and "spoiler alert". Here at theartsdesk we have been thinking about the concept of the spoiler quite a bit lately: the rules and regs, the etiquette, the dos and don'ts. But not as much as one of our readers who, commenting at the bottom of Demetrios Matheou's preview of The Killing III, complained that he had revealed the identity of the culprit in The Killing II. He complained again when I did the same in my review of the new series of Borgen. "You've done it AGAIN!" wrote Daniel. "First your colleague went and spilled the beans, ruining my chances of ever seeing it, and now my partner, from whom I kept the news, reads this and can't watch it either. WHY do you keep making these massive spoilers?"
Now it so happens that I know how Daniel feels. I was late to The Killing – in fact I came to Borgen first, and when my colleague on the TV page Adam Sweeting and I were enthusing about it he casually noted the oddity – SPOILER ALERT - of seeing the statsminister's husband in Borgen played by the killer in The Killing END OF SPOILER ALERT. I watched the whole of The Killing I waiting for said actor to turn up. He never did. The minute I started watching The Killing II, I knew exactly who the killer was and was reduced to spending the next 10 hours absorbed but in a different way. I don't blame Adam, mind. By my reckoning, you have only yourself to blame if you're two series and two years behind.
Not everyone agrees, however. On social media we asked readers for their stance on this. The question was worded as follows: "A reader complains we've revealed the i.d. of the perp in The Killing II. It was on over a year ago! How soon is too soon for plot spoilers?" The responses fell more or less half and half into two camps. In Camp A are those who think it's reasonable to start talking about stuff sooner or later, so long as you are careful to warn readers that this is what you're doing. Here are some sample responses.
"As long as the episode has aired in the UK then it's fine," says @Fab_i_ana on Twitter. "If I read a review before I see a show I expect a spoiler." "Over 12 months... that's completely fine!" agrees Amy Soap Box on Facebook. "I would say don't do plot spoilers for anything under six months old. Twelve months though, that's pretty reasonable." Donna Rees agrees: "To complain when the show has been out for over a year is utterly ridiculous, but write 'spoiler alert' before any crucial plot points, then they have been warned and it's their own fault for reading it." Lily McCallum argues that "if you are so interested in The Killing that you wait a year before you watch it, it is your own fault if you read who the killer is. No sympathy on that score." "I think it's ridiculous to expect publications to have to censor and avoid crucial plot lines," concludes Roxanna Klimaszewska. "It is frustrating that those of us who are avidly following something have to read cryptic reviews so that people who haven't taken the initiative to jump on board don't have it spoiled for them. You can't expect the rest of the world to censor what they say, until you get up to speed."
Spoiler alert: all three of King Lear's daughters peg it, then he croaks too
The writer and comedian David Baddiel weighed in a little more forcefully. "It is time for those of us who like to talk about stories to fight the overreactions of the spoiler-alert Stasi." That epithet may be a shade assertive, but people who don't want to find out what happens in dramas can certainly come across as hardliners. These broadly speaking comprise Camp B. "It's ALWAYS too soon," claims Michael Fredman. "A story is made to be told, all I want to know from reviews is if it is told well. I don't think time matters, e.g. I wouldn't want to spoil Psycho for a new generation."
This puts theartsdesk in a pickle. Last summer we ran a series called The Hitchcock Players on the great performances in the films of the master. More than half a century on, it would have been inconceivable for Ronald Bergan not to talk about Anthony Perkins' performance as Norman Bates. But Andrew Allen agrees with Michael. "There are always new people coming to that film for the first time. Why would you take away that sheer joy? By all means, do articles where you discuss in detail That Which Can't Be Discussed, but ring-fence the hell out of it so that we don't stumble blindly into a reveal." Sounds kind of cumbersome, and where do you draw the line? Spoiler alert: all Lear's daughters peg it, then he croaks?
No matter, Andrew still hasn't forgiven Total Film for revealing "a major, unguessable plot point in the very first line". If it was the identity of Keyser Sose, fine. Or the mole in Tinker Tailor Soldier Spy, ditto. And so on. But the concept of the universal spoiler alert in perpetuity can be taken to absurd extremes, as other readers of theartsdesk seem to intuit. "Was it Downfall where Hitler - spoiler - loses the war?" suggests Donna Rees. "Just please don't reveal who shot JR," says Michael Forshaw. "Still not watched that episode." "It must suck to start watching Twin Peaks today," counsels @michaelleung. "There's a handful of Twitter bots that reveal the killer to anyone who tweets 'Twin Peaks'."
More overleaf, though we won't reveal what.
I accept that in film, a review which walks you right through to the dénouement is next to useless. But one of the reasons why this is of compelling interest to us at theartsdesk is that, unlike a lot of print media, we like to check up on a television drama when it reaches its finale. It's not possible to talk about the last part of, say, The Paradise or Secret State or Homeland without sifting through the plot's entrails (you can link to various examples listed in Related Articles in the right-hand column). And judging by the popularity of those reviews, our readers agree with us.
We know that people can keep a secret if asked nicely. The plea for secrecy made by Danny Boyle at the rehearsals for London 2012's Opening Ceremony did not fall on deaf ears. But however monumental an act of self-denial that proved for the more inveterate tweeters in the Olympic stadium, Boyle had the advantage that his audience had only so long to keep shtum. With plot spoilers, the complication is not simply new media, which pushes information out into the ether at breakneck speed. It's also the box set. The oddity is that these two developments are pulling the argument in two entirely opposite directions. When I reviewed the episode of Downton Abbey in which a significant character popped his or her clogs, I confess it didn't occur to me to keep quiet about it in the title, much to the disapproval of some ("bloody annoying," says Julie Blyth. "Have a heart!!!!!!!!!!!!" wrote a friend. "We Downton fans who live on foreign soil have to wait a couple of days until it comes onto iTunes and now you´ve spoiled the suprise!!!! aaaaaaaaargh!!!!!! am inconsolable!!!!!!!!!!!!!!"). In one's defence, your honour, the entire UK was aflame with the news. Water coolers the morning after were at boiling point. Indeed, the killing off of another character on Christmas Day (pictured below, no names no pack drill) was all over Twitter like chicken pox and headline news on the Daily Telegraph's front page on Boxing Day.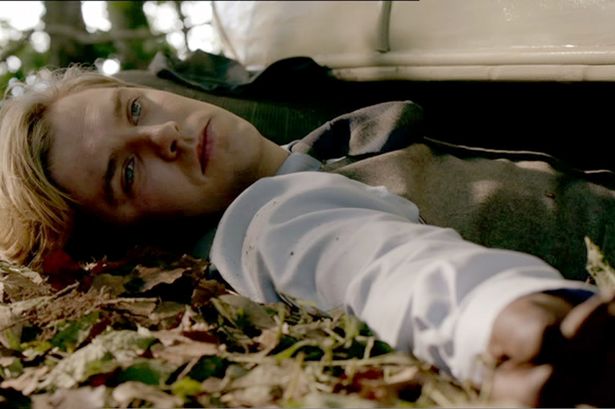 The arrival of the box set and streaming via Netflix and LoveFilm has changed the game. People can now consume dramas when they want. (I've less sympathy with those who watch illegal downloads.) So the harrumphing about plot spoilers is a symptom of the fragmentation of previously vast television audiences. "Loads of people are still waiting to watch The Killing box sets 'when they get round to it'," suggests Alison Gibbs, "so when it was on TV becomes a bit irrelevant." "The box set just came out," says @michaelleung, "so I imagine you'll be getting these complaints for the next couple, uh, decades." "Yep, never," says @andrewfox in answer to the question, how soon is too soon? "Am only starting on Killing I now via Netflix. You can talk about it once I've finished. I'll get back to you."
OK, so I vow to be more careful about spoilers from now on as suggested by Camp A. But I'm less inclined to submit to the diktats of Camp B. If you don't want intelligent discussion of classic films by the likes of our resident film historian Graham Fuller, who may perhaps reveal plot when discussing the homoerotic undercurrents in Casablanca or the semiotics of Rita Hayworth's gloves in Gilda, you've come to the wrong place.
I will conclude by paraphrasing a tweet submitted by someone whose identity I can't reveal: "I got so bored with people telling me off that [name of major character] dies at the end of [name of major recent movie] that I never mention it any more." Regrettably, the tweet was soon deleted, so you can't put the unidentifiable tweeter in the stocks.