Mission: Impossible – Rogue Nation |

reviews, news & interviews
Mission: Impossible – Rogue Nation
Mission: Impossible – Rogue Nation
Fifth time around, and still nothing is impossible for Tom Cruise
Ethan Hunt (Tom Cruise) meets the enigmatic Ilsa Faust (Rebecca Ferguson)
Stepping in for Brad Bird, who helmed 2011's Mission: Impossible – Ghost Protocol, director Chris McQuarrie has brought a high-speed sheen and effortless technical assurance to this fifth outing for the franchise. In so doing, he at least partially erases memories of his previous directing job with its star Tom Cruise, 2012's misfiring Jack Reacher.
Perhaps it's a shade lighter on the mind-warping trickery-within-chicanery effects seen in previous Missions, but on the other hand the interplay between the characters achieves a lightness of touch rare in your average blockbuster, and the script offers nuggets of genuine wit.
That said, I'm still to be persuaded that Simon Pegg's jokey gadget-geek Benji Dunn is a mission-critical ingredient, but Rebecca Ferguson (last seen in the BBC's Wars of the Roses romp The White Queen) glows enigmatically as MI6 agent Ilsa Faust, and there's a droll cameo from Tom Hollander as a patently incompetent Prime Minister. As for the plot, it's not entirely implausible. Ethan Hunt (Cruise) and his Impossible Missions Force have detected the existence of The Syndicate, a sinister global terror network comprising multinational agents previously presumed dead. This bunch have apparently been responsible for every high-profile outrage in living memory, from chemical explosions to missing airliners.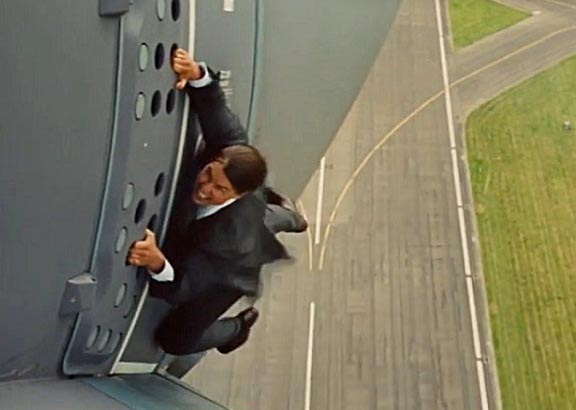 The Syndicate is led by a desiccated, cold-blooded assassin called Lane. He's played by Sean Harris, from whom McQuarrie has managed to extract at least a semblance of intelligibility famously lacking in Harris's notorious "mumblegate" performance in the BBC's Jamaica Inn. Even so, he still speaks as if he's croaking out his last words while plugged into a life-support machine. He's especially unpleasant in a scene where he turns the tables on Hunt by hijacking the traditional "your mission, should you choose to accept" scenario, and turns an old-fashioned vinyl record store into a fiendish trap.
As usual the IMF is in trouble with the Authorities (represented by CIA chief Alan Hunley, aka Alec Baldwin at his most blustery and bombastic), for such tactless gaffes as blowing up the Kremlin, and is being officially closed down, though nobody has managed to tell Hunt because he has dropped off the grid. The IMF's William Brandt (Jeremy Renner) is gamely trying to fend off Hunley and a Congressional oversight committee with guff about maintaining operational secrecy. In short, Hunt and co have to get this Syndicate malarky sorted before the spooks and the politicians can screw the lid down on them.
Cruise eerily continues to defy the march of time (some secret Scientology serum, perhaps?). He's still indulging in the eccentric arm-pumping Tom Cruise sprint, and hurls himself into ludicrous stunts. The opening sequence where he clings to the outside of a cargo aircraft as it takes off isn't bad (pictured above right), but it isn't as good as when he has to plunge 300 feet into the vortex of a super-secret underwater vault, then raid a specific deposit box while (a) holding his breath and (b) not getting decapitated by a spinning robotic arm that hurtles round every 30 seconds. Then there's a screaming motorcycle chase (pictured below) which leaves you feeling as if you're drenched in petrol fumes and nursing tarmac burns on your knees.
Top of the set pieces, though, is a bravura extended sequence at the Vienna State Opera, shot during a performance of Turandot, where Cruise tries to thwart a bunch of assassins out to shoot the Austrian president while flying up and down on the backstage scenery, as the tenor hits his top note in "Nessun Dorma". It may be a matter for regret that Cruise doesn't seem that interested in "real" acting any more, but at least he can claim that he really has brought opera to the masses.