The Curse of Cruise: When Co-Stars Vanish |

reviews, news & interviews
The Curse of Cruise: When Co-Stars Vanish
The Curse of Cruise: When Co-Stars Vanish
In which the careers of Tom Cruise's female co-stars mysteriously stiff
Cruise control: don't get too close, Cameron
You've heard of the Curse of Frankenstein. You know all about the Curse of Hello! But you may not be aware of the deadliest hex of them all. It goes by the name of the Curse of Cruise and, you just never know, it may be about to strike again. Film-goers have nothing to fear personally, not even if they find themselves watching potent soporifics like Interview with the Vampire or Eyes Wide Shut.
No, the only way in which the Curse can possibly affect you is if you're a young actress, and only then if you've been cast as Tom Cruise's leading lady. Cameron Diaz, we suggest you look away now.
Diaz is the latest chick sidekick to be thrown into the ring with Cruise. If precedent is anything to go by, Knight and Day, an action caper featuring guns, cars and explosions, may well be the last decent film role she ever gets. Consider the files and files of evidence. Cruise has taken top billing in around 30 movies. In most of them he has naturally been cast as some kind of romantic lead. So he has to have a love interest. In almost every case, the actress chosen has not gone on to bask in the big Hollywood career she might have expected to flow her way after such a huge hoik in profile.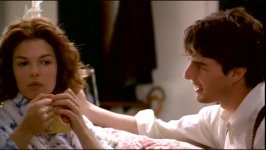 Take, if you will, Jeanne Tripplehorn (pictured right). Name ring any bells at all? Fresh from participating in one of those terrible sex scenes in Basic Instinct, she was cast as the mousy wife to Cruise's cocky lawyer in The Firm. There was little wrong with her acting - she was a scream as the ballbreaking other woman in Sliding Doors. Since then? Slamming doors.
You could easily assume that Tripplehorn's is just a case of bad luck, until you remember Kelly McGillis. In Top Gun, McGillis played an aviation instructress to Cruise's cocky trainee pilot. Sure, it was an implausible role, and she did what she could with it. After going on to play another fantasy package of brains and beauty in The Accused – the district attorney role fabled as the actress's mid-career staging post between babe and Driving Miss Daisy - her career hit an iceberg and sank. She was last seen in this country acting in a play in Guildford.
Then there's Mary Elizabeth Mastrantonio (pictured left), who mysteriously disappeared off the face of the earth a couple of years after cheering baize-side while Cruise's pool hustler potted his way through The Color of Money. She was a ringletty Maid Marion in Robin Hood, Prince of Thieves, then for years she was history until, in this country, she briefly resurfaced at the Donmar Warehouse in Grand Hotel.
In hindsight, the Curse probably goes all the way back to Risky Business, which introduced Cruise the male lead as a cocky young juve desperate to get his end away. He falls for Rebecca De Mornay, playing a hooker with a heart. They have sex on the subway, then when they get off the train their careers diverge. She takes the low road to oblivion via the psychotic nanny in The Hand that Rocks the Cradle. He becomes the highest paid movie actor in the world.
And while we're in the neighbourhood, let us pay our respects to the brief careers as leading Hollywood ladies of Valeria Golino (delectable foreign squeeze to Cruise's cocky car salesman in Rain Man) and Kyra Sedgwick (armchair candy to Cruise's Vietnam vet in Born on the Fourth of July, a rare uncocky role). Even Emmanuelle Béart (pictured below), after hating every minute of Mission: Impossible, went back to France and stayed there.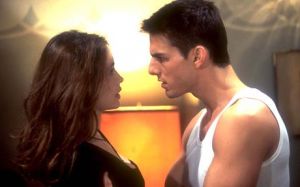 The Curse moves in mysterious ways. It does not, for example, always kill in an instant. Demi Moore's film career limped on for a few more years after A Few Good Men. Sometimes it merely stuns a career rather than sucks the life entirely out of it. Elizabeth Shue endured a seven-year hangover after mixing it with Cruise's cocky barman in Cocktail. Then she did Leaving Las Vegas.
The Curse will even strike in its own joint bank account. Nicole Kidman co-starred three times with her then other half: Far and Away, Days of Thunder and Eyes Wide Shut. Not a lot of memorable films there, you'll note. The Curse moved in on Cruise's next special friend, Penélope Cruz, who after Vanilla Sky struck eventually had to go back to Spain and, above all, Almódovar to find decent roles.
After that, maybe other actresses didn't fancy stepping into the shoes. Katie Holmes has sensibly given the whole area a wide berth, and there was no love interest to speak of in War of the Worlds and Collateral, or indeed The Last Samurai or Minority Report (Samantha Morton lying bald in a pool doesn't count). In the much delayed Hitler assassination thriller Valkyrie, Cruise's character was married to the well-known Carice van Houten (or as a Hollywood casting director would say, van Whoten. Clue: she's Dutch). Meanwhile, since Mission: Impossible III not much has been heard from his female lead Michelle Monaghan.
This is why Interview with the Vampire, though largely unwatchable, is Cruise's most honest film, telling as it does of a man who preys ceaselessly on young women, using them for his own ends. After he has sucked on their flesh, they are condemned to an undead existence between this world and the next. It may as well be the ur-movie about the lot of Hollywood Woman.
You could say the Curse of Cruise illustrates a wider truism, that in Tinseltown there are vanishingly few roles for women much over 30. While McGillis goes grey, Cruise keeps a portrait in the attic (see picture left of their reunion). All these actresses, many of them capable, have simply been unable to hold down a film career in Hollywood. But that doesn't explain why Cruise's female contemporaries - Julia Roberts, Meg Ryan, Sharon Stone, Jodie Foster – have acted with many other big male stars but never with Cruise. You could reasonably speculate that he has final say in casting and avoids sharing top billing with someone who might blow him off the screen. Most leading actresses wouldn't want to play his love interest anyway. The roles are fit only for young thrusters prepared to gamble that a little Cruise lustre will rub off.
By now, though, they should know that it won't. Renee Zellwegger, doormat to Cruise's sports agent in Jerry Maguire, and Thandie Newton, sexpot sidekick in M:I II, are the only actresses who seem to have survived the Curse. The intriguing thing is that the Curse seems to have turned on itself. Ever since Cruise went all Scientological and started bouncing around on Oprah's and other sofas declaring his love for Holmes, it's not his co-stars who have been seen as the accident waiting to happen at the box office. Which is maybe why it's safe for Cameron Diaz after all.