Men in Black: International review - lacklustre sequel missing original stars |

reviews, news & interviews
Men in Black: International review - lacklustre sequel missing original stars
Men in Black: International review - lacklustre sequel missing original stars
One reboot too many as a new generation of alien exterminators fail to ignite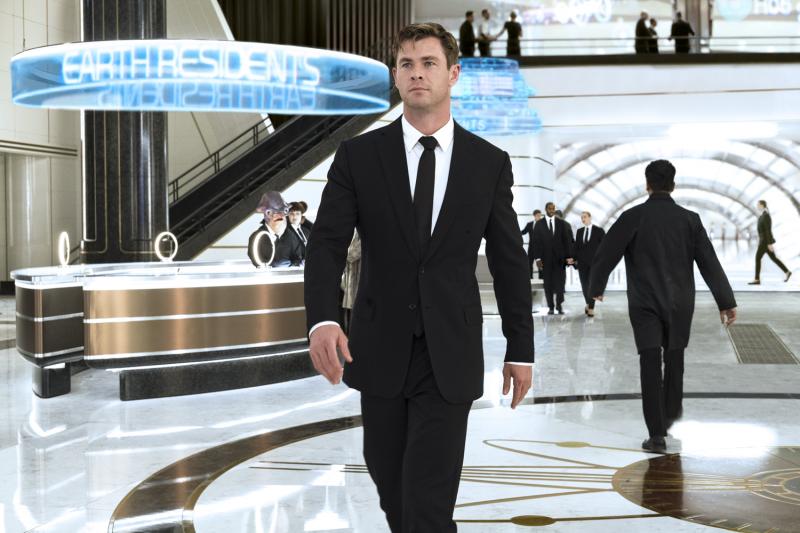 Auditioning for James Bond? Chris Hemsworth as Agent H, smooth operator
The best joke in Men in Black: International happens before the film starts, when the iconic Columbia Pictures lady in a toga whips out a pair of familiar dark glasses. It's a nifty, witty gag that doesn't outstay its welcome, which is more than can be said for the feature that follows. The original stars are absent and there's an absence too of the screwball humour that made the first film, back in 1997 such a hit.
Gone is Agent Tommy Lee Jones with his dry wit (or his simulacrum in Men in Black 3, Josh Brolin) and gone is Agent Will Smith with his gleeful energy. Instead we have two new agents in the shape of the impressively athletic but irritatingly smooth Chris Hemsworth as maverick Agent H. His accent drifts from Antipodean to Prince William from one scene to the next and he fails to generate much chemistry with Agent M, Tess Thompson (below), despite their on-screen history in the Marvel series. Thompson plays Molly, who after a childhood close encounter with aliens is eager to join the secretive Men in Black agency and protect the Earth from extraterrestrial invasion. There are subversive forces at work within the Agency and the rookie and the maverick are dispatched to vanquish the enemy while waving their amnesia-inducing neuralyzers at any humans that get in the way.
Locations swivel from the Eiffel Tower to London, Italy and Morocco but the footage is all so heavily worked in CGI post- production that it's hard to feel as if any of these places are real. Not only do comic book movies like Men in Black: International have narratives that replicate video games, they've started to make their actors look like the animated figures in cut scenes; something quite odd has happened to Liam Neeson who plays Agency supremo High T (above). He's all smoothed out and robotic; it's almost as if he's escaped from the uncanny valley of androids. There's some enjoyable special effects work involving vehicle transformations and an impressive fight sequence with a four-armed villainess played by Rebecca Ferguson, but Pawny, the mascot alien voiced by Kumail Naniani, outstays his welcome.
With all the visual tampering, it's a relief that Emma Thompson as Agent O looks like herself, albeit sporting the same crest of white hair she's currently rocking in Years and Years on BBC One. But it's a shame she's not in the film more; she breaks the fourth wall when she tells Molly/Agent M that the agency has had a conversation about the Men in Black moniker now that it recruits female agents too, but wryly concedes "It's an attachment issue, I'm working on it'". Perhaps she will have got somewhere by the time Columbia make the fifth episode.
Watch the trailer for Men in Black: International