May I Kill U? |

reviews, news & interviews
May I Kill U?
May I Kill U?
Avenging London bike bobby puts his beat to right, parodically
PC Baz Vartis (Kevin Bishop) keeps deadly order on his beat, on his bicycle
How could we have expected the London 2011 riots to be brought back for the big screen? The least likely answer must be as a black comedy about a bicycle cop who after a bad concussion has woken up as a one-man vigilante who's taking out the villains on his beat, but asking their permission first. That last detail explains the title of Stuart Urban's May I Kill U?, which brings this particular wayward member of her majesty's constabulary rather into Carry On territory, with a twist of Ealing comedy on the side.
The odds are already stacked towards absurdity when your hero's called Baz Vartis, played rather winningly by comedian Kevin Bishop as a cheeky chappie who probably didn't have that many brains even before he bashed his head in an incident, but has become something of a rightwing moron after it. Add in the fact that when this copper pulls up to the latest incident, he's being supported by a Smith and Wesson (the bike, that is, not the revolver - and that's not the director's invention, actually).
Baz puts helmet cam-shot killing pictures on the internet, then tweets under the moniker @N4cethelaw
Then give him a home life dominated by his dipso mum Bernice (Frances Barber, pictured below right), who looks like she's trounced Steptoe Snr. in the geriatric bloodymindedness stakes. And, finally, watch Baz kill a series of people on screen in front of us, the first and most impressive being when he bashes a looter to death with the wide-screen telly he's trying to walk off with. Baz isn't a murderer, you see, but a self-styled "death facilitator".
Except that that's when it stops being quite so funny. Intentionally, I think, because if we've been lured into the absurd by now (and Urban knows very well how to work the levers of his own script), the violence does come as a jolt.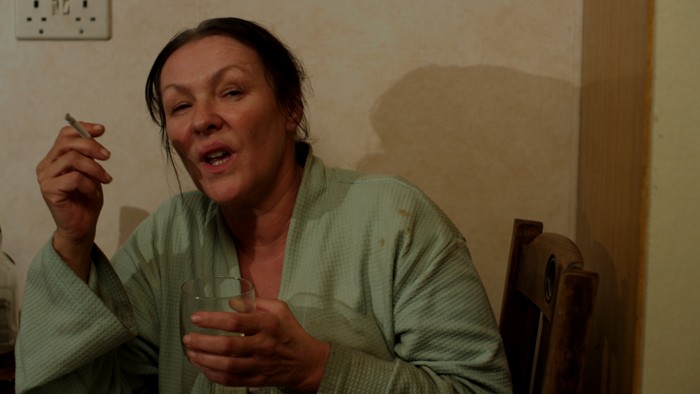 Just as it sticks in the throat somewhat when Baz puts helmet camera-shot killing pictures up on the internet, and then tweets the befores-and-afters of each under the moniker @N4cethelaw, acquiring rapidly growing public support in the process (screen graphics move the whole action along slickly). Baz even has a choice of love interests, though he's essentially too infantilized - thanks to mum - to grasp what that might mean. A completely farcical climax comes together in a closing scene that sees him overcome the real thug (Jack Doolan) who's out for revenge (not for the killings actually, but on family business), and walk off with the girl.
All of which makes for whatever the opposite of good, clean fun is. But it's quite fun nevertheless, a "dead black" comedy (in the director's words) that should work with the right audience, preferably at a late night screening. Even critics can relish Barber's pulling out the harridan housewife stops, and she's matched in a cameo by another veteran, Rosemary Leach, as the parodically innocent little old lady, who's actually a longterm lawbreaker. Bishop's performance is irritatingly personable, Urban's direction crisp and laconic. The suburbs will never look the same again.
May I Kill U? opens January 11
Watch the May I Kill U? trailer
Subscribe to theartsdesk.com
Thank you for continuing to read our work on theartsdesk.com. For unlimited access to every article in its entirety, including our archive of more than 10,000 pieces, we're asking for £3.95 per month or £30 per year. We feel it's a very good deal, and hope you do too.
To take an annual subscription now simply click here.
And if you're looking for that extra gift for a friend or family member, why not treat them to a theartsdesk.com gift subscription?