Gillian Slovo: Writing The Riots |

reviews, news & interviews
Gillian Slovo: Writing The Riots
Gillian Slovo: Writing The Riots
The novelist and playwright explains the genesis of the Tricycle's new verbatim play
Wednesday, 23 November 2011
A scene from 'The Riots': 'I'm not a propagandist. I don't see it as my place to tell people what to think'
I was shocked by the riots. I think everybody was shocked by the riots. It's not just the scale of the rioting that was shocking. It's the failure of the police and the fire services to take control of the situation. During my research for The Riots I interviewed a man who had his flat burned down and he told me that he couldn't believe this could happen in a democracy.
I was actually in the Scottish Highlands during the riots so I watched it on TV while friends in London called and texted to tell me what was happening (Slovo pictured below right; image by Charlie Hopkinson). The scale of things can appear magnified on television when rolling news repeats the same footage over and over again, but for those who were caught up in the riots it was genuinely terrifying. It's unusual in London to have a public event so many people are caught up in. Normally if there's, for example, a football riot you'll only see it on TV unless you live near the stadium, but this spread so widely it affected large numbers of people.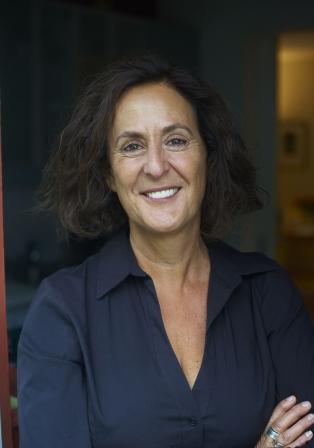 The first act of The Riots focuses on the riots in Tottenham. On this occasion I do think race played a role. As Diane Abbott says, it resembled a classic race riot in many ways when it started. The death of another black man by police hands just felt like one too many, and the police and the Independent Police Complaints Commission didn't keep the family properly informed. The rumour that Mark Duggan had fired a gun at armed police wasn't believed by anybody in that community because it would be suicidal to do such a thing - the armed police would kill you instantly. It seems to me the Tottenham police weren't adequately prepared for a demonstration they knew was happening. And afterwards the riots began to spread, and people were rioting for many different reasons. A lot of angry young people in England saw on their TV that you could go out and loot and that the police wouldn't stop you. Social media played a role in terms of spreading messages quickly but we spoke to young people who got all those BlackBerry messages and they didn't go out and riot. There is individual choice involved here. I don't think you can blame the technology. There's human agency involved.

When Nicolas Kent, the departing director of the Tricycle, wanted to run a verbatim piece [documentary theatre made using only the words of interviewees] on the English Riots he came to me because we'd previously worked on a verbatim play in 2004 about Guantanamo Bay [Guantanamo: Honor Bound to Defend Freedom (pictured below left)] and he knew it's something I'd want to do. My interest in this subject may partly be a product of my upbringing in South Africa [Slovo's parents were very active in the anti-apartheid movement] because in my family it was made clear that the politics of the country I lived in affected our everyday lives. I appreciate that what happens to other members of society has an impact on what happens to you. In my novels I've always written about people who are caught up in bigger politics; the impact on the individual of what's happening in the wider world.
The Riots is essentially about a confused situation in which anger against the police in Tottenham, which seems to me to be pretty rightful, turned into something completely different in other parts of London and then throughout England. I'm fascinated by the complexity of such a situation. The rioting certainly has something to do with what's happening politically in this country, but it's not exactly clear what. There isn't a single cause and that makes it an interesting challenge in terms of structuring a play.
My researcher and I started a search for interviewees - community activists, politicians, police, victims and the rioters themselves. Finding people who looted and rioted was our biggest challenge because they were either in prison, or awaiting trial and not allowed to talk, or they hadn't been caught and wouldn't talk. We put an advert in the prison newspaper and that did yield some responses which we've used and eventually we found a group of people who had been filming at the time and were willing to share some of their footage with us. We use tweets and quotes from the time and a Guardian journalist, Shiv Malik, shared some of his audio he recorded of the riots. We set up an anonymous phone line so people could tell their stories but the callers weren't rioters, they were people who wanted their voices heard. We were probably hoping for too much in thinking that rioters might call a phone line.
I ended up with 55 hours of tape from my interviews and since the play is only two hours long I had to make some tough decisions about what went in
We also spoke to two riot police, Sir Hugh Orde [the President of the Association of Chief Police Officers], a superintendent who's also a member of the National Black Police Association, and a chief inspector who was in charge of trying to contain Tottenham after it kicked off. The police who were actually on the street weren't so much telling us their opinions as telling us what it was like and what they were dealing with. The superintendent was speaking on behalf of black police and was much more prepared to talk about what happened in Tottenham and what some of the causes were. But in general the police are cautious and disciplined in interviews. We spoke to a chief inspector who was honest about his experiences but would not answer the question: "Do you think the police messed up?" He said it was not for him to say, that he could only tell you about his personal experiences.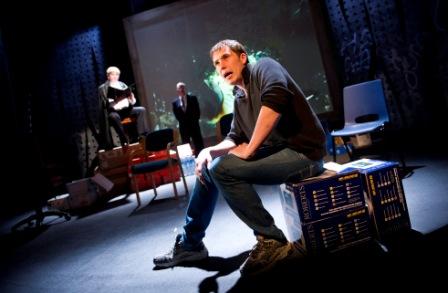 I ended up with 55 hours of tape from my interviews and since the play is only two hours long I had to make some tough decisions about what went in. We have strict rules about verbatim theatre at the Tricycle. You can't give characters words they haven't said but you can edit their words. Every now and then I'll add a word to make sense of the editing but when the actors get the scripts these words are in square brackets, and when I've made a cut there's an ellipsis. Occasionally an actor will tell me they think I've been unfair to the interviewee in terms of how I've made my edits. The actors also listen to the original recording of the interview, which ensures that I'm honest.
While we want to ask questions we can't compare a piece of verbatim theatre to a public inquiry
I try very hard to be balanced and not give myself a voice in the play. I'm a novelist and not a propagandist so I don't see it as my place to tell people what to think. But ultimately I'm the person who's conducted the interviews, chosen the questions and edited the answers, so there is a degree of editorial there. I make sure I give people I may not agree with an equal voice. I'm interested in art and culture, raising issues and widening people's horizons, not giving them solutions. We're doing The Riots to have a more informed conversation about them and to give people a good time in the theatre.
While we want to ask questions we can't compare a piece of verbatim theatre to a public inquiry. A public inquiry sits for months on end and has access to everybody they want to talk to. We did this very quickly and we didn't have any powers to summon people to us. But I learned a lot while putting this together and I think the theatre audience will learn a lot, too. With verbatim theatre you can speak to people at length and then tell their stories, which take you to a different level of understanding.
I edited the 2004 play Guantanamo: Honor Bound to Defend Freedom and was surprised by the impact it had. Tony Blair had to answer the question, "Are you going to see that play?", so we made a contribution to the debate over Guantanamo. Being in a darkened theatre and collectively experiencing something can change the way people think, and it really raises the issues.

Gillian Slovo is a South African novelist and playwright who has lived in London for over 40 years. She was talking to Matthew Lee. The Riots is on at the Tricycle Theatre until 10 December