The Little Stranger review - the wrong sort of chills |

reviews, news & interviews
The Little Stranger review - the wrong sort of chills
The Little Stranger review - the wrong sort of chills
Sarah Waters' haunted-house yarn from the maker of Room will leave you cold
Saturday, 22 September 2018
Cold caller: Domhnall Gleeson as Dr Faraday in 'The Little Stranger'
Domnhall Gleeson needs to watch it. In Goodbye Christopher Robin he played AA Milne, the creator of Pooh and co. To achieve the correct level of period English PTSD, it was as if he'd folded himself up into a neat pile of desiccated twigs. And now he's gone and done it again in The Little Stranger, only more so.
In an adaptation of the 2009 novel by Sarah Waters he plays Faraday, a quiet Warwickshire doctor with a trim little moustache who is drawn into the chaotic lives of the Ayres family up at Hundreds Hall, the crumbling old pile where his mother used to be a servant before the First World War. It's 1948, and Faraday is tending Roderick Ayres (Will Poulter, in disfiguring make-up), the young scion who wears the horrendous scars of battle with the Luftwaffe. His sister Caroline (Ruth Wilson, pictured below right) and mother Angela (Charlotte Rampling, pictured below left) rattle around the house indigently with only a sullen young house maid (Liv Hill) to keep the place running.
The family comes to depend on Faraday, not least when he is on hand to stitch up a young girl who is horribly mauled by Caroline's beloved Labrador. There is a growing sense in the atmosphere that the house is somehow blighted, perhaps even haunted by the Ayres siblings' older sister Suzi, whose death in childhood goes unexplained. None of the events that ensues lays the inhabitants' suspicions to rest.
Faraday – he's never called by anything else – has a surname which evokes the miracle of light. But that would be misleading. No one seems to be more haunted by the house than him, egged on as he is by a Proustian memory of visiting it as a boy when in happier times the neighbourhood celebrated the armistice. He even took away a little memento, a proof that he was really there in the shape of a plaster acorn snapped off the rim of an ornamental mirror. Faraday's obsession grows into a mighty oak: he argued for keeping the house and grounds intact, and as his friendship with Caroline (Wilson is at her most nice and sensible) warms at a jolly knees-up for local medics, the prospect arises of him entering the household on a more formal and permanent footing.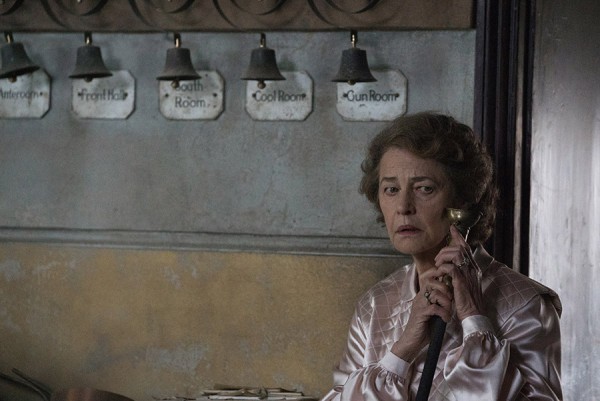 The Irish director Lenny Abrahamson struck a rich seam on his last novel-to-film project, Emma Donoghue's Room. He and his compatriot Gleeson, who first worked together four years ago on the rather more playful Frank, look upon toxic niceties of England's so-called class system with an outside eye. The house and its grounds have the ambience of a wintry crematorium, matched by Gleeson's impersonation of cold-blooded Anglo-Saxon repression. He makes for chilly company, and the audience may share the view of the Ayres family who conclude that he has rather outstayed his welcome.
Precisely how much of a ghost story The Little Stranger truly is – and who the eponymous poltergeist figure turns out to be – will be known to those who have read the novel, here adapted by Lucinda Coxon, who occasionally resorts to a voiceover to convey themes that don't elbow find their way into the dialogue. Sarah Waters's fiction has fared well on television (Tipping the Velvet, Fingersmith, The Night Watch). The Little Stranger is a little stranger than those, and a lot emptier.
The house and its grounds have the ambience of a wintry crematorium, matched by Gleeson's impersonation of cold-blooded Anglo-Saxon repression
rating
Explore topics
Share this article