The Liability |

reviews, news & interviews
The Liability
The Liability
Brit crime caper hits new lows, despite strong cast
What are we doing here? Adam (Jack O'Connell, left) and Roy (Tim Roth) confront existential questions in 'The Liability'
The title says it all. Whatever John Wrathall's script for The Liability might have promised is resoundingly undelivered in Craig Viveiros's direction, and that's despite the presence of Tim Roth in a lead role, and Peter Mullan giving a supporting turn that proves at least that he can parody himself.
Possibly its comedy may work slightly better in front of a full cinema audience, but frankly I doubt it, and DVD is where this one is heading with a speed faster than the crime caper-cum-road movie itself ever manages.
The eponymous role here goes to Jack O'Connell (a bright face best known to date from television, deserving a much better future) as Adam, the goofy 19-year-old son of a woman linked at the hip to businessman Peter (Mullan). Adam's accomplished at wrecking cars, but good for very little else, and simply the worst candidate for the driving job that Mullan's character offers when an old pal needs to be helped out. Peter's business interests duly reveal themselves as on the dodgy side, while his domestic environment resembles Mullan's most recent digs in Channel 4's The Fear, only cut price.
The newspaper headlines are full of a run of gruesome killings, so hints have been dropped
So it's off up north along the motorway for Adam, along with Roy (Roth), an enforcer who's on his last job ("I'm done" - truer words never spoken), before heading off to wherever it is enforcers retire to (probably Spain, if we follow the likes of Sexy Beast, to which The Liability holds up not even a taper). The newspaper headlines are full of a run of gruesome killings, so hints have been dropped. If Roy has a weak spot - other than not wanting his name to be mentioned twice in the film - it's that this script has convinced him he has a heritage to pass on, while clueless Adam is tentatively ready to assume the mantle. Bonding of some sort threatens to go on. If Roy was intended to be a man of mystery, Roth plays him as a cipher to the power of umpteen.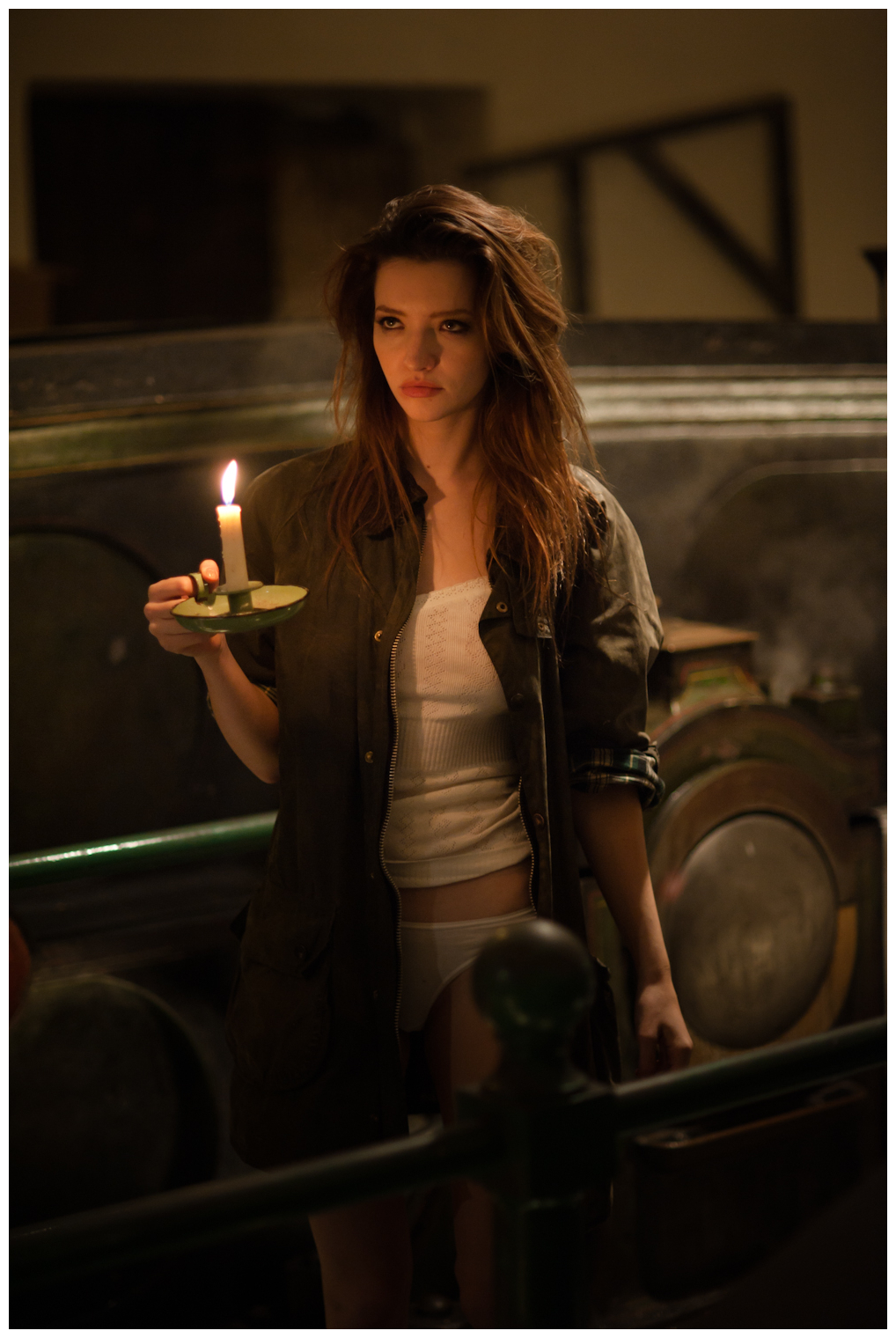 Various body parts appear, but then duly disappear when Talulah Riley interrupts in the role of "the Girl" (clearly names have become old fashioned). She's emoting as a Latvian femme fatale avenging family wrongs, but seems to have been press-ganged into playing cooky romantic interest as well (the picture, right, says it all). At least she has a simple degree of competence about what she's doing that her pursuers lack in spades. Roth's character gets to the church on time (you'll have to watch it to get that one, I'm afraid), Mullan's only just gets outside his own front door. Before that small departure Mullan does at least get to deliver one of his trademark riffs of anger, that reminds us (as if needed) that he's outstanding at them, even in a script scoring in the minuses on character dimension.
There are many puzzles here: for those concerned on plot matters, the not so small question of how long you can hijack cars and hold up service stations without so much as a whiff of police presence. Or just how everyone manages to track each other down as the plot develops, and then end up in a showdown location that is so preposterously good for visuals. Most of all, sadly, it's what actors of this mettle are doing here in the first place.
Watch the trailer for The Liability
Possibly its comedy may work slightly better in front of a full cinema audience, but frankly I doubt it
rating
Share this article