LFF 2017: The Shape of Water review – outsider s f and inter-species sex from del Toro |

reviews, news & interviews
LFF 2017: The Shape of Water review – outsider s.f. and inter-species sex from del Toro
LFF 2017: The Shape of Water review – outsider s.f. and inter-species sex from del Toro
Sally Hawkins is an innocent wonder in a Cold War creature feature. Also, Lean on Pete and 6 Days
Wednesday, 11 October 2017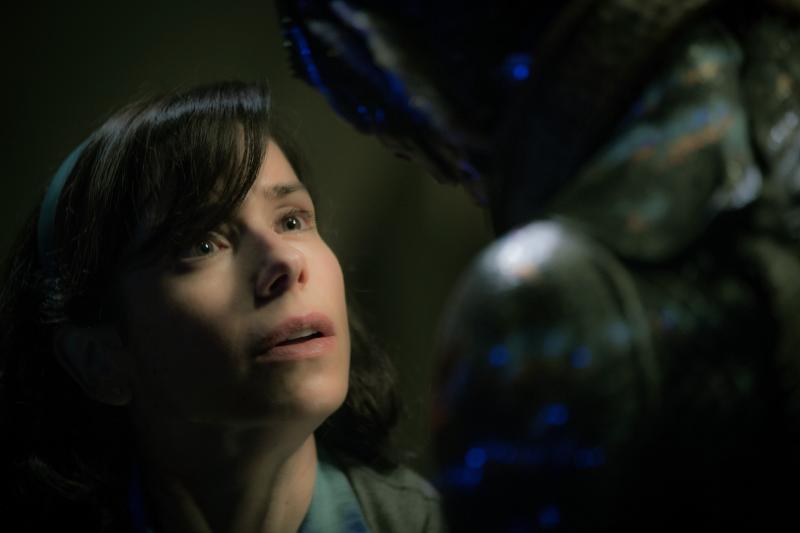 Elisa (Sally Hawkins) finds love in unexpected places
The Shape of Water
riffs on
The Creature from the Black Lagoon
with its amphibious man-god, captured in 1962 to be cattle-prodded and dissected by the film's real monster, US agent Strickland (Michael Shannon). Elisa (Sally Hawkins), a mute cleaner at Strickland's Area 51-style facility, her ageing, failing gay neighbour Giles (Richard Jenkins), black fellow cleaner Zelda (Octavia Spencer) and Soviet double-agent Hoffstetler (Michael Stuhlbarg) are also feeling the American outsider blues.
More than the scaly, expressive beauty of the creature, Hawkins is the marvel here. Her flutter of sign-language and the sly wit and open ache of her eyes make her silence seem immaterial. She's matched by Richard Jenkins's poignant, Oscar-worthy portrayal of clumsy need.
Elisa's morning wank in the bath lets you know that del Toro isn't Spielberg. This watery ecstasy is later scaled up for inter-species sex recalling Alan Moore's taboo-busting Swamp Thing comic. Her and Giles's mutually supportive, rickety home above a cinema meanwhile contrasts with Strickland's bright, clean American Dream in the suburbs. Del Toro and Vanessa Taylor's script is sometimes too on the nose in critiquing US iniquities, and sometimes just right. "Decency," a general in Kennedy's supposed new Camelot announces, "that's for export. We sell it because we don't use it." Strickland becomes a poisoned white Dream, creature-chewed fingers rotting black during a hard-charging, brutish rampage.
This is an elegant reconsidering of old monster movies, putting Universal's recent The Mummy to shame. But though his film is named after poetry, del Toro is too prosaic here to find the fairytale wonder he wants very often.
Lean on Pete
Andrew Haigh's Lean On Pete is a fable, too, about a boy and his horse. Based, like 2012's The Motel Life, on a novel by former Richmond Fontaine singer-songwriter Willy Vlautin, the American odyssey undertaken by 15-year-old Charley (Charlie Plummer, pictured above) and the titular, knackered racehorse is, though, an increasingly desperate affair.
Steve Buscemi is memorably sour as a racehorse owner scrabbling for a dubious living, one of several highly fallible father-figures for Charley. "Can we not…talk?" he winces at Chloë Sevigny's more emotionally engaged jockey. Plummer's polite, bashful Charlie reminds you how vulnerable boys are. He ages overnight after the painful death of a loved one. Later, we see him alone in the American dark, coyotes howling. He's made the quixotic decision to walk his beloved horse Lean On Pete across the desert towards the chimeric safety of a long-lost aunt. Haigh films the big, lonesome country with straightforward love. Despite this classical Americana, Charlie's emaciation and sun-blackened face as he trudges forward isn't romanticised. Haigh is true to Vlautin in the destitution and violence he encounters and eventually has to perpetrate as he sinks through circles of hell. There's a beauty to fragile lives which are allowed their humanity, from Gulf War vets to junkies, and unsentimental doom in their vanishing prospects.
You might think of Kes as this boy clings to an animal's friendship as a defence against a harsh world. Lean On Pete isn't far off that class of painfully humane cinema. ★★★★
6 Days
Abbie Cornish is Kate Adie in Toa Fraser's 1980 Iranian Embassy siege docu-thriller. It's an altogether dourer affair than Who Dares Wins, 1982's pulpy right-wing exploitation hit with Judy Davis as a gun-wielding CND terrorist in a cocktail dress. Lewis Collins was that film's low-wattage star, and his colleague from The Professionals Martin Shaw cameos as a police chief here. 6 Days' reverence for such humourless officialdom is waring, though we do get the unexpected sight of the late Tim Pigott-Smith as Willie Whitelaw. Other half-remembered figures of the age are revived, from captured Embassy PC Trevor Lock to a televised Alex Higgins final which nearly snookers negotiations. Supposed Thatcher-era mainland riot footage looks suspiciously like the Troubles, and there's no shortage of thuddingly clunky lines. This Netflix flick also insists on the US pronunciation of I-ran.
In 6 Days' favour, its most sympathetic characters are Mark Strong's hostage negotiator, and chief hostage-taker Salim (Ben Turner). Strong's lulling tones would calm a cobra; Salim's nerves when his arguably terrorist gang find themselves as trapped as their captives, and their Iranian Arabic minority cause (always a murky element of the affair for British onlookers), make this reluctant killer's bleak prospects real. Jamie Bell's SAS men (pictured above) thunder in and out of leafy Herefordshire lanes, gagging for a fight. They look like gas-masked, gung-ho aliens as they wait, with just a wall between them and their unsuspecting targets. For an often bad film, 6 Days is sometimes thoughtful and exciting. ★★