Lawless |

reviews, news & interviews
Lawless
Lawless
John Hillcoat directs Tom Hardy in a visually sleek but dramatically patchy Prohibition thriller
Monday, 03 September 2012
A touch of silk: Jessica Chastain tends to Tom Hardy in 'Lawless'
Australian director John Hillcoat certainly knows what he likes, and what he likes is lawlessness. It's the central focus of his brilliantly uncompromising film Ghosts… of the Civil Dead, which saw a high-security prison driven to bloody ruin, and of his scorching western The Proposition.
And there it is again in the anarchic dystopia of
The Road
(less impressive because, despite Hillcoat's flair for brutality, it perversely shied away from some of the key violence of the source novel). It therefore comes as no great surprise that Hillcoat's Prohibition-era latest should be lawless not just in nature but in name.
Boasting a cast to die for - and Shia LaBeouf - Lawless is a part-real, part-imagined story of the Bondurant brothers, based on the novel The Wettest County in the World by Matt Bondurant, grandson of Jack (here played by LaBeouf). It's 1931 and the siblings are legends of Franklin County, Virginia. Jack's the wide-eyed baby brother, not really cut out for the criminal life the trio lead. He's domineered by hulking middle brother Forrest (Tom Hardy), the patriarch of the family, usurping the oldest brother Howard (Jason Clarke), who's relegated to the status of Forrest's right-hand man.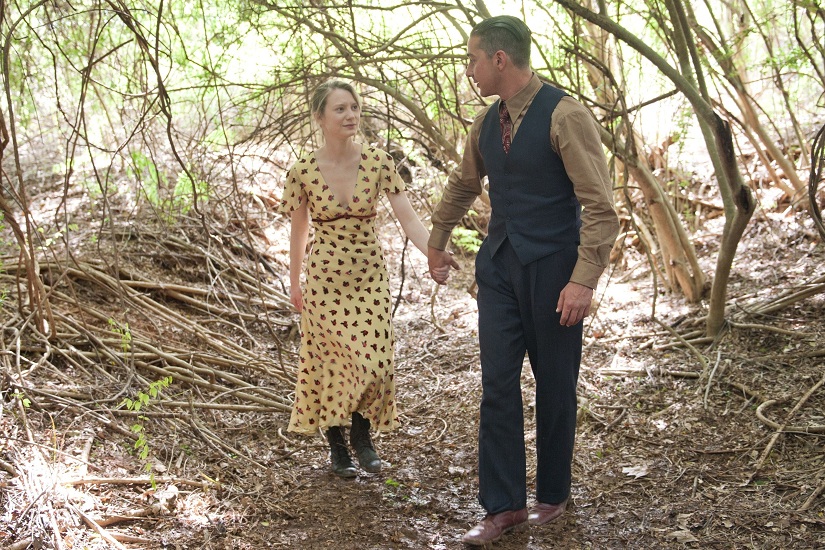 The brothers take on an eye-catching and unlikely employee for their filling station and diner, when glamorous Chicago dancer Maggie Beauford (Jessica Chastain) slinks into town, while their thriving bootlegging business is jeopardised by the arrival of Special Deputy Charlie Rakes (Guy Pearce, pictured below left). He's the psychotic muscle acting on the orders of newly appointed DA Mason Wardell (Tim Tolin), demanding protection money, which the brothers refuse to provide. Meanwhile Jack has the opportunity to prove himself a man when he ingratiates himself to Chicago gangster Floyd Banner (Gary Oldman) and woos preacher's daughter Bertha Minnix (Mia Wasikowska, pictured above right with LaBoeuf)
Lawless sees Hillcoat work once again with Nick Cave - here providing both the atmospheric score with Warren Ellis and the less stirring screenplay. Their collaborations have borne such interesting fruit that this feels like a terrific disappointment. Despite a smattering of confident, well-executed dark turns and intermittent excitement, it often feels gangster-lite. It's lovingly shot and staged but dramatically unsatisfying and uses comedy as a crutch rather than a satisfying release, with key scenes being bungled in this way. Forrest's wordless grunt is funny at first but sits ill with a long-anticipated sex scene and during the film's closing stages it crassly undermines a crucial reveal. Neither cohesion nor tension is satisfactorily maintained - particularly astonishing considering Hillcoat's track record and it suffers by comparison to TV's meatier Boardwalk Empire.
Lawless squanders one of its key strengths – its cast - and the relationships between characters often feel underexplored. As the taciturn Forrest, Hardy broods in a selection of cardies; he's both mother hen and father bear. As Jack's love interest Bertha, Wasikowska is left with little to do but does it radiantly. Most troubling is the frustrating waste of Oldman, who appears fleetingly, and solely to provide Jack with the opportunity to prove himself. Instead we're left with LaBeouf at the fore - an actor of negligible charisma – and Clarke, prominently placed but failing to make an impression with a poorly drawn character.
More impressively Pearce gives it a bit of villainous welly; even his centre parting is thick with malevolence, and Chastain brings welcome delicacy and sophistication to the tenebrous proceedings. As Lawless tells a Goodfellas-esque tale, it perhaps would have benefitted from a Goodfellas-esque running time (146 minutes as opposed to Lawless's 104). It smacks of a story that has been compressed into a conventional length.
This rural gangster picture, with its western-like, sweeping surroundings, sits comfortably alongside the wilds of Hillcoat's previous work in feel, but unfortunately not in calibre. Lawless provides adequate, good-looking entertainment but lacks fire in its belly and flesh on its bones.
Lawless is in cinemas from Friday
Follow @EmmaSimmonds on Twitter
Watch the trailer for Lawless