Transformers: Dark of the Moon |

Film reviews, news & interviews
Transformers: Dark of the Moon
Toy robots punch each other again. Movie of comic of toy returns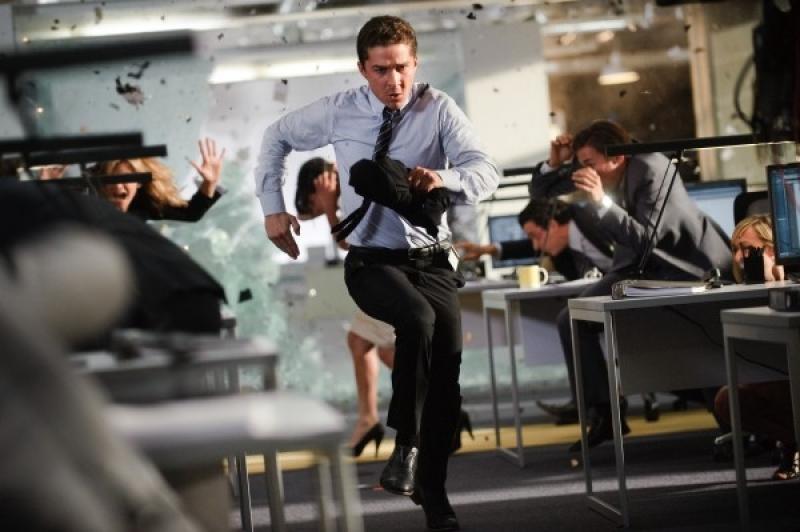 As 'Transformers' principal boy Sam Witwicky, Shia LaBeouf winningly channels David Schwimmer
When the infantilisation of Hollywood started in 1977 with Star Wars, as a 10-year-old I was all in favour. The hugely successful Transformers franchise based on a series of clever 1980s toys - they're a car; some Origami-style fiddling later, they're a robot! - probably isn't where that trend bottoms out. Michael Bay, the most bombastic, critically derided and commercially unsinkable director around, has as the title suggests gone prog rock for this third film, pumping up the Transformers "mythos", and dragging it out to triple-album, 154-minute length.
The pre-credits sequence chucks in dizzying pop-culture allusions, as a ship from the good Autobots, losing their civil war with the evil Decepticons, flees and crash-lands on the dark side of the Moon in 1962. The secret back story of President Kennedy's inspirational speech announcing America's race to the Moon is shown in digitally retouched footage of JFK himself. His lines are "improved" too, as he tells his staff: "You need to move heaven and earth. We need to get to the Moon!" Who knows what future indignities lie in store for 20th-century icons who neglected to tie down their image rights?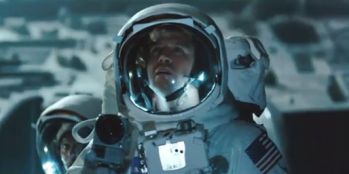 When Apollo 11's lunar module loses contact with a watching Earth on the Moon's dark side, Neil Armstrong (Don Jeanes, pictured right) and Buzz Aldrin race (as best they can on a Moon walk) to investigate the crashed ship. The real Aldrin turns up in present-day scenes, the only moments of this movie inspiring respect. "It is code Pink, as in Floyd," someone says of this hushed-up secret history. "Why do you think we haven't been up there since 1972?" - the year before Pink Floyd's Dark Side of the Moon, suggesting labyrinthine, Floyd-involving conspiracy theories more interesting than the movie. It's the sort of loopy mythos-rebooting Alan Moore patented when applying his vast mind to apparently irredeemable comic books, but screenwriter Ehren Kruger can't run with these ideas any further.
What's most striking is how cheap Bay makes footage of JFK in the White House and 1969's Moon-shot look as he digitally tarts it up in 3D. It gets worse when we switch to our present-day hero, Sam Witwicky (Shia LaBeouf, winningly channelling David Schwimmer), and his girlfriend. She is no longer Megan Fox, coincidentally axed after comparing Bay to Hitler, but posh British model Rosie Huntington-Whiteley, not an actor. Hollywood and Bay's sexism glows through the scenes in which she pouts vaguely in the direction of giant robots who are trying to slaughter her, her only aptitude for the job a decent body.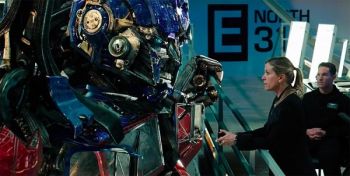 The fashion for cult art-house talent dabbling in blockbusters begun with Con Air (1997) continues in early scenes enlivened by John Malkovich as LaBeouf's monstrous office boss, John Turturro as a Transformer conspiracy theorist, and Frances McDormand (pictured above) as a CIA chief. They're left on the sidelines as the Autobots' turncoat leader Sentinel One (voiced by Leonard Nimoy) leads the Decepticons in laying waste to Chicago, and, in a scientifically inadvisable move, plots to bring the Transformers' dead home planet Cybertron into Earth's orbit, so puny human slave labour can rebuild it. Hours of Transformer fights follow.
Subscribe to theartsdesk.com
Thank you for continuing to read our work on theartsdesk.com. For unlimited access to every article in its entirety, including our archive of more than 10,000 pieces, we're asking for £2.95 per month or £25 per year. We feel it's a very good deal, and hope you do too.
To take an annual subscription now simply click here.
And if you're looking for that extra gift for a friend or family member, why not treat them to a theartsdesk.com gift subscription?