Joy
Joy
Jennifer Lawrence shines again in David O Russell's entrepreneurial fable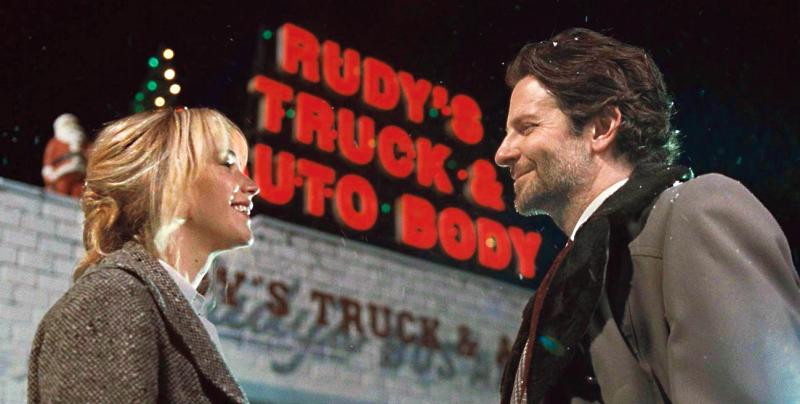 Jennifer Lawrence as Joy, with Bradley Cooper as QVC executive Neil Walker
"Look what they make you give," as Clive Owen's dying assassin puts it in The Bourne Identity, and the way that success is as much a matter of taking the blows and dragging yourself to your feet again as it is about inspiration or even perspiration is part of the message of Joy.
It's based on the real-life story of Joy Mangano, inventor of the self-wringing Miracle Mop, and not the least of the film's accomplishments is the way it manages to turn the QVC shopping channel into a cockpit of high drama.
Whether the real Ms Mangano is able to radiate the same aura of self-belief, tolerance, determination and wisdom as Jennifer Lawrence projects here must remain moot, but we know that Lawrence's capabilities must never be underestimated. There can't have been many competing candidates for a role which is equal parts blue-collar heroine, feisty entrepreneur and inspired inventor (as well as mother and home-maker), but Lawrence – incredibly, still only 25 – gathers all the threads about her as nonchalantly as if she's a professional dog-walker taking a flock of pooches for a trot round the park. Director David O Russell needs no reminding that he's on to a good thing because this is his third collaboration with the star, following Silver Linings Playbook and American Hustle.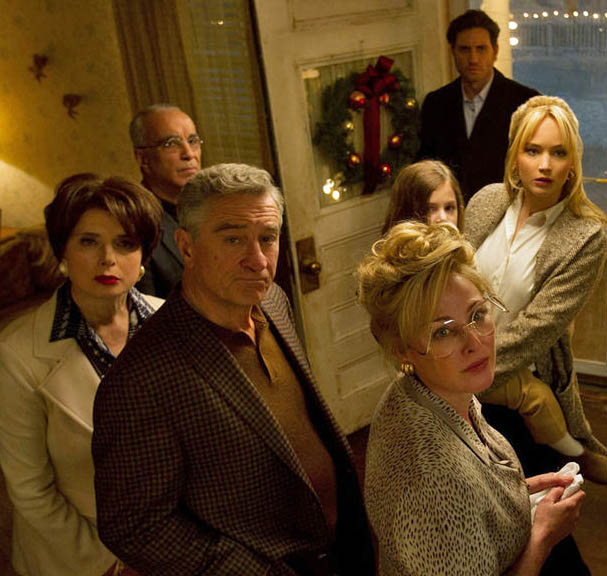 I was in blissful ignorance of the Mangano story, and for a good chunk of the running-time the idea of Joy emerging as a Great American Winner seems not so much hopeless as merely inconceivable. Trapped in a ramshackle suburban house with leaking pipes, she's trying to bring up her kids while ex-husband and nightclub entertainer Tony (Edgar Ramirez) lives in the basement and her neurotic mother Terry (Virginia Madsen) permanently occupies one bedroom, where she watches TV soaps 24/7 (Joy's family hell, pictured above).
Russell has allowed himself a little whimsical width in his storytelling. Some arresting soundtrack choices – Neil Young's dreamlike "Expecting to Fly" over a funeral sequence, a fabulous latin rave-up of "Mama Told Me Not To Come" to accompany Joy's first meeting with Tony, a sorrowful piano arrangement of Springsteen's "Racing in the Street" to mark a particularly depressing day's work – lend heightened colour, while the soap-opera theme runs through the action like a farcical commentary on American values and the suffocating family life that has Joy in its grip (she even has a dream sequence where she inhabits her mother's favourite serial). Things get even worse when her gruff, bullying and crassly stupid father Rudy (Robert de Niro) arrives on her doorstep, having broken up with his latest girlfriend. Joy divides the basement in half with toilet paper and puts dad in there with ex-hubby.
We're given glimpses of the creativity Joy displayed as a child but which has become buried as she has increasingly found herself supporting an ever-longer trail of leech-like in-laws, and eventually the great day dawns when she decides she has been the coper, provider, organiser and nursemaid for long enough. She womans-up, sweeps out the junk, and pop and hubby are banished as Joy goes full tilt to develop her new-fangled mop, with its washable head containing a 300-foot loop of super-absorbent cotton. Initially it looks as though her go-getting zeal is doomed to founder on the sexist narrow-mindedness of corporate America, but surprisingly it's husband Tony who steps up.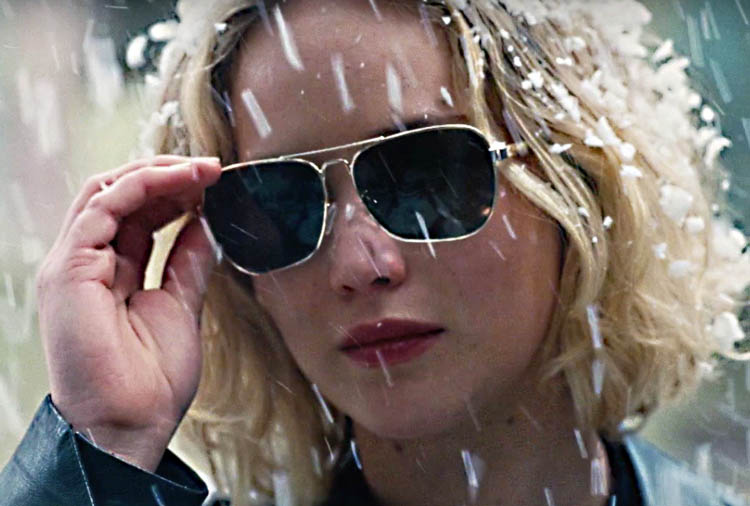 It's thanks to him that she meets Neil Stone (Bradley Cooper, another member of the Russell repertory company), and she talks such a good game that he invites her to plug the mop on QVC, where he's a top exec. One of the film's most memorable set-pieces is where Walker takes Joy to watch his favourite saleswomen, with their power-suits, plastic complexions and glued-on hair, pitching a new product to viewers. Walker, a retail-evangelist with a disturbingly David Koresh-like gleam in his eye, maps out the unfolding scenario as if he's conducting the Ring Cycle, from opening pitch to the banks of phones lighting up as punters stampede to spend their money.
Despite its sheen of fairy-dust, much of Joy is about the brutal obstacle course of American capitalism, permanently poised to asset-strip the unwary. She gets ripped off by manufacturers and her Texan business partner, Rudy's new playmate Trudy (a sly performance from Isabella Rossellini) fancies herself as a shrewd player but gives her crushingly inept business advice, and even after Joy has transformed everybody's lives with her success, her relatives still try to sue her for ownership of her company. Yet she forgives them, as if they know not what they do. There is, without doubt, a moral in there somewhere.
Overleaf: watch the trailer for Joy

Despite its sheen of fairy-dust, much of 'Joy' is about the brutal obstacle course of American capitalism
rating
Explore topics
Share this article