DVD: American Hustle |

reviews, news & interviews
DVD: American Hustle
DVD: American Hustle
David O Russell's outrageously Oscar-less caper looks just as good on DVD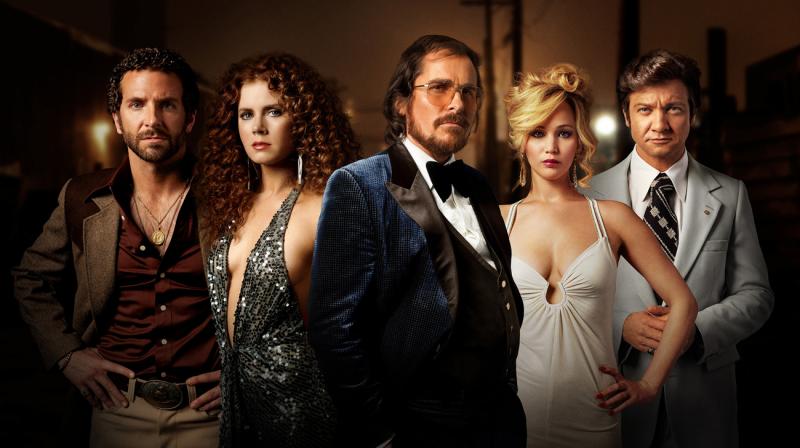 The con is on: (from left) Cooper, Adams, Bale, Lawrence and Renner
It's surely among the most grotesque factoids in the history of Hollywood that despite being nominated for 10 Oscars, American Hustle won a grand total of none. Its big mistakes were presumably being too entertaining and failing to concern itself with a historic social issue. My own theory is that the cast was just too good - the flick boasted five potential gong-winners, and perhaps it was beyond the capabilities of the Academy to choose wisely between them.
Anyway, even compressed to TV-sized viewing, Hustle is a wild ride and a non-stop hoot, a crime caper with buckets of soul. In the DVD's accompanying Making Of featurette, writer/director David O Russell notes that it's "characters and worlds" that he wants to create, and that ambition worked out pretty well. In fact the flick is almost bursting with too much character interaction.
Riotous fun is had with Cooper's hair-curlers, fitted shirts and Travolta moves
The love triangle between hustler Irving Rosenfeld (Christian Bale), his opulently Monroe-like wife Rosalyn (Jennifer Lawrence) and conwoman Sydney Prosser (a revelatory Amy Adams) is a kaleidoscope of mixed motives and hysterically stressed emotions, and the mix merely grows more tremblingly combustible with the addition of FBI agent Richie DiMaso (Bradley Cooper), who throws a spanner in both the personal and professional works. A pompadoured Jeremy Renner lends a benign Robin Hood-like vibe as Carmine Polito, the almost admirable mayor of Camden, New Jersey, who becomes a sting victim of Rosenfeld and co.
The "world" in which Russell has installed his characters adds hugely to the festivities, since it's the Seventies era of disco, Saturday Night Fever and Studio 54. Riotous fun is had with Cooper's hair-curlers, fitted shirts and Travolta moves (plus a Donna Summer soundtrack), while Adams spends virtually the entire running time trying to stay in dresses slashed to the waist.
Memorable scenes abound. The moment where the FBI uses a Mexican agent to impersonate an Arab sheikh, not anticipating that mobster Victor Telleggio (Robert De Niro) will be a fluent Arabic speaker, is a comic masterstroke, while Lawrence pulls off an absurd two-hander with a new-fangled microwave cooker (or "science oven"). The ongoing depiction of a befuddled and deluded FBI is worthy of Mack Sennett.
All the key players chip in to the Making Of, and convey the sense that it was a trip and not just a movie. Christian Bale's exaggerated London-geezer voice, undetectable whenever he's in character, is a little mystery unto itself.
Overleaf: watch trailer for American Hustle