Irrational Man |

reviews, news & interviews
Irrational Man
Irrational Man
Woody Allen creates an absorbing and keenly plotted moral maze
Friday, 11 September 2015
Murder in the air: Joaquin Phoenix and Emma Stone in `Irrational Man'
When Immanuel Kant, the existentialists, and Antonioni's Zabriskie Point all get referenced right from the start, there can be no doubt that Irrational Man is on its way toward achieving the "total heaviosity" that its writer-director Woody Allen famously lampooned in Annie Hall.
That the latest in Allen's record-breaking annual output of films manages not to send itself up but to engage pretty much throughout owes a lot to a terrific leading man in Joaquin Phoenix, who on this occasion makes you wonder what sort of partnership he and Hitchcock might have made had their careers aligned.
As it is, one clocks the affinities to Hitchcock (Rope in particular, another movie pondering notions of the "perfect murder") while placing this film in the same Allen camp as Match Point and Crimes and Misdemeanors when it comes to navigating the moral maze. And if, in the end, Irrational Man isn't quite as keenly plotted or resonant as either of those earlier entries, it keeps you guessing on the way toward a conclusion that exposes the limits of philosophy when confronted with the vagaries of chance.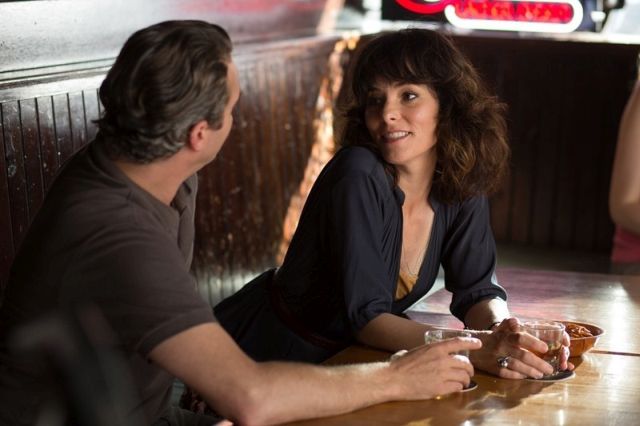 Phoenix plays Abe Lucas, a seemingly heavy-lidded professor who has taken up a new post at a New England college by the fictive name of Braylin, his reputation as a depressive who happens to have been a dab hand in the bedroom the stuff of near-legend before he even arrives. A somonolent brainiac in need of awakening, he duly succumbs to the enticements of an emotionally needy colleague (the ever-winning Parker Posey, pictured with Phoenix above) and moves towards something potentially more significant with an especially doting "ethical strategies" student, Jill (Emma Stone, Allen's leading lady du jour).
That relations between faculty and students are instantly combustible (not to mention sackable) events in the hyper-rigorous academe of today seems not to matter a whit to Allen's screenplay, which at one point finds Abe and Jill parading their affections in public, much to the gathering dismay of Jill's decent, rather dogged boyfriend, Roy (Jamie Blackley, the English actor pictured below once again delivering an ace American accent).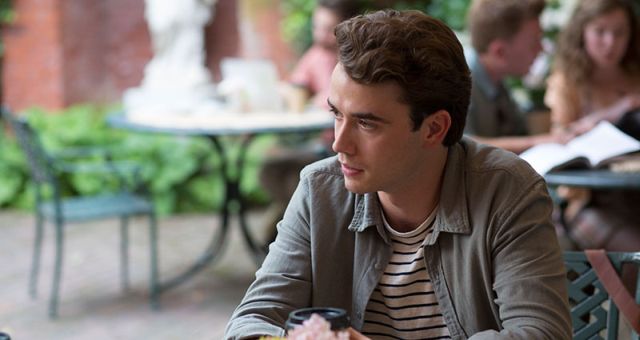 Indeed, for all that the camerawork of the wondrous Darius Khondji makes the film's setting of Newport, Rhode Island positively thrum with colour and light, the narrative itself seems the stuff of a period piece – sufficiently so that you begin to wonder why none of the plot events proceeds via modern technology given the role such appurtenances could surely play in the malfeasance that unfolds. On the other hand, I somehow doubt that Allen, soon to be 80, makes much time for Facebook or Twitter. His tantalising concerns here have the quality of a New Yorker story sprung to life, so much so that the film is best taken as if belonging to a hermetic world of its creator's own devising.
In any case, Abe's sexual prowess is only ramped up still further when he decides to take morality into his own hands (moral empowerment having a priapic benefit, or so it seems) and to poison an apparently corrupt local judge whom Abe has decided he doesn't like solely on the basis of a conversation he and Jill overheard in a diner. What follows is a prickly cat-and-mouse whereby Abe's various worlds collide on the way to a final kicker that is not to be revealed but that seems an apt riposte to the lofty debates about the workings of the universe elsewhere.
The film is lucky, too, to have as its leading man the entirely distinctive (not to mention unmatchable) Phoenix, that rare younger Allen male lead who doesn't once sound like a surrogate version of a director who now really is too old to star in his own films – as Allen has himself said, and as the lamentable To Rome With Love, a career low, sadly proved. Instead, parading his paunch like a badge of honour, he cunningly suggests Abe as an indrawn bad boy who comes out of himself at considerable personal cost, and if I am not entirely persuaded that Stone is really a latter-day Diane Keaton, the more Allen films Phoenix wants to do, the happier I will be to see them.
Overleaf: watch the trailer for Irrational Man
The film is lucky to have as its leading man the entirely distinctive, not to mention unmatchable, Phoenix
rating
Explore topics
Share this article