Iron Man 3 |

reviews, news & interviews
Iron Man 3
Iron Man 3
Helmed by Shane Black, this is the fizziest and funniest of the series so far
What the well-dressed superhero is wearing: Tony Stark (Robert Downey Jr) and his collection of Iron Man suits
The only faintly cracked note in this zinging early-season blockbuster is that, just as spring belatedly puts in an appearance, the action is set around Christmas time, with snow, Christmas trees and even some Yuletide hip-hop beats. Still, think of it as just a further example of the smart counter-intuitiveness that director Shane Black (stepping in for Jon Favreau) has brought to the party, helping to make it the fizziest and funniest of the series so far.
Naturally IM3 bristles with CGI and mind-bending technological set-pieces, such as an apocalyptic helicopter assault on Tony Stark's spectacular clifftop house (think Tracy Island in Thunderbirds) or the part where terrified presidential staffers tumble out of Air Force One high over the Florida Keys. Yet at the same time, Black has made room for some proper acting on an intimate, human scale, in particular the episode where Stark (Robert Downey Jr) trudges wearily through the snow dragging his battered Iron Man suit behind him, resembling a medieval knight retiring from the battlefield to lick his wounds (Ben Kingsley as The Mandarin, below).
It's a shrewd move, because if you give him some space, Downey is a fine comic actor with a light touch and pin-sharp timing. He's especially good in his scenes with child actor Ty Simpkins, playing the archetypal lonely-suburban-kid who becomes the superhero's secret friend (a distinctly Spielbergian touch).
Black wrote the screenplay with Brit writer Drew Pearce (who's also tackling Downey's next Sherlock Holmes flick), resulting in several excellent laugh-out-loud gags and some remarkably Anglocentric witticisms. What they'll make of jokes about Croydon and clapped-out old Shakespearean actors in Oklahoma or Ohio is anybody's guess.
Yet all of this dovetails slickly with the increasingly fantastical technological trappings of Tony Stark's private universe. One of the show's stars is his new Mark 42 Iron Man suit, still in beta-testing mode and plagued with gremlins. Stark doesn't even have to put the suit on, he merely summons the various components using sensors on his skin, and they fly in over absurd distances and attach themselves to the relevant parts of his body. Cue much jollity with a semi-dressed Iron Man hopping around with one glove and one armoured leg while waiting for the other bits to arrive.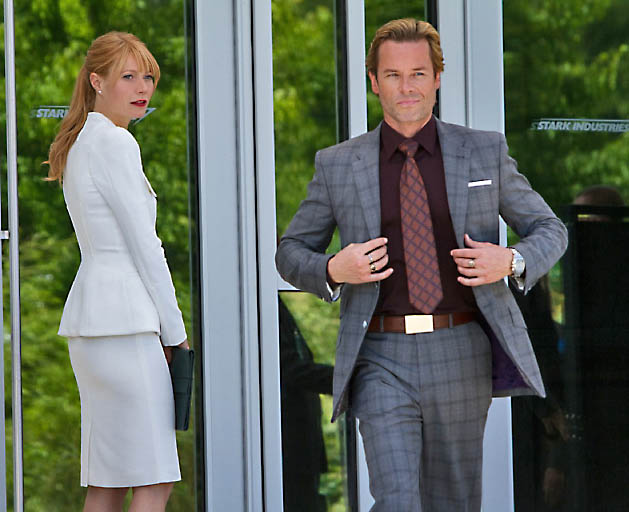 Our headline villain is The Mandarin, a kind of turbo-Bin Laden with a Fu Manchu topping. He's played with merciless fanaticism by Ben Kingsley, raining down trauma and mayhem on a trembling world with his Ten Rings terror group. But just when you're thinking "Ha! I see where this is heading", Kingsley gets a spectacular second act which effectively transforms the flick from "good fun" to "must see". As Downey put it in an interview, Kingsley is the lucky recipient of "one of the best arcs in the history of these films."
Back aboard is Don Cheadle as Colonel James Rhodes, the government-approved superhero blundering around ineptly in his Iron Patriot suit, while Black has taken pity on Gwyneth Paltrow's Pepper Potts, bumping up her role so that she's now living with Stark and gets to try some superheroine stuff herself. Rebecca Hall looks a bit left out as Dr Maya Hansen, although she did create the Extremis organic growth program which is exploited by the deplorable Aldrich Killian (a queasily repellent Guy Pearce, pictured above with Paltrow) as he pursues his own megalomaniac schemes. Put it all together, and this movie is a friggin' blast.