Oscars 2013: The Spielberg Story |

Film reviews, news & interviews
Oscars 2013: The Spielberg Story
We look back at the 10 films which shape Steven Spielberg's Oscars story so far
Wednesday, 20 February 2013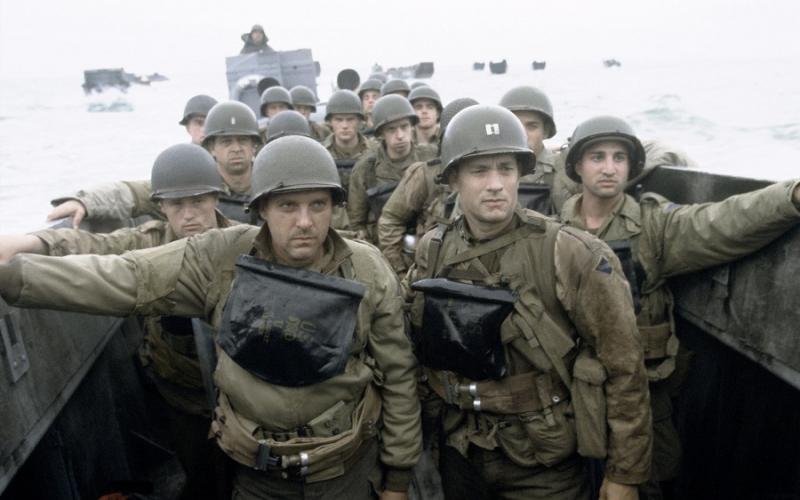 Tom Hanks and co prepare for landing in 'Saving Private Ryan'
Whether Lincoln can pip frontrunner Argo to this year's Best Picture gong is in the hands of the Academy, but its 12 nominations are a notable achievement in director Steven Spielberg's extraordinary career. It's sometimes been easy to dismiss Spielberg as a sentimentalist, an entertainer first and an artist second but his films are pure cinema, and for every work of groundbreaking spectacle he's delivered something equally as thought-provoking.
Over the years Spielberg's films have secured a not-to-be-balked-at nine Best Picture nominations, and his sterling stewardship has been rewarded with seven Best Director nods. Yet, perhaps surprisingly, if Lincoln does take home 2013's Best Picture trophy it'll be just the second Spielberg film to do so, after Schindler's List. If he nabs Best Director it'll represent his third win (after Schindler's List and Saving Private Ryan). With the distinct possibility that one or both of those things will happen, we take a look back over the 10 Spielberg films which have received nominations for Best Picture and / or Best Director. It's an Oscar story that begins with that pesky shark...
Jaws (1975)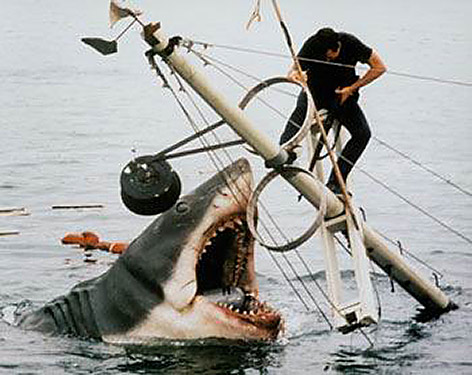 Spielberg's second feature film (and his first to be nominated for Best Picture) heralded the boy wonder's arrival in the big league – and destroyed the swimming habits of a generation. Adapted from Peter Benchley's bestseller about a Great White that terrorises an island resort, Jaws would spawn many imitators, none of which could touch its character-rich mix of adventure, horror and buddy movie. Despite, perhaps because of, the difficulties of working at sea and the misbehaviour of the mechanical shark, Spielberg's cinematic instinct flourished – notably with the use of the animal's POV to heighten suspense and the "forward track, zoom out" shot when Roy Scheider's police chief realises it's eaten a boy in front of him. But the film may have sunk without John Williams's inspired soundtrack, Verna Fields's editing (both won Oscars, along with the sound team) and the cast. Robert Shaw's Ahab-like fisherman is the most memorable, though it was Scheider's improvisation that gave Jaws its signature line: "You're gonna need a bigger boat."
Demetrios Matheou
Close Encounters of the Third Kind (1977)
No nod for Best Picture this time round but, an impressive eight Oscar nominations in total, including Spielberg's first nomination for Best Director, a win for Vilmos Zsigmond's cinematography and a Special Achievement Award for Frank E.Warner's sound effects editing. Close Encounters is perhaps the first Spielberg film which can be described as truly Spielbergian and, fittingly, it's one of the few which he both directed and penned. Indeed, this story of a benign alien visitation is surprisingly personal, born from Spielberg's childhood experience of witnessing a meteor shower and featuring sequences and subject matter from his teenage film Firelight. Furthermore, in protagonist Roy Neary (portrayed by Richard Dreyfuss) we arguably have a warts and all portrait of Spielberg himself - a man with a determined, all-consuming vision, who's in possession of an eternal, childlike wonder.
Emma Simmonds
Raiders of the Lost Ark (1981)
From the moment in the pre-credit sequence that a huge rolling ball practically flattens not only Harrison Ford but the whole audience, Spielberg's move into comic-book adventure is a boys' own banquet. The special effects – a torrent bursting out of a cliff face, the painted-on landscapes - may now look crude, but what has never dated Raiders is its Spielbergian thirst for thrilling adventure. As ever, Spielberg did everything first: the biblical hokum, the farcical Nazis, the rule-breaking scholar/action hero. When Jones cuts short a duel with a sabre-twirling oriental by drawing a pistol on him, the joke was so good it merited recycling in the (much less satisfactory) sequel. The ensuing trilogy, what with Star Wars and Witness, put Ford at one point in the seven of the top 10 grossing films of all time. And John Williams never surpassed his endorphin-releasing score. The next time Spielberg did Nazis, it wouldn't be such a hoot. It lost out to Chariots of Fire as Best Picture, but deservedly won four awards in the technical categories.
Jasper Rees
E.T. the Extra-Terrestrial (1982)
The master storyteller was beaten to both the 1983 Best Director and Best Picture prize by Richard Attenborough's Gandhi, but it was a very strong year of double-header noms - Sydney Pollack for Tootsie (one of my all-time favourite films) and Sidney Lumet (The Verdict) were also in the running - while Wolfgang Petersen (for Das Boot) and Costa Gavras's Missing (Best Picture) were in the mix too. E.T. is a modern fairytale about the relationship between a lonely 10-year-old boy, Elliott (Henry Thomas), and an extraterrestrial stranded on earth whom he helps - "E.T. go home". It's not a sci-fi film in the conventional sense, though it is, forgive the pun, a universal story about friendship. The film's emotional power has hit me every time I have watched it over the years and I defy anyone not to be enchanted by it still.
Veronica Lee
The Colour Purple (1985)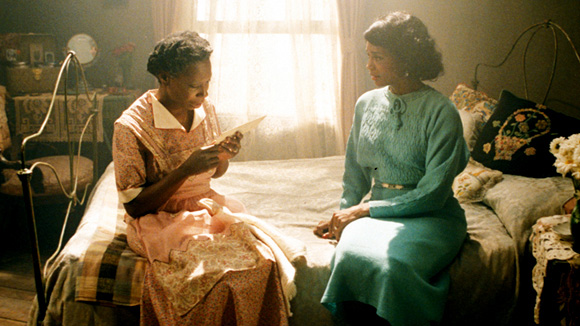 A nominee in 11 Oscar categories and winner in none, The Colour Purple lost out on five counts to 1986's big winner Out of Africa, which accrued seven awards. Yet Spielberg's lyrical adaptation of Alice Walker's epistolary novel was not only the more progressive of the two movies, it was also the more emotionally resonant. The story of Celie (Whoopi Goldberg), a 1930s Southerner who overcomes years of maltreatment by her abusive, unfaithful husband, Albert Johnson (Danny Glover), now forms with its maker's Amistad and Lincoln an enlightened unofficial trilogy about slavery's overthrow. Quentin Tarantino might disagree, but Albert augured Samuel L Jackson's malign Stephen in Django Unchained. And The Colour Purple yielded another revelation: Oprah Winfrey's fierce turn as Sofie, whose resistance of oppression paves the way for Celie's revolt but is brutally quelled.
Graham Fuller
Schindler and beyond, overleaf
If Lincoln does take home 2013's Best Picture trophy it'll be just the second Spielberg film to do so
Explore topics
Share this article
Subscribe to theartsdesk.com
Thank you for continuing to read our work on theartsdesk.com. For unlimited access to every article in its entirety, including our archive of more than 10,000 pieces, we're asking for £2.95 per month or £25 per year. We feel it's a very good deal, and hope you do too.
To take an annual subscription now simply click here.
And if you're looking for that extra gift for a friend or family member, why not treat them to a theartsdesk.com gift subscription?