Gold |

reviews, news & interviews
Gold
Gold
Matthew McConaughey's fable of untold riches is harder work than it ought to be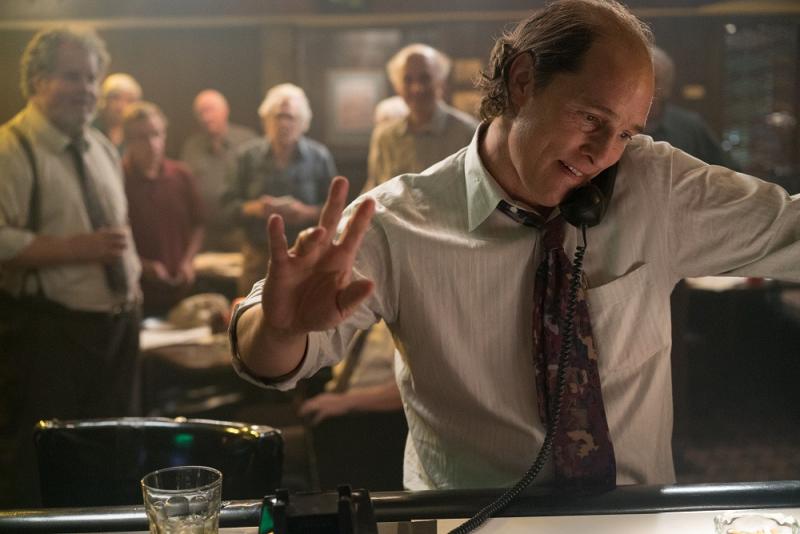 Baby, you're a rich man: Kenny Wells (Matthew McConaughey) in 'Gold'
Matthew McConaughey has already had a go at hunting for gold (on film, at any rate) in 2008's Fool's Gold, where he and Kate Hudson were on the trail of a sunken Spanish galleon full of treasure. Critics were unsympathetic ("excruciatingly lame" was a fairly typical response).
McConaughey will fare a bit better this time around, but even though he popped into a critics' screening to tell us that his role of gold prospector Kenny Wells is his all-time favourite, what might have been a rip-roaring yarn seems to have wandered off aimlessly into the undergrowth somewhere along its two-hour running time. The story is based on the Bre-X mining scandal from the 1990s, in which the eponymous Canadian company purported to have found massive gold deposits in Indonesia. It didn't end well.
The problem with Gold is that the narrative feels as if it has been lopped into chunks and then reassembled in the wrong order. The lengthy opening stretch gives us rather too much of the Kenny Wells back story (we see him as a keen young prospector working for his father's Washoe Mining company in Reno, Nevada). Then Kenny inherits the company, things go well for a bit, then his luck dries up, and just when he's on his uppers he has a vivid dream about finding gold in an unspecified expanse of resplendent green jungle. That kicks everything off in a whole new direction, which takes up so much time that the big twist which flips the whole lot on its head is relegated to a footnote in extra time, just when you're starting to think, "When does this end and are the pubs still open?"
Still, it's worth a look just to see McConaughey amply filling the role of a balding, sweaty, overweight schlub, about as far as he could get from the chiselled-torso posturings of Magic Mike. There's rarely a frame in which he's not smoking Winstons or chucking back shots of Wild Turkey, and the scenes of sozzled romance with his long-suffering girlfriend Kay (a thoroughly endearing performance from Bryce Dallas Howard, pictured above with McConaughey) begin to verge on Carry On territory.
Pivotal to the drama is Wells's relationship with Michael Acosta (Edgar Ramirez, pictured below with McConaughey), a geologist who has seemingly devised his own method of tracking down gold deposits. It's something to do with volcanic activity in the "Ring of Fire" region around the Pacific Rim, and Wells just knows that destiny has brought the pair of them together. Precariously funded by Wells's motley crew of investors, a bunch of good ol' boys who actually seem to live in a bar, they put in exhausting, monsoon-sodden spells in the bug-infested Indonesian jungles. Then Wells is laid up for weeks with malaria, but Acosta's revelation that at last they've found gold brings an electrified Wells springing ecstatically from his sick-bed.
But it's not as simple as just digging it up and cashing in. The scent of big bucks gets the wolves of Wall Street prowling around our heroes, and the limitations of Wells's seat-of-the-pants, wing-and-a-prayer approach begin to become apparent. He loves his new lifestyle of limos, groupies and Dom Perignon, but when he turns down a $300m buyout from a financial consortium headed by Bruce Greenwood (speaking in a sinister Germanic accent), Acosta isn't the only one who thinks he's lost his marbles.
However, there's a silver lining (not to mention Wells winning the Golden Pickaxe Award from the Gold Prospectors' Association of America), but it's hotly pursued by a breathtaking reversal of fortune. Somehow, director Stephen Gaghan and screenwriters Patrick Massett and John Zinman needed to get this game-changing stuff nearer the front end of the movie, though admittedly it's difficult to see how they could have done it. Perhaps we could conclude that movie-making is a bit like gold prospecting – blood, toil, sweat and lots of knock-backs, ending in bankruptcy or a multi-million-dollar cheque.