Gloria |

reviews, news & interviews
Gloria
Gloria
Fantastic portrait of a woman assuming the driving seat against the odds
Gloria is 58. Divorced 12 years earlier, she's intent on living life. Her two children are grown up, she works in a characterless office and is open to almost anything. She'll try cannabis, attends a class where instruction is given on releasing laughter and tackles yoga for the first time. Beyond keeping in touch with her son and daughter, her greatest efforts are directed towards her nightlife. On her own, Gloria goes to ballrooms, bars and nightclubs where she hopes to make a connection. Then, one evening, she encounters Rodolfo. His opening line is "are you always this happy?"
Gloria could have been a typical singles bar confection – a bittersweet drama about a woman searching for an anchor. Instead, Chilean director Sebastian Lelio's Santiago-set film sensitively draws a portrait of a character who is her own person, whether on the sidelines or at the centre of things. For Gloria herself, however she is seen, she is always in the driving seat. Girl power maybe, but a self-determination lacking crass shouting and attention-seeking.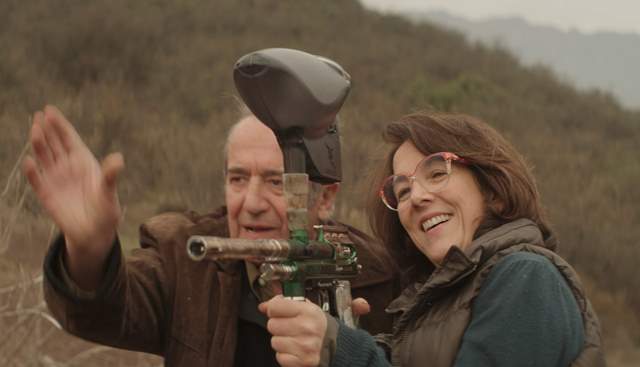 The lightly humorous Gloria centres on Paulina García's Gloria. She's on screen throughout. Her presence is accompanied by music – her life is carried by music. In her car, she sings along with the radio airing Chilean hits of the Eighties. After opening the film with an unfamiliar local song playing in a club, the film moves to Donna Summer's "I Feel Love". Music and Gloria's life are symbiotic (pictured right, Paulina García as Gloria with Sergio Hernández as Rodolfo).
García is amazing. Her portrayal of this aware yet sensitively positioned woman is nuanced, utterly convincing and bears not a jot of self-pity. She is Gloria. Her daughter doesn't answer phone calls, so Gloria attends the yoga class she leads and in the process meets her Swedish boyfriend for the first time. Pregnancy follows, as does the daughter's decision to move to Sweden. The connection between them is clear, and Gloria only breaks down at the airport after her daughter is out of sight and out of reach.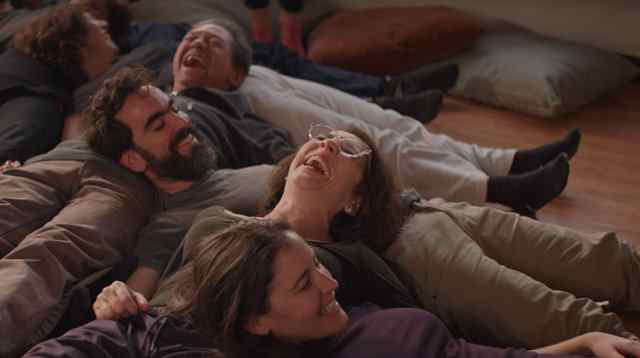 It's the only time Gloria loses control. When Rodolfo (Sergio Hernández) strolls into her life, she goes along with him, trying out paintball and sex with him. His mlitary background is a charged characterisation given Chile's history. He woos with stereotypical declarations and readings from sappy literature. But despite also being divorced, he lacks Gloria's assurance. His two daughters constantly call and are reliant on him. His ex-wife is still in the picture. Taken by Gloria to meet her family at her son's birthday dinner, he's petulant about not being the centre of attention and vanishes without a word (pictured left, Paulina García's Gloria learns how to laugh).
Rodolfo has, though, tried to reinvent himself. Just before his divorce he had a weight-loss operation and shows Gloria a picture of his former, bulky self. His past is always close and he now wears a corset which she triumphantly tears off. After his vanishing act, she gives him another try but he sneaks off again. Her housekeeper rescues her from the hotel. On returning home, Gloria allows the cat which has been sneaking into her apartment to stay, finds an appropriate use for the paintball guns in the trunk of her car, and finally encounters Rodolfo's daughters. With a new hairdo, she returns to checking out Santiago's nightlife.
This fantastic film has attracted attention at festivals and its general release in the UK is cause for celebration. See it and root for Paulina García's fabulous Gloria.
Overleaf: watch the trailer for Gloria
Watch the trailer for Gloria