Get On Up |

reviews, news & interviews
Get On Up
Get On Up
Heartfelt tribute to James Brown that's not quite on the money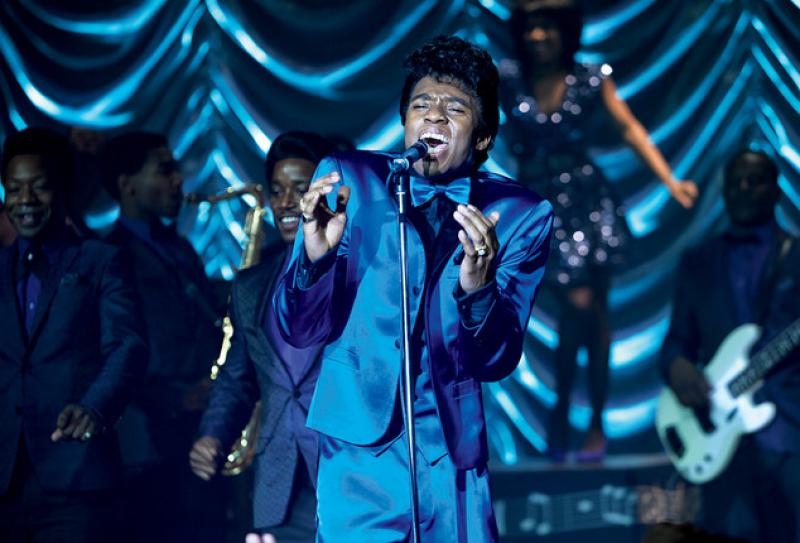 Chadwick Boseman as James Brown
James Brown has always been on my Desert Island Discs list, because, should despair threaten, his brand of propulsive funk could be guaranteed to make the castaway "Get Up Offa That Thing". But despite a compelling performance from Chadwick Boseman that vividly captures Brown's blend of charisma, drive, self-absorption and business savvy, the film is short on Brown's most defining characteristic – vitality.
The result is a missed opportunity that ends up being good enough when it should be galvanizing.
All the hallmarks of a modern musical master's biopic – a booming genre – are there: the troubled, hardscrabble beginnings that leave indelible scars and internal demons, problems with drug abuse/alcohol abuse/spousal abuse/jail time, and ultimate success and serenity, all the while creating a memorable musical legacy.
That the film got made at all is a tribute to the determination of its producer Mick Jagger
Trying to avoid the conventional chronological approach that served What's Love Got To Do With It and Ray so well, Get On Up, like The Imitation Game, flashes back and forth between different timelines, using events in the past to underline our hero's emotional response to events in the present. So we see glimpses of Brown's impoverished childhood in the Georgia woods with an abusive father, the brothel where he found a sort of refuge after his mother abandoned him, and the ever-present climate of racial discrimination, all of which forged an absolute sense of self-reliance and a determination to succeed at all costs.
But the screenwriters, Jez Butterworth (best known for stage hit Jerusalem) and his brother John-Henry, have chosen to make the narrative so fragmented that consequences and emotional responses sometimes get lost. We see Brown firing his long-time band over a pay dispute and the next thing we see him playing a concert. Are any old band members there? Did anybody feel betrayed? None of this dramatic potential is exploited. Similarly, he hits Mrs Brown (the queenly Jill Scott, pictured below right, making the best of an underwritten role), and the next thing everything's fine, with no trace of emotional fallout.
The emotional centre of the film and narrative continuity is provided by Brown's ongoing relationship with friend and musical sidekick Bobby Byrd (an excellent Nelsan Ellis) but even this is muted. This oblique approach might work with an elusive shape-shifting artist like, say, Prince, or Bob Dylan (the subject of Todd Haynes's wildly associative I'm Not There), but is an odd fit with Brown, whose appeal is nothing if not direct and visceral.
Worse, a similar restraint applies to the musical numbers. We only get unsatisfying snippets of early career-defining hits like "Please Please Please" or "I Got You" and the one number that gets a full performance is the relatively MOR "It's A Man's Man's Man's World". Director Tate Taylor handled the American South's thorny race relations sensitively in The Help, but that story was told from a white perspective and one can't help wondering if a director from another (OK, African-American) cultural background might have infused the proceedings with more grit and gusto.
That the film got made at all is a tribute to the determination of its producer and contender to inherit Brown's mantle as "The Hardest Working Man in Showbusiness", Mick Jagger (Jagger has also produced a documentary on Brown for HBO.) An early scene shows the Rolling Stones watching Brown from the wings of The T.A.M.I. Show, a fabulous filmed 1964 concert that has all the excitement missing here. What's in The T.A.M.I. Show, but not in Get On Up, is Jagger going on after Brown and attempting to emulate the master in the manner of a baby bird attempting to fly. Get On Up is a similarly heartfelt tribute that's not quite on the money.
Overleaf: watch the trailer for Get On Up
The screenwriters have chosen to make the narrative so fragmented that consequences and emotional responses sometimes get lost
rating
Explore topics
Share this article