DVD/Blu-ray: The Big Knife |

reviews, news & interviews
DVD/Blu-ray: The Big Knife
DVD/Blu-ray: The Big Knife
Stagey film noir revealing the dark heart of '50s Hollywood wins welcome re-issue
Tuesday, 12 September 2017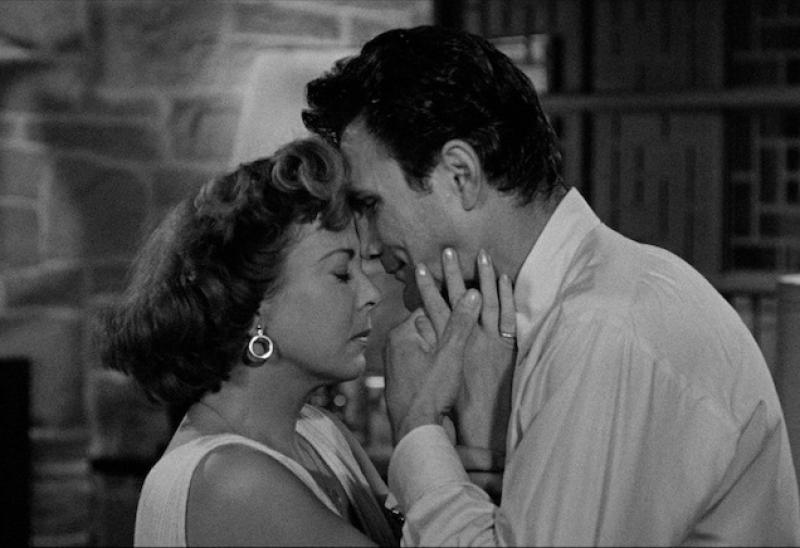 Ida Lupino wrestles with Jack Palance for his soul
Hot on the heels of his furiously original sci-fi noir, Kiss Me Deadly, Robert Aldrich cranked out this film adaptation of Clifford Odets's tortured play about tortured artists in venal
llywood" title="Hollywood on theartsdesk">Hollywood.
The Big Knife
doesn't wholly escape its stage origins – most of the action takes place in one Bel Air living room – but Aldrich makes the most of his camera angles and wrings considerable dynamic energy from his cast.
Jack Palance plays Charlie Castle, a charismatic movie star living a life of luxury. We meet him boxing in the back yard of his palatial home, being primped by his sparring partner and buffed into physical perfection. His wife (played with cool detachment by Ida Lupino) has taken their son and moved out to their beach house. There's an unwanted visitor, a vicious gossip columnist (Ilka Chase) who wants to know if Castle is heading for a divorce. She threatens to bring up an older story about a dodgy hit-and-run incident if he doesn't give her the scoop on his marital woes.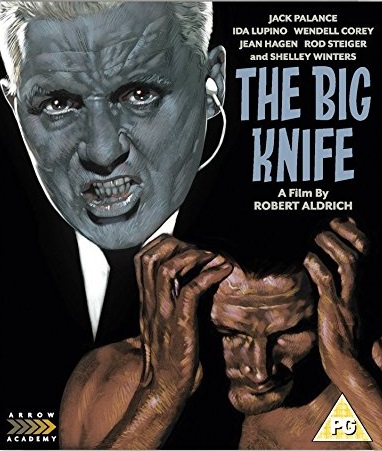 Lupino has left him because she can't bear Castle's womanising and self-destructive behaviour that she blames on his being forced to churn out terrible movies for a monstrous studio boss. It's contract renewal time, and she urges him to refuse to sign up for another seven years' servitude ("I'm in the movie business, I can't afford integrity"). There's a fair amount of scenery chewing and Odets's themes and baroque language are exactly the source material for the Coen brothers' parodies in Barton Fink and Hail Caesar!. It can be easy (post-Coens) to find The Big Knife, with its overheated atmosphere, a little claustrophobic and at times faintly ridiculous.
But what stands out is an extraordinary performance by Rod Steiger. He plays studio boss Stanley Hoff, complete with bleached hair, hearing aid, variable accent and manic eye-rolling. His character, a menacing amalgam of Jack Warner and Harry Cohn, is one of the great bad-guy performances. Apparently Palance was so outraged by Steiger's attempts to upstage him in their scenes together that Aldrich had to send the two actors home early on several occasions to prevent fisticuffs. There's also a cast of excellent character actors including Orson Welles's regular Everett Sloane as Castle's sorrowful agent, a chilling Wendell Corey as Steiger's henchman, and a wonderful turn from Shelley Winters as a slack-mouthed floozie who could bring down the whole house of cards.
John Garfield was meant to play the lead (his own struggles with Hollywood inspired Odets's play) if he hadn't died prematurely. But Palance does a great job, even if it's a little hard to believe in him, with his towering frame and trapezoid face, as a tormented intellectual.
This new edition comes with a not particularly enlightening audio commentary by a couple of American film critics (their chat doesn't match the onscreen action very well and they ramble). There's also the original trailer and a short film which Saul Bass made in 1972 about his career in title design; unfortunately the transfer quality is poor, but it's interesting to hear Bass describe how his style evolved. The Big Knife is one of the classic Hollywood-on-Hollywood film noirs, alongside Sunset Boulevard, In a Lonely Place and The Bad and the Beautiful – and as such it's essential viewing for any student of Studio history.