Sunset Boulevard, London Coliseum |

reviews, news & interviews
Sunset Boulevard, London Coliseum
Sunset Boulevard, London Coliseum
Glenn Close and company do much to fill Lloyd Webber's half-empty vessel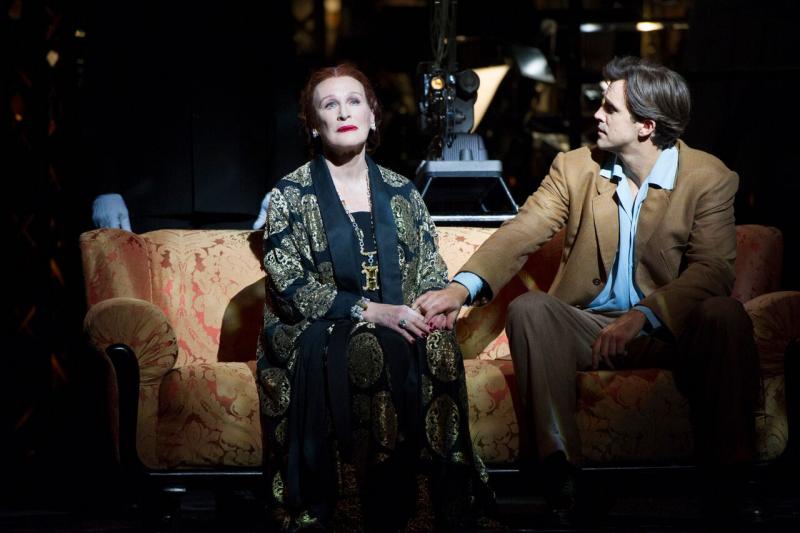 Glenn Close as Norma Desmond and Michael Xavier as Joe Gillis
Could the fascination of Glenn Close's Norma Desmond transcend the frequent bathos of Lloyd Webber? Would they have sorted out the miking which wrecked last year's first choice of semi-ENO musical, the infinitely superior Sweeney Todd? Yes, to varying degrees.
But the real saviour here was the ENO Orchestra, fresh from its triumph alongside its inseparable chorus at the Olivier Awards and now on hand to make a silk purse, or rather a gold cigarette-holder, out of a patchy but always superbly orchestrated score.
Still, give a diva her due. There's little doubt that if Billy Wilder had been around to make his masterly film of Sunset Boulevard in 2016 with Glenn Close, rather than in 1951 with Gloria Swanson, we'd still be raving about the choice of actress. That Close can go from tender to psychotic in a second we know from another of her great screen creations, the brilliant-terrifying lawyer Patty Hewes in the many series of Damages, an infinitely more nuanced character.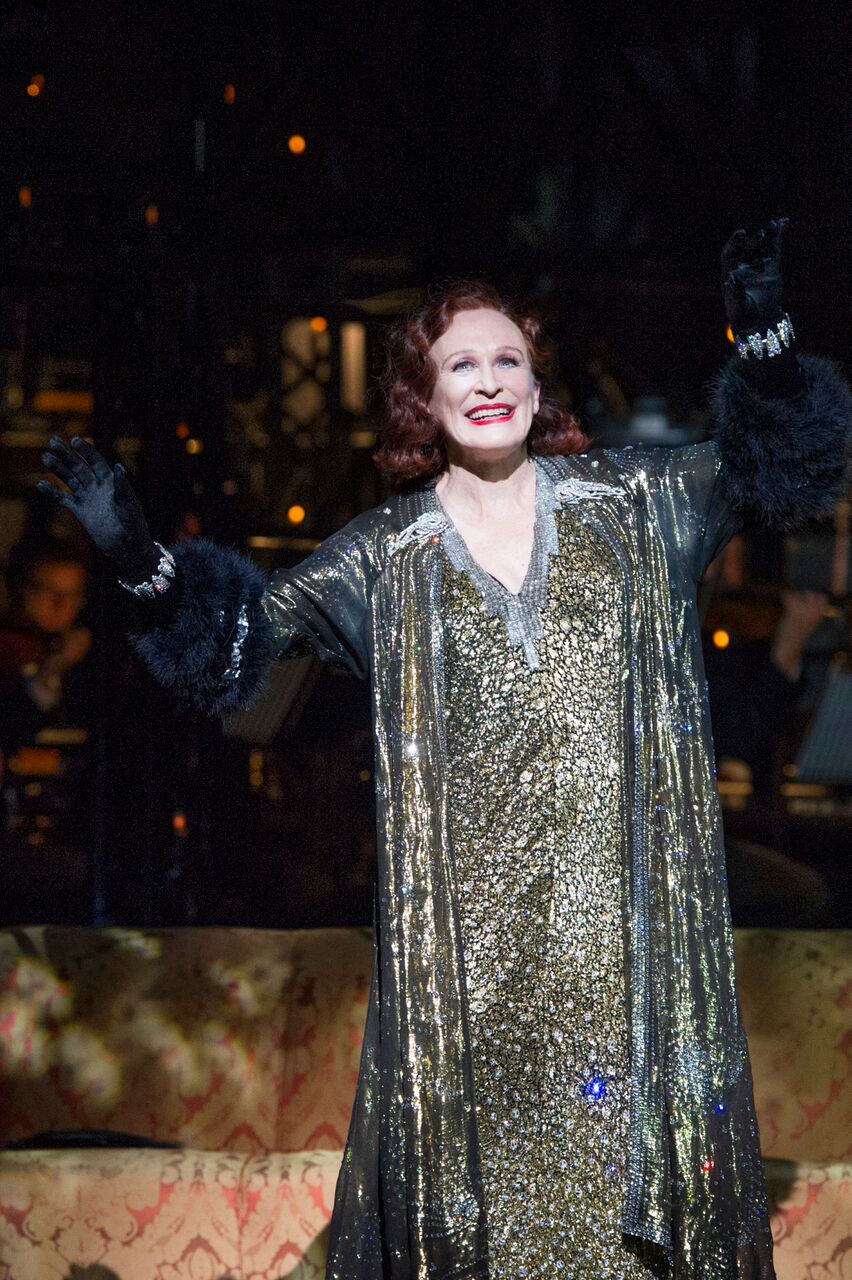 The problem with the musical as opposed to screen Norma Desmond is that she has to sing, a lot. That's not to suggest that over 20 years on from her Tony Award-winning Broadway triumph – adding another layer of fascination to the passing-time theme – Close has lost any of the powerful chest voice needed for the role (for all I know, it may be even stronger). It's just that her first two signature numbers are simple-banal, with Lloyd Webber immediately failing to sustain the aura of an eerie gulf between past and present so necessary for the role (what would Sondheim have done here? "Liaisons" from A Little Night Music may give a hint).
Later there's more delicacy, even a whiff of pathos, in "This Time Next Year". Not to mention a smattering of effective numbers throughout: Lloyd Webber is always best when pastiching tangos and congas, or sounding dangerously – but hardly ever quite, except in four Puccini chords – like somebody else; the peppy real-world script number that runs like so much else throughout is a hairsbreadth away from the music of the insouciant Wreck in Bernstein's Wonderful Town. The real problem is his setting of the not very distinguished lyrics by Don Black and Christopher Hampton – the spoken text is fine, fairly faithful to the film – with mis-stresses that Wagner's mastersinger-critic Beckmesser would delight in marking down on his slate (too many to mention, but "her masterpiece can never pall" stood out with two horrors in a row).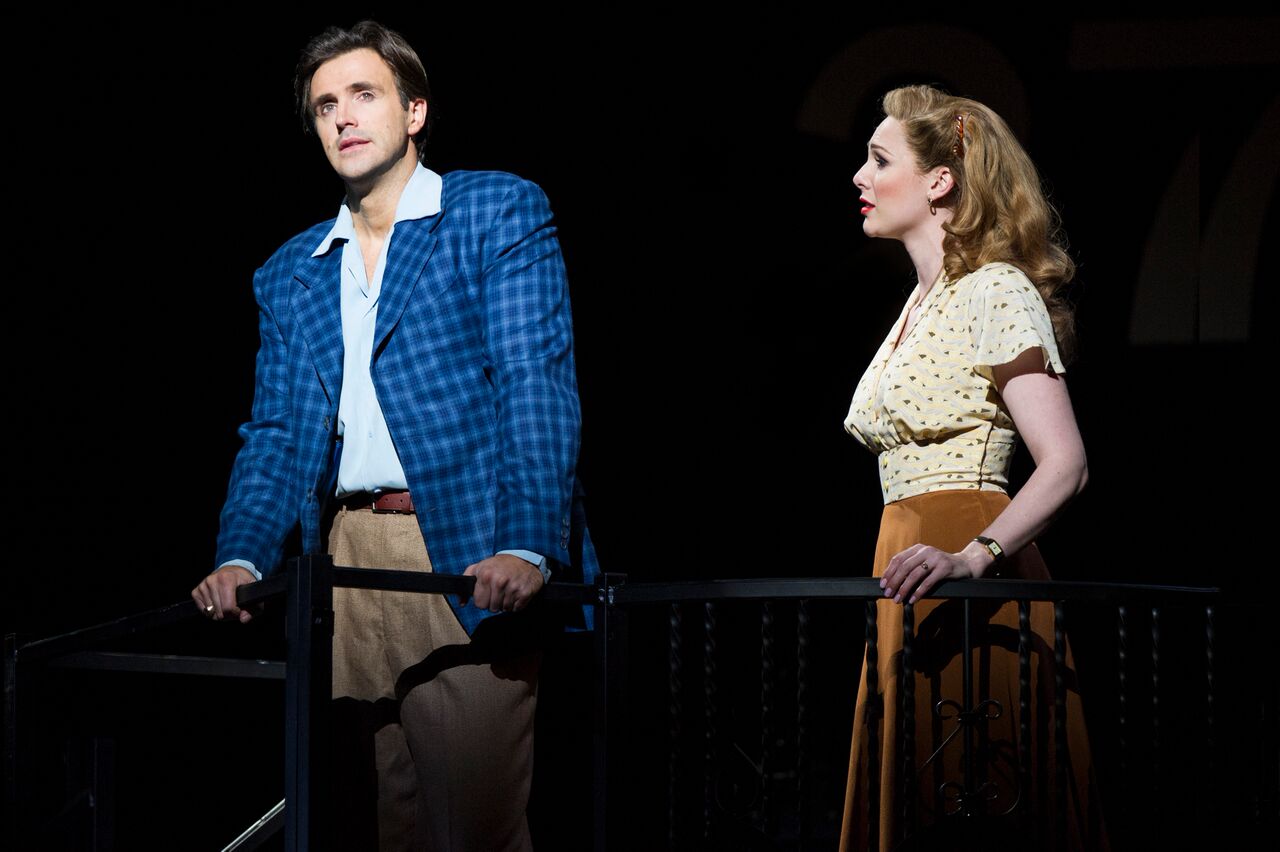 The noirish opening certainly benefits from widescreen orchestral sound – coming from centre stage, clearly well conducted by Michael Reed but a little flattened by unavoidable amplification – and Lloyd Webber sustains it to support flagging scriptwriter Joe Gillis's angry "Sunset Boulevard" number at the start of Act Two. You can either see the continuity as through-composed music theatre or repetition to cover flagging inspiration; it's surely a bit of both.
Michael Xavier delivers what's asked of him as the unsympathetic Gillis; as bright young studio thing Betty Schaefer, Siobhan Dillon does sweet and dependable well, especially in the potentially anodyne love duet (pictured above). Fred Johanson has powerful presence – with just a touch of the Boris Karloffs – and bass-baritone resonance for the ache of Norma's protector/butler Max von Meyerling (pictured below).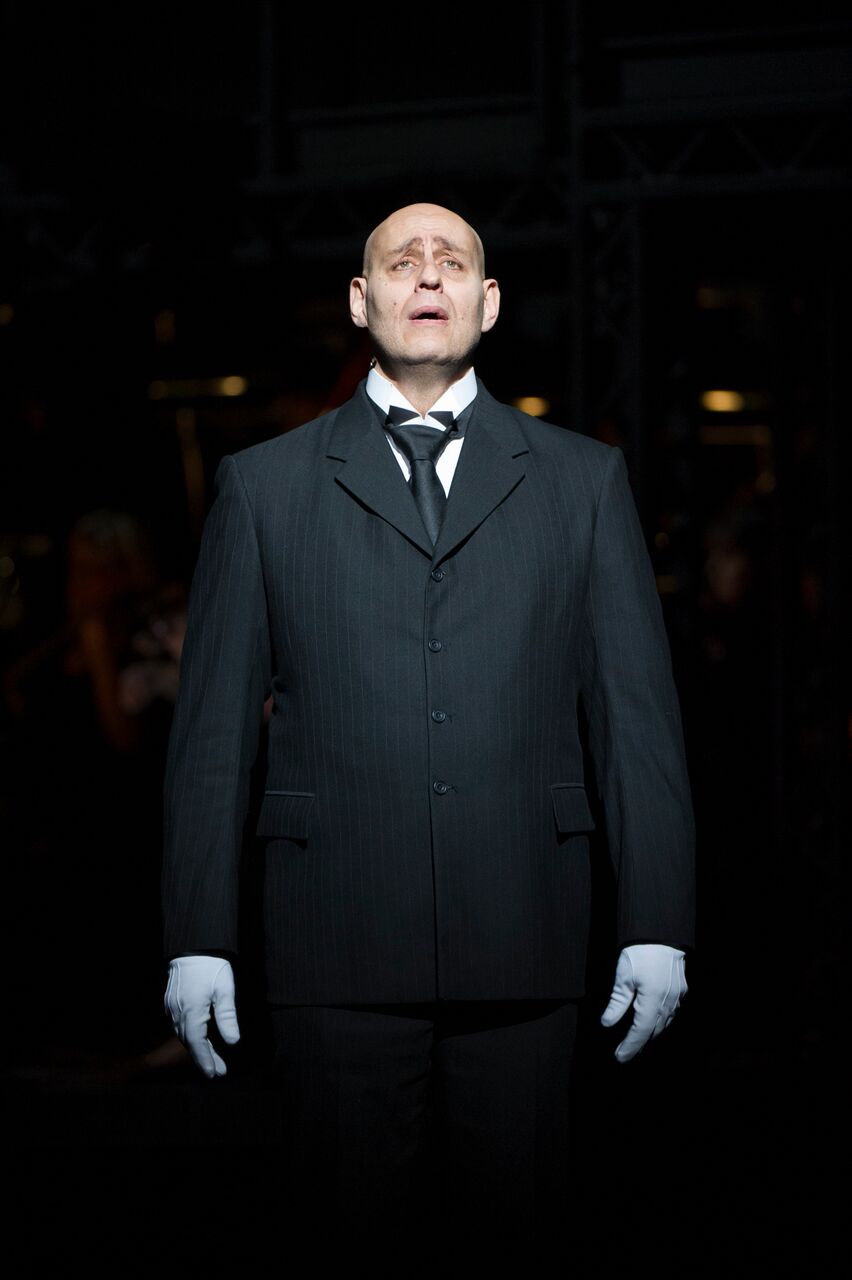 The ENO Chorus lamented that they were messed around in first being required for the production, then not; but it's hard to see how they could have handled the show-singer cameos of the 14-strong ensemble. All are good and make the most of the limited space left over from orchestra and walkways in James Noone's set designs. But they and choreographer Stephen Mear do have to handle two of the worst "light relief" numbers in any show, for tailors and beauticians respectively.
Not everything in Lonny Price's economical staging works: the "young Norma" figure is so weak as barely to register, and the pocket version of a car journey down Sunset Boulevard doesn't quite make the innovative grade. Despite Mark Henderson's lighting showering gold on the recluse's mansion rooms, the spookiness of Norma's environment doesn't hold and the tension lapses in the second act.
Again you can't fault Close; her final mad scene, in which she looks not so much like Salome as Joan Sutherland dolled up for the role of Massenet's Princess Esclarmonde, is a bit anticlimatic in terms of what Lloyd Webber gives her. "Rose's Turn" it isn't; though Close has different qualities to put her up there with Imelda Staunton – expect her this time next year to take the same Olivier award Staunton has just walked away with – Sunset Boulevard has nothing like the characterising skills which make Gypsy a great musical. So it's an efficient evening rather than an involving one; but Lloyd Webber enthusiasts should be well satisfied.
ANDREW LLOYD WEBBER'S BACK CATALOGUE
Aspects of Love. Chamber-sized Trevor Nunn revival misses Michael Ball
Cats. The danciest British musical ever is back
Evita. Operatic revival lacks satirical bite, but is elevated by a star turn
Jesus Christ Superstar. A classic musical reborn for a contemporary audience
Love Never Dies. The bad and the beautiful do battle in Phantom sequel
School of Rock: The Musical. Andrew Lloyd Webber's transatlantic transfer is a blast
The Beautiful Game. Spirited revival of football musical set in the Troubles
The Phantom of the Opera. Does the most successful entertainment event of all time still have it?
PLUS ONE TURKEY
Stephen Ward. A seedy misfire tells the story of the Profumo scandal
Over 20 years on from her Broadway triumph, Close has lost none of the powerful chest voice needed for the role
rating
Share this article