DVD: The Music of Strangers |

reviews, news & interviews
DVD: The Music of Strangers
DVD: The Music of Strangers
Picaresque musical journey led by cellist Yo-Yo Ma is thoughtfully inspiring
Thursday, 01 December 2016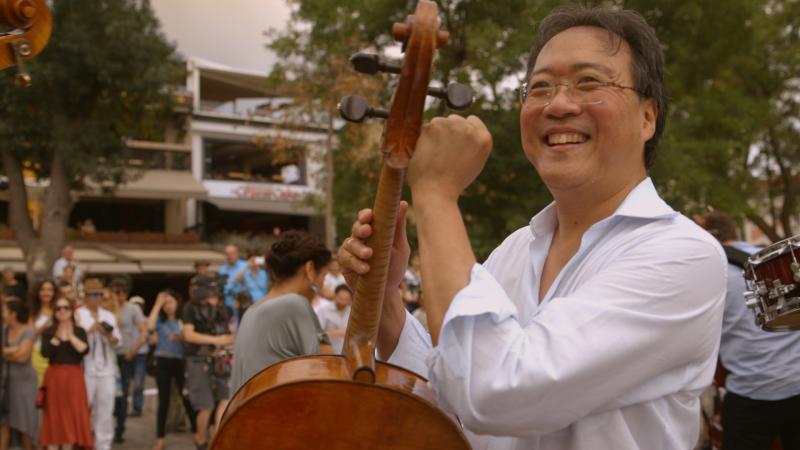 Yo-Yo Ma: 'an impish maestro, whose sense of fun suggests he doesn't take life quite as seriously as he does art'
A welcome antidote to the mood of a time which seems hell-bent on closing borders and building walls, The Music of Strangers is about a unique musical collective that breaks through division and reaffirms the potential of culture to unite. Subtitled "Yo-Yo Ma and the Silk Road Ensemble", Morgan Neville's film is about the band that came into being at the beginning of the millennium on the initiative of the great Chinese-American cellist, giving us snapshots from its history, as well as the stories of some of its many and varied members.
It focuses on the lives of these individuals of diverse cultural achievement and inquisitive intelligence, who came together from a variety of backgrounds in the exploratory spirit of music. Ma brought its first players together in 2000 as part of his own interest in going beyond his career as a soloist: it drew on musicians from countries along the eponymous ancient trading route which for centuries had connected East and West – among them Syria, Iran and China, players from which are featured here. Neville's film opens with an impromptu open-air jam session on a waterside square in Istanbul, and it's that city more than any other which embodies the coming-together of two worlds.
Culture overlaps with politics at every turn
There can't be any absolute qualifications for joining though, and subsequent members have appeared by recommendation, almost as friends of friends, like Cristina Pato, an irrepressible presence in the group who's a master of the Galician bagpipe, the gaita. She is one of the four musicians Neville follows back to their points of origin. Cristina is much concerned with the continuity of Galicia's traditional culture, while Wu Man, a virtuoso of the pipa, the Chinese lute, explores the disappearing traditions of the remote regions of her native land.
Culture overlaps with politics at every turn: Man is from the first post-Cultural Revolution generation of Chinese musicians (she featured in the 1980 Oscar-winning From Mao to Mozart: Isaac Stern in China, a loose cross-cultural documentary predecessor to this film). Kayhan Kalhor, player of the kamancheh, the Persian spiked fiddle, escaped the Iranian revolution in 1979, and his continuing engagement with his homeland is complicated. Syrian clarinettist Kinan Azmeh is cut off for the moment from his Damascus past: one of the film's many moving sequences shows him engaging children at the Zaatari refugee camp in Jordan in music (pictured below).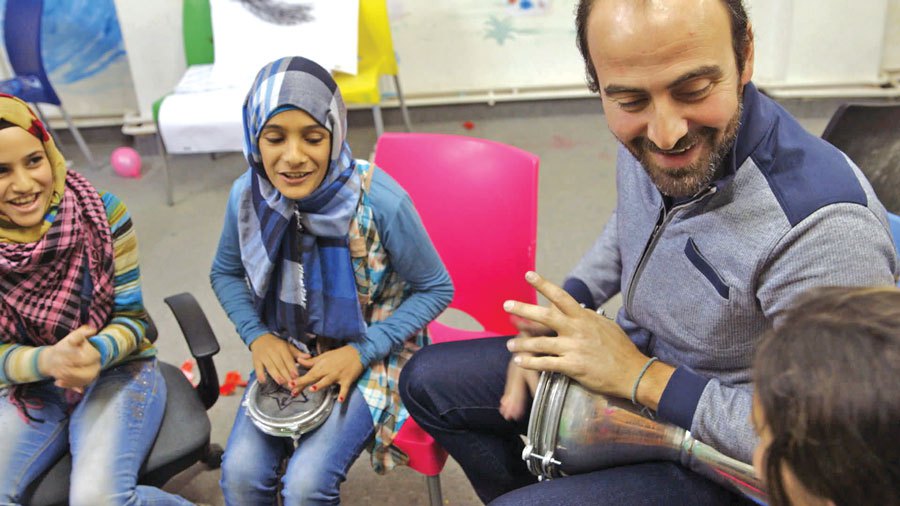 Bringing it all together is the irrepressible Ma, born in Paris, transplanted at an early age to America – we see his performance as a seven-year-old at the Kennedy White House, introduced by Leonard Bernstein, whose own search for a universal music language has surely proved an ongoing inspiration. Since then he has grown into an impish maestro, whose sense of fun suggests he doesn't take life quite as seriously as he does art. The cellist himself isn't the film's main subject by any means, but The Music of Strangers offers insights into the demands made of any high-profile musician: for Ma, every journey he takes, even within America, involves an element of cultural diplomacy. He reckons he has been away from home, on tour, for roughly 22 of the 35 years of his married life: his son grew up assuming his father worked at Boston's Logan airport, so frequently did he travel there.
We don't learn everything here, never quite seeing how the Ensemble actually works, whether through genuine jazz-style group improvisation, or if a composer or conductor sometimes plays a more decisive role. Best-known for his Oscar-winning 20 Feet from Stardom about the world of backing musicians, Neville's last film Best of Enemies, about the Gore Vidal-William F Buckley 1968 television debates, was certainly tighter, but The Music of Strangers plays engagingly on the inevitably picaresque nature of its subject (camerawork and editing are outstanding). We may get only a glimpse into this "Manhattan Project of music", but it's an energetic – and energising – journey, one that reveals much, in the broadest sense, about origins, destinations, and where we may belong.
Overleaf: watch the trailer for The Music of Strangers
Bringing it all together is the irrepressible Yo-Yo Ma, born in Paris, transplanted at an early age to America
rating
Share this article