DVD: Diary of a Lost Girl |

reviews, news & interviews
DVD: Diary of a Lost Girl
DVD: Diary of a Lost Girl
Louise Brooks lights up Pabst's melodrama of a young girl's road to ruin and redemption
Thursday, 27 November 2014
Louise Brooks, a rose between two thorns
It was only six months after rendering the total amorality of ambiguous Lulu in Pandora's Box, based on Wedekind's two "earth-spirit" plays, that GW Pabst and Louise Brooks moved on to Diary of a Lost Girl. It revisits many of the same themes, but through a different filter (and a very much inferior literary source).
This time Brooks's character is decidedly more sinned against than sinning, the only excuse perhaps for an uncredited piano accompaniment which is way too innocent for the subject-matter. The adolescent Thymian Henning is seduced on the night of her confirmation by the repulsive apothecary Meinert, forced to give up the resultant child by her "moral" family and packed off to a sadistic reformatory, the housekeeper who is to become her wicked stepmother very much calling the tune. She escapes the sadistic house of hell only to end up in a brothel and is apparently redeemed by the family money of her feckless artistocratic pimp after his suicide.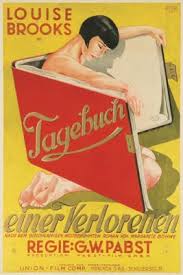 The last scene of the film shows Thymian, drummed into doing good works for fallen women, confronted by her old friend and enemies back at the reformatory; apparently Pabst wanted her to end up as mistress of the brothel. We get as full a version as is possible; the film, not surprisingly, was heavily censored at the time and finished at the scene where Thymian gives up her inheritance to her father's dispossessed widow.
Forget any implied realism: this is as much escapist melodrama as Fritz Lang's Spione of the same year (1929), but without its pace or high style. The interest, as in Pandora's Box and The Threepenny Opera, lies mostly in the faces: Thymian is surrounded by snaggle-toothed crocodiles - Fritz Rasp's Meinert, the banality of evil incarnate, and Andrews Engelmann as the uniquely repulsive director of the reformatory - and other sundry grotesques like the lesbian, sado-masochistic director's wife who gongs the girls into exercise and herself into orgasm.
Some setpieces like this work; others, like Thymian's introduction into a brothel run by a comfortable old bourgeois lady, go on way too long. But ultimately it's Brooks who makes the film more than just a period-piece: her infinite variety, timelessness and somehow unassailable innocence raise both the sordid story and Pabst's dubious voyeurism (the poster, pictured above, is just as bad) to a higher sphere. The Masters of Cinema dual-format presentation offers, as before, no extras, but the accompanying booklet is a 47-page monument to Brooks's special charisma.
Brooks's Thymian is surrounded by snaggle-toothed crocodiles and other sundry grotesques
rating
Explore topics
Share this article