Dead Europe |

reviews, news & interviews
Dead Europe
Dead Europe
A search for family secrets in the dark heart of Europe is undermined by incoherence
Thursday, 13 December 2012
Ewen Leslie as Isaac in 'Dead Europe': aloof
"Why do you want to go to Greece?" After watching the numbing Dead Europe and the journey of its protagonist Isaac the question asked might, more pertinently, have been "do you know the Greece you're going to visit?" This relentlessly dark film paints Greece – in common with the other countries seen – as a place of barely hidden agonies, characterised by shadows. No wonder Isaac's mother gives him a talisman to ward off the evil eye before he sets off from Australia.
Isaac (Ewen Leslie) is a photographer of Greek heritage, born in Australia. His father commits suicide by crashing his car so, with an exhibition of his pictures openings in Athens, Isaac decides to take his ashes back to Greece. With his mother full of foreboding, he lands in a city of people on the margins, with graffiti, rubbish-strewn streets and baleful, watchful eyes. Rather than being a result of the recession, this Greece seems contrived to counter picture-postcard ideas of the country – later, both Paris and Budapest are cast in the same light.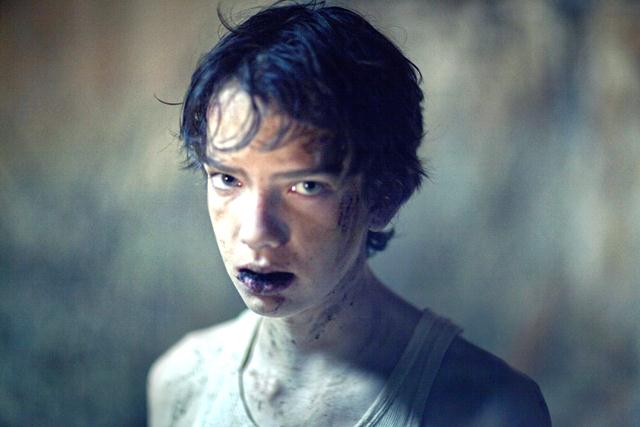 Out with his camera, Isaac encounters a boy being attacked (Let Me In's Kodi Smit-McFee, pictured right). Accompanying him to a run-down apartment triggers the decline into the pits of this fragmented Europe. Returning to the wraith-like Josef's apartment to take more pictures, Isaac finds it empty and is told no one has lived there. Soon, he's travelling to his father's village, then Paris and Budapest, where he finds his drug addict brother under the thumb of a porn baron who is also a people trafficker.
Dead Europe is director Tony Krawitz's adaptation of Christos Tsiolkas's novel. Krawitz's pervious film, Jewboy, was also about a search for identity following the death of a father. In that case, the main character returned to Australia from abroad – he was studying to be a rabbi in Israel. Just as it was with Jewboy's Yuri (also portayed by Ewen Leslie) the descent into the undergrowth and degradation is swift. Jewboy was a dry run for Dead Europe.
A three-way sex scene adds nothing
Although nominally a film about unearthing hidden family history, it operates on multiple levels which don't cohere. Josef might be a ghost or the embodiment of a horrific memory. Equally, Isaac's disturbing encounters with the villagers who knew his father also draw from horror, as does the pervasive sense of dread. In Paris, Isaac is asked to spirit a Muslim woman out of France. He's repelled by her anti Semitism. The discoveries about his father's past relate to see-sawing attitudes towards Jews. Early in the film, his mother tells him "only Jews and Muslims go to hell". Isaac himself is gay. Dead Europe could be both a horror film and a polemic on racism, religious hatred and their place in this low-level Europe, but the two approaches don't gel. Incendies, similarly about a search and secrets, pulled its strands together more confidently and more coherently.
Stylistically, the sudden cuts and travelling camera of Gaspar Noé are borrowed to introduce tension. A three-way sex scene adds nothing and, as the films heads towards its conclusion, a lengthy explanatory exposition stalls the momentum. Leslie at first seems to have the coiled tension of Paddy Considine but remains aloof, never becoming truly animated or engaged.
Though Dead Europe creates an atmosphere, the overall detachment makes it more a film to be experienced rather than one to be absorbed by.