Cherry Tree Lane |

reviews, news & interviews
Cherry Tree Lane
Cherry Tree Lane
A low-budget British horror which mines middle-class fears
Thursday, 02 September 2010
'Rian's girlfriend arrives with an axe, and the vistas of violence seem limitless': Tom Butcher in 'Cherry Tree Lane'
Ever since his award-winning debut From London to Brighton (2006), Paul Andrew Williams has been an exemplary British filmmaker of sparky, low-budget genre tales. Cherry Tree Lane is Straw Dogs in suburbia, a schematic and brutal home invasion film, full of fearsome but unfulfilled ideas on the terrors waiting at your front door.
For the first few minutes, as middle-aged Mike (Tom Butcher) and Christine (Rachel Blake) settle down in their north London semi after work, uncorking the wine and preparing dinner, the atmosphere is indefinably uneasy, the conversation faintly dislocated. Mike's troubled obsession with TV terrorist reports suggests a secret life. Is he a sleeper spy, or serial killer? The doorbell goes twice. First some kids are looking for their son Sebastian, then these three teenage boys have a knife to Christine's throat, and are kicking Mike to the ground. The boys settle into the comfortable lounge to await the return of Sebastian, who has informed on their leader Rian's jailed cousin. Rian's girlfriend arrives with an axe, and the vistas of violence seem limitless.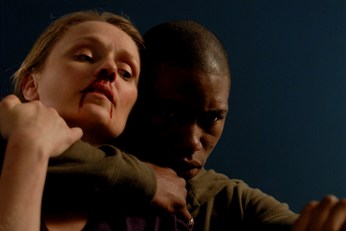 By its nature, Cherry Tree Lane prods exposed nerves, and asks uncomfortable questions. Where the violence in From London to Brighton centred on the sexual exploitation of a prostitute and young girl, here paranoias of class, race and property orbit the primal horror of feeling unsafe in your home. On the estate the boys come from, many more will feel that every night of their lives. They are a visitation from that world, careless of middle-class proprieties, raping and pillaging. The couple's mouths are taped almost throughout, but communication anyway collapses over a yawning class chasm, as the attackers stare at their foreign cinema DVDs and unworkably expensive TV. Rian implies racist assumptions when Christine fears the worst as he sits next to her on the sofa, then does the worst anyway. As in The Texas Chainsaw Massacre, which Williams's second film as writer-director, The Cottage, parodied, the axes and kitchen knives wielded by the seemingly invincible attackers threaten unwatchable carnage we barely see.
The home invasion film dates back to William Wyler's The Desperate Hours (1955), when Bogart's criminal gang terrorised Fredric March's upstanding family. Williams updates the terrain without changing it. Rubbing our noses in our fear of feral youths (or neighbours' children, as they were once called), he suggests we're right to be afraid, and he is too. There's a hierarchy of desensitisation. Rian (Jumayn Hunter, pictured right with Rachel Blake) and girlfriend Beth (Jennie Jacques), who he punches in the face when she's jealous of the raped Christine, after she arrives with her 11-year-old brother to a probable murder scene, are the sociopaths of media myth. Asad (Ashley Chin) is more troubled, and the young actors and witty nuances in Williams's script ensure the film doesn't dehumanise.
But once you get past your own queasy reactions to this situation - to the fear of opening your front door at night and who may come through it, to British divisions of class and race now deep enough to make each seem inhuman to the other - Cherry Tree Lane is a cul-de-sac. The leash never really comes off the situation's awful potential, where the films of the "Savage Seventies" Williams is schooled in would have had no compunction in letting rip. This happily spares us the seedy on-screen rapes beloved of those days, but once it becomes obvious that Williams will only go so far, that really we're safe, tension punctures. The climax's studious tracing of mild-mannered Dustin Hoffman's transformation to atavistic avenger in Straw Dogs (and the nice middle-class family who turn on their daughter's rapist-murderers in Wes Craven's Last House on the Left, come to that) is also so obvious you watch it play out, untouched. Add the essentially ludicrous nature of the gang's plan, guaranteed to have them in the clink minutes after they leave, and the heavy genre trappings around Williams's social realist conceits become clear. He has poured volatile ammunition into the claustrophobic single set beloved of the budget-strapped indie filmmaker, but is too nice to make it explode.
Cherry Tree Lane is on release from today
Watch the trailer of Cherry Tree Lane (YouTube):
Rubbing our noses in our fear of feral youths (or neighbours' children, as they were once called), Williams suggests we're right to be afraid, and he is too
Explore topics
Share this article