Bullet to the Head |

reviews, news & interviews
Bullet to the Head
Bullet to the Head
Expendable Sly sleepwalks through implausible hitman yarn
Christian Slater listens very carefully to Sly's proposal
We know Sylvester Stallone didn't do this movie for the money, since he's surfing the career revival wrought by the astounding success of The Expendables. Perhaps he wanted to work with Walter Hill, here directing his first movie in over a decade. Perhaps Sly just prefers working to loafing around the pool in between bouts of weight-lifting.
Derived from a graphic novel by French author Alexis Nolent, Bullet to the Head is a strange beast, cynically and relentlessly violent but leavened with some incongruously smart wisecracks. It has a decent cast, but they're offered next to nothing in the way of characterisation, emotion or any of that fancy stuff. It's a vehicle for Stallone and its New Orleans locations, the latter more eloquent than most of the characters.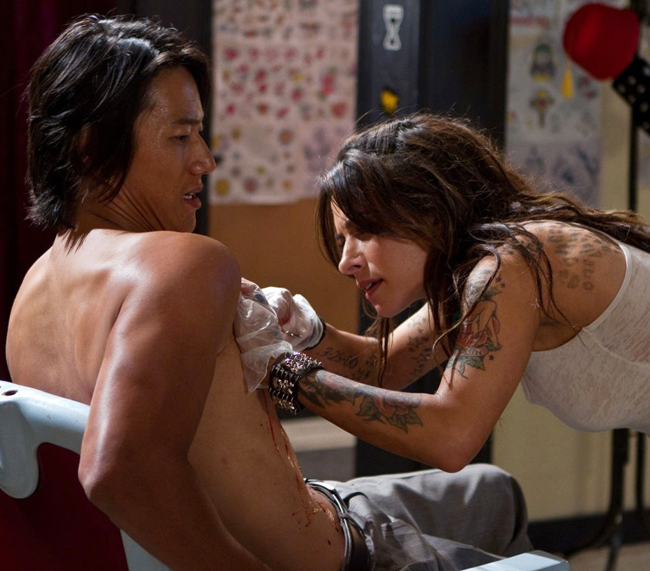 A major snag is that it's impossible to decide how much (if any) sympathy you're supposed to feel for Jimmy Bobo (né Bonomo), Stallone's character. His job as a professional hitman pushes him off the roof of Empathy Towers as early as the opening scene, in which Bobo and his partner Louis (Jon Seda) barge into a hotel room and slaughter a chap called Greely (Holt McCallany). Later we learn that Greeley was a despicable bent cop from Washington DC and thus got what he deserved, and besides, kindly Sly refrained from shooting the hooker cowering in Greely's bathroom. This was because she was adorned with a tattoo applied by Bobo's daughter Lisa (Sarah Shahi, pictured above tending to Sung Kang), with whom he has a tense and distant relationship. His efforts to be a better father are presented as some sort of saving grace, but Bullet to the Head began life as a cartoon, and despite having real actors in it, it still is.
Kang was presumably hired to boost sales in the Far East, where they love numbskull action flicks
Best to enjoy it, if you can, as a sequence of whizz-bang action sequences designed to show off Bobo's indestructibility and ability to out-guess his opponents. The narrative is driven by Bobo's furious determination to avenge the killing of his buddy Louis, who is unpleasantly carved up by smirking ex-mercenary Keegan (Jason Momoa, disappointingly lacking the urbane wit and erudition he displayed in Conan the Barbarian) when he and Bobo go to collect their hitmen's wages. He forms an odd-couple partnership with young cop Taylor Kwan (Sung Kang, veteran of the Fast and Furious franchise), who has flown in from DC to investigate Greely's death. Bobo hates cops and Kwan proposes to slap the handcuffs on Bobo when he gets the chance, so their relationship is fuelled by simmering antagonism even while they realise they need each other to carry out their respective missions (Momoa - duh! - pictured below).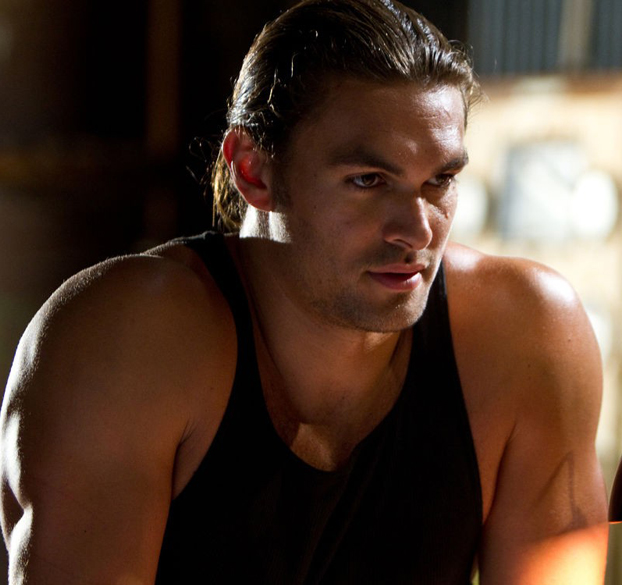 You needn't pay much attention to the plot (it obviously didn't bother Walter Hill), but you can feast your eyes on the sheer weirdness of the 21st century Stallone. One scene leafs through Bobo's past (US Navy demolitions team, a copious criminal rap sheet etc) accompanied by snaps of the younger Stallone, leaving you to ponder what on earth has happened to his face, which looks like it's been melted in a blast furnace and then bashed into a new shape with sledgehammers. He now walks as though suspended on wires from the ceiling, while his arms and upper body pivot rigidly from the waist like a gun turret.
Stallone's barely-conscious nonchalance still puts most of the cast in the shade, especially the ineffectual Kang (presumably hired to boost sales in the Far East where they love numbskull action flicks). Poor Kang also finds himself the butt of a few quasi-racist jokes. "I'll be waiting, Confucius," Bobo tells him, boredly. "Don't condescend to me, Cato," he's told by Christian Slater, playing corrupt lawyer Marcus Baptiste who's mixed up in a property development scam with Morel, an African crook. Morel gets off a smart one-liner at towering lunk Keegan: "When I want your opinion I'll buy you a brain."
Apart from this, there are car chases, exploding buildings, lots of automatic weapons fire, and a lusty fight with axes ("what are we, fucking Vikings?" growls Sly). It's not very good, but it's only 91 minutes long, so Hill at least got one thing right.