Blu-ray: The Proposition |

reviews, news & interviews
Blu-ray: The Proposition
Blu-ray: The Proposition
John Hillcoat's anti-Western is a bloody allegory of colonial mayhem in 1880s Australia
Outback in anger: Guy Pearce and John Hurt in 'The Proposition'
Commenting on Australia's horrendous colonial history at the start of an audio commentary packaged with this BFI Blu-ray release of John Hillcoat's impeccably directed, newly restored The Proposition (2005), Alexandra Heller-Nicholas declares, "It's fucking awful."
Critics are usually more circumspect on the record, but Heller-Nicholas's reflection on the genocide of the First Nations people and the attendant squalor visited on the Lucky Country by the lawless settlers of the 19th century strikes the right note. She and her colleague Josh Nelson sustain her anger and disgust throughout their energetic deconstruction and contemporary contextualisation of Hillcoat's brutal "anti-Western", explaining why it was and is such an important revisionist film.
They emphatically position it as an allegorical counter-myth to the pro-imperialist myth endorsed by Prime Minister John Howard who, during his 1996-2007 tenure, denied the indigenous genocide, limited First Nations rights, opposed reconciliation, and refused to apologise to the "Stolen Generation" of the children of Australian Aboriginal and Torres Strait Islander descent who were forcibly removed from their families.
Given the ongoing abuses of First Nations Australians, such injustices give an ironic spin to the weary remark – "Australia. What fresh hell is this?" – uttered early on by Morris Stanley (Ray Winstone), an Outback police captain of the 1880s. That phrase is usually attributed to Dorothy Parker. The musician Nick Cave, whom Hillcoat asked to come up with the story and write the screenplay as well as provide the soundtrack, can be forgiven for repurposing it to set up Stanley's hubristic attempt to civilise a land no white man belongs to or comprehends.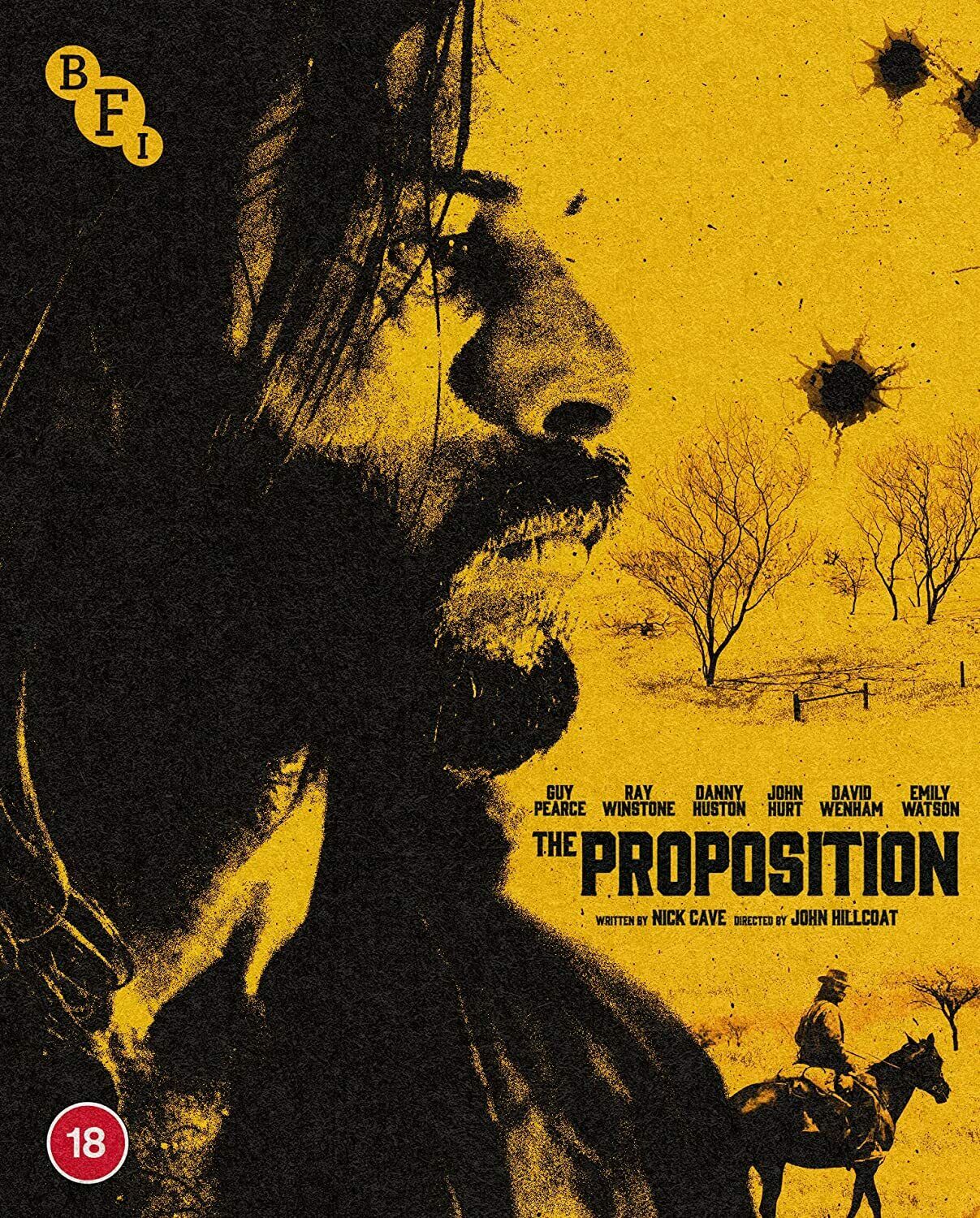 Stanley is a bullish but ineffective London copper who suffers migraines – tended by his genteel doting wife, Martha (Emily Watson) – and would've done better policing a comparatively cushy number back home, Whitechapel, say.
After a shootout with the Burns outlaw gang, Stanley captures Charlie (Guy Pearce) and his teenage brother Mikey (Richard Wilson). Overstepping his authority, he strikes a devil's bargain with Charlie when he tells him he will pardon him and Mikey if, freed with a gun and a horse, Charlie tracks down and kills their older brother Arthur (Danny Huston), who's responsible for decimating a settler family. Charlie's failure will mean Mikey's execution at Christmas, nine days hence.
Among the Westerns The Proposition engages with are two directed by John Ford. The Irish Burns family echoes the Cleggs, cretinous frontier trash, in Wagonmaster (1950), the murderer-rapist Arthur echoes the Comanche chief Scar in The Searchers (1956). The latter masterpiece showed signs that Ford was beginning to sympathise with Native Americans. Hillcoat's sympathy with indigenous Australians is that much greater, though – for all of Heller-Nicholas and Nelson's outrage – the blacks do not occupy centre stage.
The First Nations actors David Gupilil and Tom E Lewis (star of The Chant of Jimmie Blacksmith) play a doomed police tracker and a Burns henchman respectively, but the horror is borne more by a native hunter whose head is gleefully blown apart by one of the thugs and a group of manacled indigenous elders interrogated by Stanley. In this tale of white law and disorder, the misery of the blacks is collateral damage. His house boy aside, Stanley regards them as a barely human impediment to the colonising process.
Gloomily manifesting this imperative, with due apologies to Martha, Stanley is one of Winstone's most nuanced characters. Facing a massive dilemma, Charlie, his adversary, remains impassive, but his subjectivity is evinced through a stream of consciousness relayed as celestially phrased existential whisperings that render Pearce's leathery rider an Aussie avenger in the Pale Rider mould. John Hurt is memorable as an English bounty hunter – a scurrilous, fruity-voiced cutthroat one could imagine helping Harry Flashman to persecute Tom Brown at Rugby
The BFI Blu-ray is cluttered with extras, some of which – including the original making-of featurettes and interviews with Pearce and Huston – add little to our knowledge of the film. More illuminating is a new audio conversation between Hillcoat and Cave and an 80-page book featuring new essays.
In this tale of white law and disorder, the misery of the blacks is collateral damage
rating
Share this article