Blu-ray: Marlene Dietrich at Universal 1940-1942 |

reviews, news & interviews
Blu-ray: Marlene Dietrich at Universal 1940-1942
Blu-ray: Marlene Dietrich at Universal 1940-1942
Four films that tested the star's durability with the American public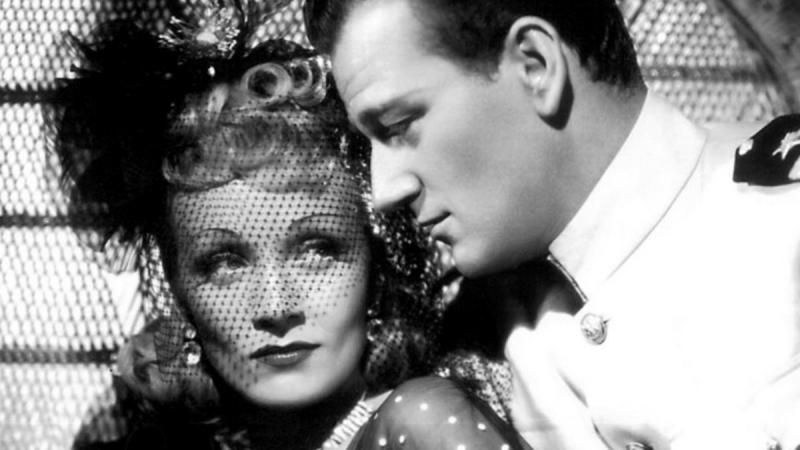 Falling in love again: Marlene Dietrich and John Wayne in 'Seven Sinners'
Her glory years as the muse of Josef von Sternberg long gone, Marlene Dietrich had been labelled "box-office poison" and was sulking on the French Riviera when the producer Joe Pasternak summoned her back to Hollywood to star opposite James Stewart in George Marshall's Destry Rides Again (1939).
The tragicomic Western would prove the best of the films Dietrich made at Universal. Of the four comprising this BFI Blu-ray set, Seven Sinners (1940) is tropical nonsense, The Flame of New Orleans (1941) is a frou-frou delight, The Spoilers (1942) is a well-paced Western, and Pittsburgh (1942) is charmless wartime propaganda.
Used to being the fetishised focal point of Sternberg's baroquely artificial film nations, exotic dreamworlds of light and shade, Dietrich had been reluctant to have her enchantress image deglamourised, precisely what was done to it in her saloon catfight with Una Merkel in Destry. Given the movie's commercial success, it was surprising that Pasternak and director Tay Garnett should then build a quasi-Sternbergian environment around her in Seven Sinners.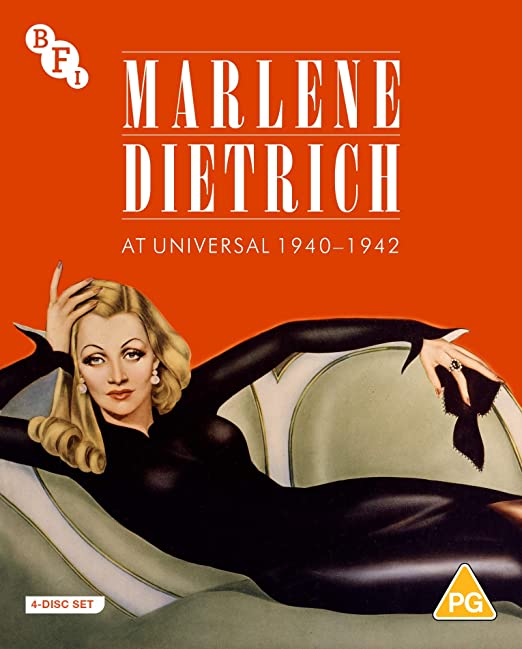 Dietrich plays Bijou, a chanteuse forced to move around American protectorates in the South Seas with her entourage – which includes lunkish self-appointed bodyguard Broderick Crawford and thieving magician Mischa Auer – because her act causes the white island riff-raff to riot in every joint where she performs (natives provide backdrop only).
In the first of his three outings with Dietrich, John Wayne plays the US Navy lieutenant whose career is threatened by his affair with Bijou. Wayne was fine as a hunk of courtly beef, though he was outshone by Albert Dekker as a world-weary ship's doctor also enamoured of Bijou and Oscar Homolka as a villain from her past.
Garnett was blessed by Rudolph Maté's dazzling cinematography and he skilfilly handled Dietrich's musical numbers (one performned by her in a trim white Navy uniform), but the director's reach for sophistication was undercut by the inconsequential story, which had little to say about desire.
Dietrich's notorious seductress character also graces The Flame of New Orleans, the last of her Universal films produced by Pasternak and his favorite among them. Teasingly directed by the exile René Clair – who appreciated as much as Sternberg and Dietrich herself the ironic nature of her allure – and lushly photographed by Maté, it mocks the pretentious gentility of Southern high society in the 1840s.
First seen faux-fainting in an opera box, Dietrich's Claire Ledeux is a onetime Saint Petersburg courtesan who, seeking a respectable marriage, fools dandified banker Charles Giraud (Roland Young) into thinking she's a countess. Threatened with exposure by an old acquaintance (Auer), she's forced into simultaneously playing the ultra-feminine lady and her coarser "cousin" Lili.
The banker is a pleasingly ridiculous addition to the lovelorn older men – moths to Dietrich's flame – Sternberg had created in his own guise. Giraud's wealth can't compete with the brute masculinity of a sea captain (Bruce Cabot), to whom the heroine yields on the eve of her wedding. Some of Clair's touches were as sly as Ernst Lubitsch's – the wedding dress discovered floating in the Mississippi at the start is last seen flying from the captain's porthole – though the French filmmaker allegedly didn't understand the sexual innuendos in the English dialogue.
Dietrich's performance (she was wittier than her critics allowed) and those of the terrific supporting actors (including Laura Hope Crews, Melville Cooper, Anne Revere, Andy Devine, and Shemp Howard) didn't bring the movie success, however, and its failure helped push Pasternak from Universal to MGM. (Pictured below: Bruce Cabot, Dietrich, and Roland Young.)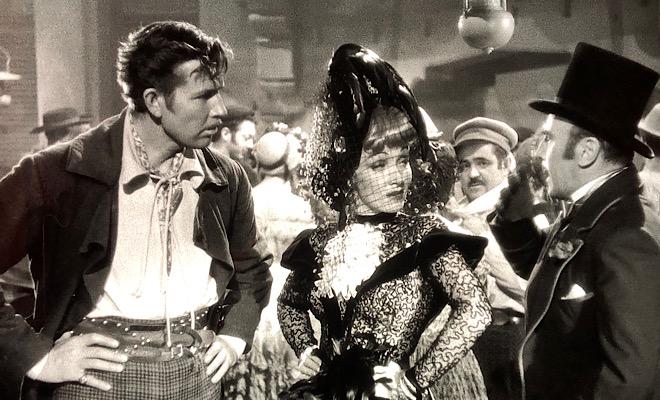 Ray Enright's The Spoilers (also innuendo-laden) and Lewis Seiler's Pittsburgh both teamed Dietrich with Wayne and Randolph Scott. The former film was the fourth of the five screen adaptations of prospector-turned-writer Rex Beach's factually based 1906 novel about corrupt officials teaming up with claim-jumpers during the early 1900s Nome Gold Rush in Alaska.
It ranges Dietrich's saloon owner–grub staker Cherry Malotte with mine owner Roy Glennister (Wayne) and his old timer partner (Harry Carey) against the smooth new gold commissioner Alex McNamara (Scott), a crooked judge (Samuel S. Hinds), and the judge's niece, Helen (Margaret Lindsay). Dietrich was typically attired in The Spoilers – the noble Cherry wears gleaming gowns and a cantilevered metallic Edwardian coif – but she plays second fiddle to Wayne. The actors had become lovers and Dietrich's attempts to mentor Wayne – he was still not a major star – might explain the new authority he showed as Glennister.
As in Seven Sinners, Wayne's entrance is delayed, positioning Glennister as the film's primary love object, for whom Cherry must compete with the touchy-feely Helen, who has clearly slept with him aboard the ship that brings them and her uncle to Nome. (Lindsay's sharp portrayal of the not-so-good girl tacitly at war with Dietrich's steadfast "bad" girl is so extraordinarily Stanwyck-ian it's hard to believe she wasn't Barbara's younger sister). (Pictured below: Randolph Scott, Dietrich, and Wayne.)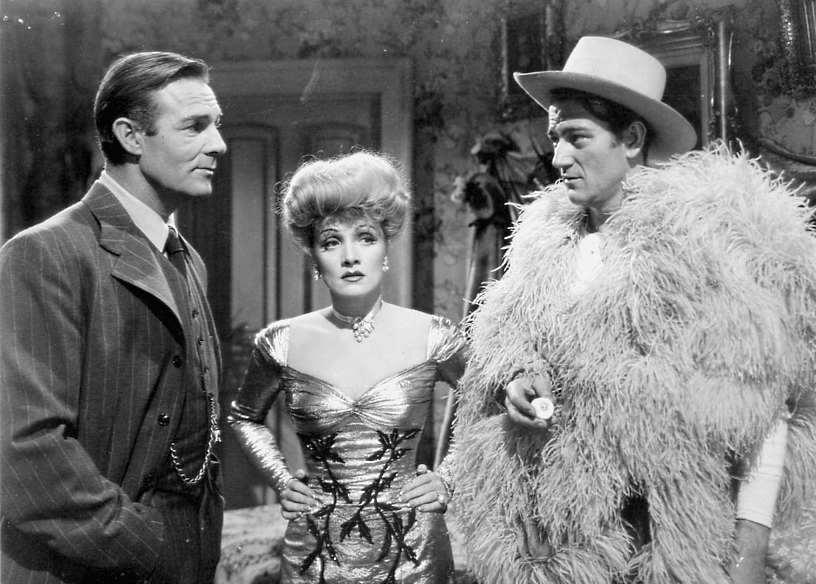 Wayne had fun here. Glennister has the gall to call Cherry "Sport". In one scene, he lolls on her bed as if waiting for her to take him. In another, he wears her feather boudoir wrap when interrupting McNamara's wooing of her – Dietrich surely had a hand in that.
More outrageously (and despicably), Glennister wears blackface – donned for a bank robbery – and affects a theatrical Southern black accent when pretending to flirt with Cherry's gullible black maid (Marietta Canty), who has continuously complained about the lack of suitable men for her to meet in New Orleans.
The Spoilers isn't an important Western, but Enright (who would direct Scott six more times in the 1940s) managed the personal dynamics and exciting action sequences with the same vigor as a Raoul Walsh or Michael Curtiz. The astonishing (if protracted) saloon fistfight between Glennister and McNamara that concludes The Spoilers arguably betters the epic barroom brawls in Curtiz's Dodge City (1940) and Seven Sinners. Enright also got good supporting performances from the former silent stars Carey, William Farnum (who had played Glennister in the 1914 version of The Spoilers), and especially Richard Barthelmess, who was appearing in his penultimate picture.
In Pittsburgh, Dietrich plays another dignified woman loved by a Wayne character who betrays her – to the extent that he marries someone else. Even more so than in The Spoilers, the romance – and the Dietrich character's ability to influence events – is subordinated to ruthless male ambition.
Crudely conceived as propaganda about the need for a selfless, unstinting work ethic during wartime, and featuring an "inspiring" diegetic narration by a doctor-scientist (Frank Craven), the movie unfolds as a flashback that depicts the rags-to-riches story of Charles "Pittsburgh" Markham (Wayne, pictured below with Dietrich) and John "Cash" Evans (Scott), best friends who rise from being lowly Pennsylvanian coal miners to steel industrialists.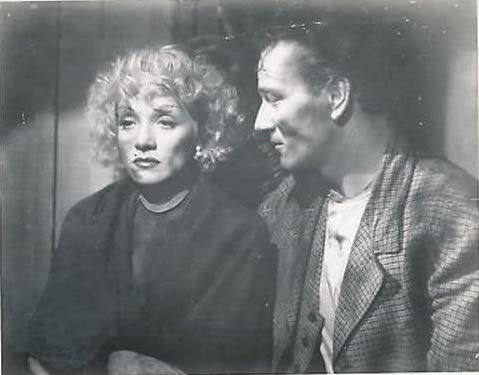 The boys are still hauling coal when Dietrich's Josie "Hunky" Winters, a miner's plucky daughter with an aristocratic bearing, helps them rescue fellow miners from a cave-in. Josie and Markham fall in love. Evans and Markham, a forceful man-ager and devious strategizer, set up in business together. After Markham has forged a signature enabling them to sell coke cheaply to a steel mill owner (Hinds), he marries the latter's daughter (Louise Allbritton) and seizes her father's business.
Josie, outraged that Markham still expects to sleep with her, and the principled Evans pull away from him and toward each other. Markham and his wife divorce and his firm goes belly-up, but – with the US entry into the war – redemption is at hand. As unthinkingly breezy as its character names, Pittsburgh is chiefly interesting today for Wayne's portrayal of an arrogant boor who becomes a bully and tyrant; it anticipates his masterful performance as the martinet cattle boss in Howard Hawks's Red River (1948).
Though these four Dietrich films pale beside her work with Sternberg – Hollywood's pinnacle achievement, artistically and psychologically, in the arena of love and sex – they afford much pleasure cumulatively. Beyond audio commentaries, the BFI has wisely left the Blu-ray uncluttered by extras. Dietrich's look and her looks (and the thoughts behind them) and Wayne's carriage – his unique way of standing and moving, expressive as it is of his persona, love it or hate it – are iconographies unto themselves, irreducible and unimpeachable. What contemporary star touches either of them?