Blu-ray: Rio Grande |

reviews, news & interviews
Blu-ray: Rio Grande
Blu-ray: Rio Grande
The third of John Ford's 'Cavalry Trilogy' in an authoritative new edition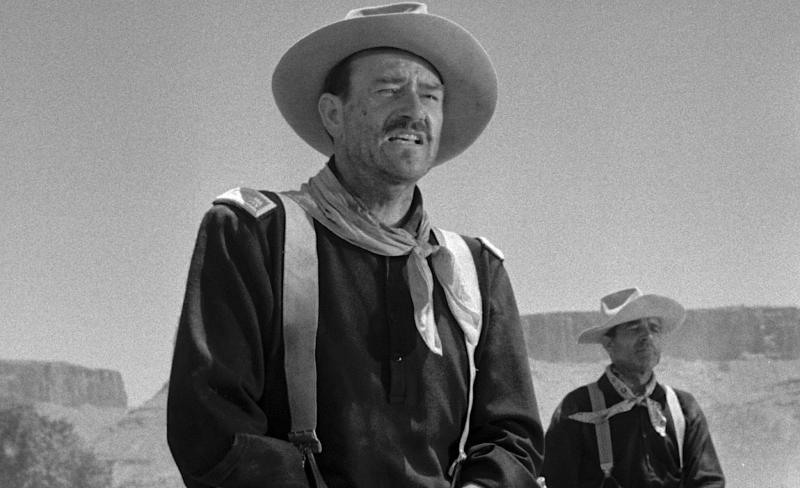 Tall in the saddle: John Wayne as Lt Col Kirby Yorke
Although it followed on from the previous hits Fort Apache (1948) and She Wore A Yellow Ribbon (1949), Rio Grande found director John Ford suffering from straitened finances.
The third of his so-called
"Cavalry Trilogy"
,
Rio Grande
was made under a new deal with Republic Pictures, whereby its star John Wayne had to agree to a reduced salary so Ford could make both
Rio Grande
and his subsequent pet project,
The Quiet Man
. It was shot in Utah in a brisk 32 days.
It tends to be dismissed as a minor Ford work, because of such idiosyncracies as the numerous musical appearances by the cowboy band Sons of the Pioneers, in addition to regular musical interludes by other cast-members. Perhaps Ford was hankering after a remake of Oklahoma! But there's much else to admire.
For a start there's Maureen O'Hara, making the first of five appearances opposite Wayne. Here, she plays Kathleen Yorke, estranged wife of Wayne's Lt Colonel Kirby Yorke. He's the commander of the cavalry garrison at Fort Starke, engaged in a running feud with a band of renegade Apaches who carry out their raids and then scarper across the Rio Grande river into Mexico, where the US Cavalry aren't permitted to follow them.
Ford took the raiding-Apaches theme from a short story by James Warner Bellah, Mission With No Record, but that's almost secondary to the developing story of Yorke's gradual reconciling with Kathleen. This is brought about when their son Jefferson (Claude Jarman Jr), having washed out of officer training at West Point, enlists as a regular trooper and is posted to Fort Starke. Kathleen majestically materialises at this isolated outpost, determined to buy her son out of the army and haul him back to civilisation. However, the boy has a point to prove, and his dad's stern lectures about duty and discipline are not lost on him – "it's a life of suffering and of hardship, and uncompromising devotion to your oath and your duty," the Duke declares.
The film gathers much additional flavouring from a resonant back-story. The gulf between Kathleen and Kirby dates back to the Civil War, where Kirby, serving with the Union army, was ordered to burn down Kathleen's Bridesdale plantation in the Shenandoah Valley. Wizened Sgt Major Quincannon (Victor McLaglen) recalls how Kathleen was "looking daggers at me and sabres at the Colonel". The slow patching up of their personal divide is hymned in the closing shot as the troopers ride out to the band's rousing rendition of "I Wish I Was in Dixie".
Rio Grande doesn't offer the grandeur of She Wore A Yellow Ribbon or the mythic quality of The Man Who Shot Liberty Valance, but it has some true star quality and a powerful emotional undertow. This Blu-ray edition (in Eureka!'s The Masters of Cinema series) comes with a swathe of extras, including an audio commentary and a short documentary by Maureen O'Hara, a making-off featurette and an authoritative commentary by Old West expert Stephen Prince. The booklet is stuffed with absorbing essays about the film in particular and Ford's career in the round, as well as the text of Bellah's original story.