Best of 2018: Film |

reviews, news & interviews
Best of 2018: Film
Best of 2018: Film
The hits (and misses) in film from the past 12 months
Saturday, 29 December 2018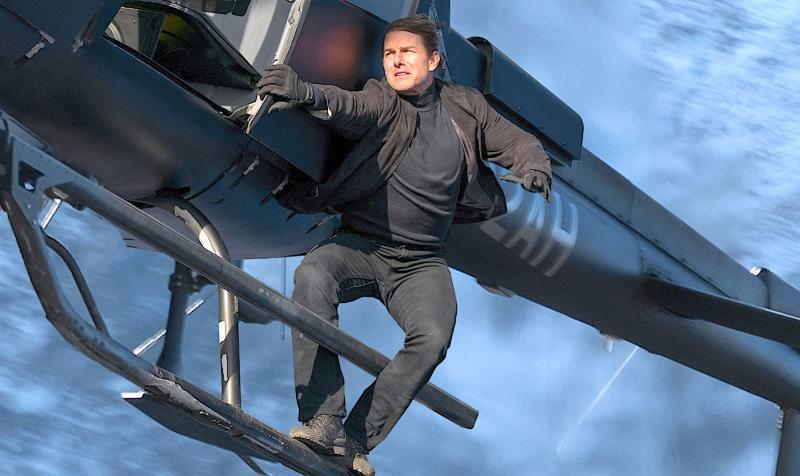 Tom Cruise and Christopher McQuarrie proved there's life in the multiplexes yet in Mission: Impossible Fallout
While the Academy Awards is still searching for a host, theartsdesk's relatively controversy-free 2018 means we're ready for our end of year tributes. Superhero saturation reached breaking point, with Warner's Aquaman, Fox's Deadpool 2 and Sony's Venom all desperately trying to keep up with Disney's three(!) Marvel releases (and that's not including several animated releases). It might feel like this cinematic war will last for infinity, but away from the multiplexes were some of the most affecting and gorgeous films in recent memory. Here our team picks their highlights from both blockbuster and independent cinema - and some of the year's biggest misses too, because there's always room for a grinch at Christmas.
THE HITS
French cinema excels in the minuteau of emotion. Those little tells, moments of pathos, heartbreak in a look. It sometimes leads to gorgeous films that lack a finale. Custody, from debuting director Xavier Legrand, proved this formula can be devastating. Young Julien is caught in his parents' divorce - a controlling father desperate for contact, and a fearful mother claiming abuse. Every weekend, father Antoine uses his car journeys to question Julien about his wife's whereabouts, who she's seeing, and what she's been telling people. It's a considered and convincing portrait of toxic masculinity through the eyes of a child. The tension is masterfully built to a climax that's as shocking as it is unavoidable; by no means a popcorn crowd-pleaser, but proof of the power of cinema. Owen Richards
A feature-length doc on whaling in the Faroe Islands might not be everyone's idea of a Christmas treat, admittedly. But Scottish director Mike Day has created a softly spoken yet multi-layered masterpiece - one that's both a celebration and questioning of traditional culture, and a chilling examination of our relentless destruction of the planet. Facing demands that they renounce their ancient (and, it has to be said, limited) whaling traditions on cruelty grounds, Faroese communities face a wholly different concern: that they may be crippling their own and their children's development through the high levels of mercury now present in whale meat. It's a breathtakingly beautiful film, with plenty of brooding land- and seascapes. But what really sticks in the mind is Day's complex, unapologetically contradictory exploration of the issues involved. David Kettle
Wes Anderson's stop-motion-animated film is set in a beautifully realised fantasy Japan, where a dictator has despatched all pet dogs to a quarantine island after an outbreak of canine flu threatens the human population. The story would tug at anybody's heart strings as an orphan boy (voiced by Koyu Rankin) journeys there to rescue his best friend Spots (Liev Schreiber), and gets help from a pack of misfit pooches (including Bryan Cranston, Edward Norton and Bill Murray) who are sick and starving, and on the verge of collapse. His devotion means the dogs find new purpose. The technical feat involved is to be admired but the emotional impact is great; it's a subtle morality tale about doggedness (sorry), friendship and spiritual renewal that would leave even non-canine fans sobbing. Veronica Lee
Andrew Haigh's first American film, adapted from Willy Vlautin's novel, expanded his canvas away from miniature relationship studies to follow friendless, homeless teenager Charley Thompson on a northwestern road trip in the company of the eponymous knackered racehorse. Cast opposite older, ornery actors, skinny blond wisp Charlie Plummer played the yearning, despairing latterday Huck Finn with extraordinary skill. On his picaresque trek from blue-eyed innocence to dirt-smeared experience he often kept his cards close to his chest, saying little or nothing, only to be provoked into explosions of extreme emotion. The horse, snorting and stamping, gave a highly charged performance too. A beautiful film. Jasper Rees
Debra Granik's third feature film is perhaps her best and has the realistic feel of a documentary, delving into life on the margins in America. Will (Ben Foster), a military vet with PTSD, and his 13-year-old daughter Tom (brilliant, poised newcomer Thomasin Harcourt McKenzie) live off the grid, hiding out and foraging for food amongst lush ferns in a national park near Portland, Oregon. But the outside world crashes in, social services ask a lot of questions, mostly benign enough (there's nothing black and white here) and they're rehoused. Tom starts school - up till now her father has taught her, and he's made a good job of it - and adapts. Will doesn't, and the inevitable parting of their ways is shown with great sensitivity. Markie Robson-Scott
After the anger, the emptiness… Russian director Andrey Zvyagintsev's fifth film harked back to the world of unelucidated family relationships that characterised his debut, The Return, the work that brought him immediate acclaim back in 2003, while moving away from the close social engagement of his tempestuous Leviathan from 2014. In its story of a (literally) lost child, Loveless was a film of wintry emotional withdrawal – a perfect pairing of season and subject – about the absence of almost any sense of natural core to the world it depicted. It was as critical of its society as its predecessor, but on a more oblique level, and bleaker for that remove. A scalpel dissection of a world where pity is in very, very short supply. Tom Birchenough
Just when you thought it was safe to give up summer blockbusters, along came this one. Tom Cruise's usual crew of Mission: Impossibilists (including Ving Rhames and nerdy Simon Pegg) were on the trail of some stolen plutonium. The Doomsday Clock was at half a second to midnight, as usual. But never mind that. Helmed by Christopher McQuarrie, MIF was a perpetual motion machine of ferocious action and stunts which defied the laws of physics as it hurtled from London to Paris to Kashmir, including banzai motorbike rampages and a mountainous helicopter chase which left you scrabbling for the emergency oxygen supply. In Vanessa Kirby and Rebecca Ferguson, it also had two powerful female stars who were far more than mere glamorous window dressing. Adam Sweeting
Elegant, lavish, darkly obsessive: Phantom Thread was an enigmatic farewell from acting for Daniel Day-Lewis in a final partnership with director Paul Thomas Anderson. As the slightly caricatured dressmaker Reynolds Woodcock, Day-Lewis is charming, vulnerable, dandyish, petulant and sinister. The film's true stars, however, were Lesley Manville as Reynolds' icy sister Cyril and the tender and dynamic Vicky Krieps as Alma. The film is a Hitchcockian mystery, a gothic romance, a dream and an exposé: of the tormented artist and of noxious masculinity. And all the parts are woven together with measure, glamour and giddy flair. Tom Baily

Shirkers
It's been a great year for documentaries in the cinema but the one that stands out for me is writer Sandi Tan's Shirkers (now playing on Netflix). It's been winning awards ever since it debuted in Sundance and is now on the Oscars longlist. Shirkers is the elegiac tale of how 19-year old Tan fell under the spell of a charismatic teacher who enabled her dream to make Singapore's first indie movie back in 1992. It was a quirky tale of a teenage murderer filmed guerrilla-style over one hot summer on the island with Tan's best friends Sophia Siddique Harvey and Jasmine King Kia Ng. It should have launched the young women's film-making careers, but their teacher was a charlatan and disappeared with the 70 cans of film. Twenty years later, Tan recovered the footage but with the soundtrack lost, she could never recreate the movie; instead she set about uncovering the story of the man who stole the footage and the effect its loss had on Tan's life. Mysterious, intriguing and wholly original, it's a beautifully made tale with all the qualities of a fever dream. Saskia Baron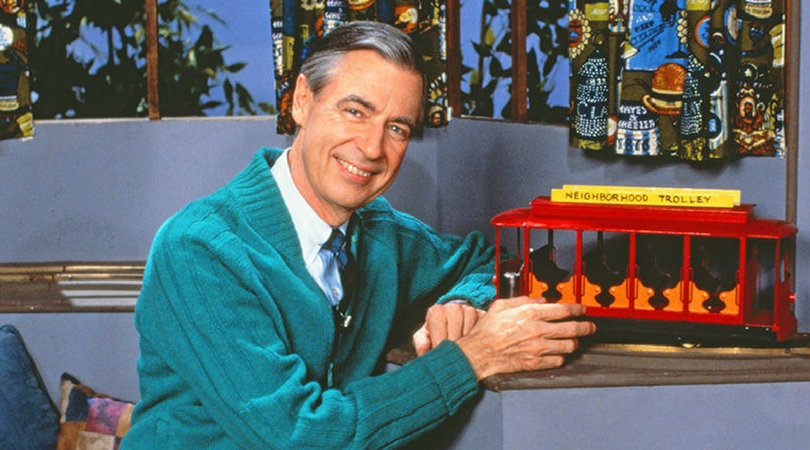 Won't You Be My Neighbor?
Kindness lasts. That was one lesson from this surprising, softly soulful documentary about a Republican-voting minister who hated television, but became its most trusted presence for America's children. Mister Rogers' Neighborhood was the gentle, low-tech kingdom of Bill Rogers from 1968 till his gnarled, 71-year-old hands let it go in 2000. Subjects including assassination, divorce and racial integration were calmly explained and defused in this apparently bland place of hand-puppets and small-talk. Rogers spoke with Jimmy Stewart's hesitant determination, and a child's rapture on meeting him, and a gorilla trustingly hugging him, measure a rare heart. Shrunken-souled culture-warriors still screamed at his coffin in 2003. But his neighbourhood was a sanctuary for all. His uncynical service is a moving gift in fractured times. Nick Hasted
One of the great films of the decade, Zama was adapted by Argentine director Lucretia Martel from the 1956 existential novel by her countryman Antonio de Benedetto. It depicts the drawn-out spiritual emasculation of a legal official working for the Spanish crown in an 18th century Paraguayan backwater. Because he was born in South America, Don Diego de Zama (Daniel Giménez Cacho) is constantly passed over for promotion and relocation. His humiliation is compounded by his snubbing by the treasury minister's flirtatious wife (Lola Dueñas); she sleeps instead with his subordinate, who, worse still, is deported to the city to which Don Diego yearns to be transferred. Years later, the pursuit of a mythical bandit completes Don Diego's sorry career. Elliptical in design, Zama unfolds initially in dark, claustrophobic interiors before visually erupting in jungly swamps for its final act, which lays bare the futility of Spanish colonialism in primitive places. Graham Fuller
THE MISSES
The gestation of Bohemian Rhapsody was almost as random and contorted as the anthem from which it took its name. Along the way, as actors, writers and directors came and went, the weird thrilling charisma of Freddie Mercury was mulched down to a series of emojis, while all around him were constructed from a cardboard assembly kit. Those well-built songs held the project more or less aloft, but the drive to please a mass market audience which flocked to the critic-proof We Will Rock You made this a disappointing and uncurious biopic of what after all was really quite a weird band. Rami Malek's Freddie was an impressive facsimile, but in the manner of a prancing waxwork. Jasper Rees
Gotti
No-one was expecting much from Gotti: a true-life mafia movie starring John Travolta (mid-second career slump), and directed by Kevin Connolly of Entourage infamy. On release, it proved to be a Scorsese-fanboy mess that glamourised crime. No surprises, so be it. But in a flash of inspiration, the marketing boffs turned the bad reviews to their advantage. Channelling Michael Gove, trailers started to question why critics wouldn't want you to see the film. Do you trust these so-called experts? What are they hiding? Supported by a suspiciously high audience rating on Rotten Tomatoes, the PR implied that Gotti was a brilliant film that critics were surrepticiously trying to bury. Thankfully, this approach didn't work, and the film proved a huge flop. Our secrets are safe, for now... Owen Richards
The Happytime Murders
I like a bit of filth, and I love the Muppets (the director, Brian Henson, is Jim Henson's son and has directed Muppets movies) and Melissa McCarthy, so I was expecting to enjoy this hugely. But oh dear, those pluses add up to a minus. It's set in Los Angeles' seedy underbelly, where puppets and humans coexist, and two detectives, one human (McCarthy, pictured right) and one puppet, are forced to work together to solve the murders of the cast of a children's puppet TV show. There's swearing, there's deviant sex and there's violence, but what on the page may have seemed like subversive comedy spoofing film noirs and Hollywood hypocrisy just looks cruel and crass on the screen. A real disappointment. Veronica Lee
The revered director Claire Denis is on infuriating form in this Parisian meta rom com. Although Juliette Binoche glows as Isabelle, a middle-aged artist looking for love, her performance can't make up for the maddeningly repetitive and hesitant dialogue (this is the trademark style of co-scriptwriter and collaborator Christine Angot). Why can no one finish a sentence? "It feels so good to stop all this talking," says Isabelle as she falls into bed with another wrong 'un, and you have to agree. A brutal Weinstein-esque banker (Xavier Beauvois) who orders gluten-free olives is the most interesting of the male characters, who come and go like moths. A final cameo from Gerard Depardieu as a rambling clairvoyant is the icing on the cake. Markie Robson-Scott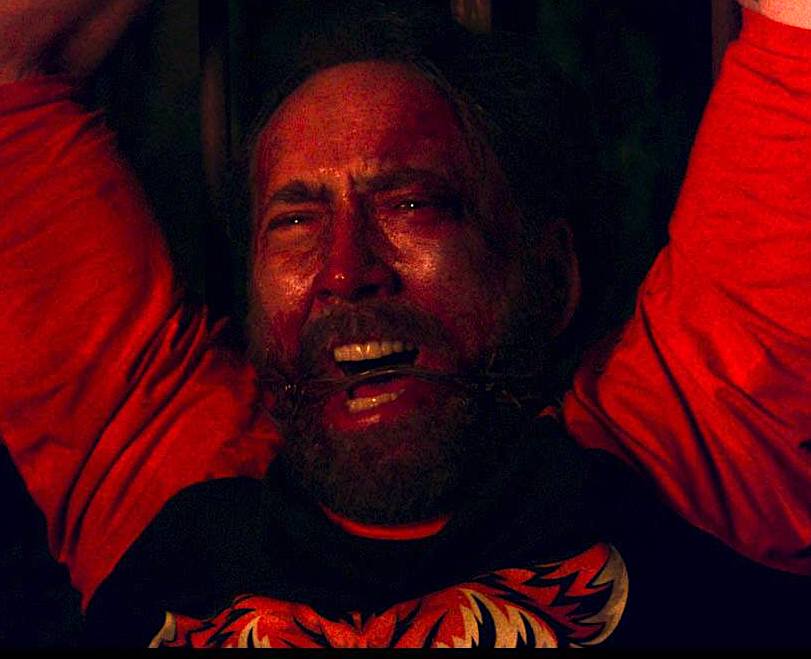 Mysteriously hailed elsewhere as a cultish classic, Panos Cosmatos's bad-acid revenge fantasy was a vehicle for the self-indulgent excesses of Nicolas Cage. He played lumberjack Ed Miller, living in a Yukonesque wilderness with the other-worldly fantasy artist Mandy (Andrea Riseborough). When Mandy became the object of desire of Linus Roache's loathesome coven of Manson-esque hippy scum, it triggered a trail of cosmic blood-letting as Cage, over-acting like a Sherman tank in a massage parlour, morphed into a demented psychedelic avenger. A pick-and-mix of live action, animation, Satanism and sadism, Mandy left you uncertain whether to laugh, cry or throw up. Adam Sweeting
What could have been a philosophically rich inquiry into then-Mary Godwin's creation of Frankenstein in its 200th anniversary turned out to be a vapid soap opera centered on her love affair and marriage with the inconstant Percy Bysshe Shelley. Director Haifaa al-Mansour underplays the famous weekend at Villa Diodati at 1816 when Lord Byron challenged the couple and John Polidori to conceive ghost stories, and Mary's' subsequent writing of her novel is indecently rushed. Even the opportunity to express feminist outrage at Percy's stealing of Mary's thunder was mishandled. Elle Fanning lacks the gravitas to play Mary, Douglas Booth is merely louche as Percy, and Tom Sturridge is horribly over-the-top as Byron. Against that Bel Powley and Ben Hardy are sympathetic as Claire Clairmont and Polidori. Graham Fuller

Not just bad, more downright objectionable. Scott and Sid promised much in its apparently inspirational tale of two young guys and their determination to make it big. Its Big Reveal, however, is that the film's protagonists are fictionalised versions of its own writers/producers/directors, played by two young actors who seem pretty uncertain about how to deal with all this. It's a shallow, self-obsessed celebration of wheeler dealing and success at any cost, like being taken through someone's heavily curated Twitter feed of just how great their life is. Avoid at all costs. David Kettle
Even cult Keanu Reeves fans would've been let down by this flat, meandering crime thriller set in remote Russia. Diamond trader Lucas Hill (Reeves) is unwillingly pulled into a mission to recover his lost goods, but he just hasn't got the energy for it. Empty characters and a confused narrative combine to generate a cold muddle of a film. After what has been recently revealed surrounding Russian meddling in the U.S. Presidential elections, 2018 might have been the year to make an important film about American-Russian relations. Siberia, in treading through well-worn and outdated Cold War stereotypes, got nowhere close. Tom Baily

This was a Star Wars too far, exposing a threadbare mythology, and perhaps fatal trouble ahead for franchise-addicted studios and cinemas. It foisted a Luke Skywalker-like back-story on piratical Han, and callowness on a character played by Alden Ehrenreich - at 28, only four years younger than hard-bitten, Bogartian Harrison Ford in 1977. Donald Glover's multi-media, maverick dazzle in 2018 lit up his Lando Calrissian with lazy omnisexual allure, but the sacking of loosely improvisational co-directors Phil Lord and Christopher Miller in favour of boat-steadying Ron Howard exposed the financial calculation behind Solo, leaving it listless. This badly under-performing, needless footnote to a film based on Saturday morning serials caused the cancellation of several other sequels. When the spinning plates of Potter, Tolkien and superhero series which now account for most cinema admissions fall too, what then? Nick Hasted
Biggest disappointment in the cinema for me was Steve McQueen's Widows which despite an impressive ensemble cast and much vaunted promises to overturn clichés about women and race, turned out to be just another caper movie. Its convoluted yarn of political shenanigans, duplicitous lovers and corrupt businessmen was wholly predictable. From the plot to the pyrotechnics, the heist sequences to the grandstanding confrontations, Widows felt like McQueen was proving that he could be yet another A-list action director when we've got quite enough of those already. Saskia Baron
Subscribe to theartsdesk.com
Thank you for continuing to read our work on theartsdesk.com. For unlimited access to every article in its entirety, including our archive of more than 10,000 pieces, we're asking for £3.95 per month or £30 per year. We feel it's a very good deal, and hope you do too.
To take an annual subscription now simply click here.
And if you're looking for that extra gift for a friend or family member, why not treat them to a theartsdesk.com gift subscription?