Spartacus, Bolshoi Ballet, Royal Opera House |

reviews, news & interviews
Spartacus, Bolshoi Ballet, Royal Opera House
Spartacus, Bolshoi Ballet, Royal Opera House
The insane joy of the best circus in town, and an incredible male dancer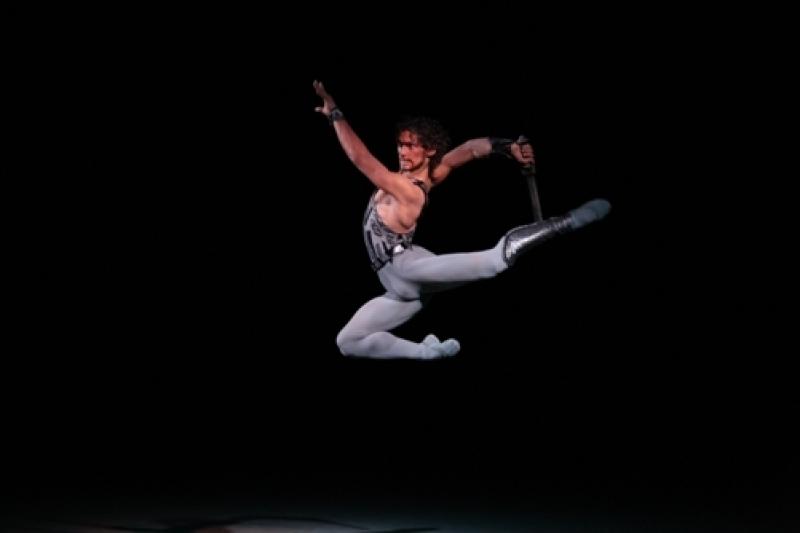 Ivan Vasiliev: The palpitating heart of a high-testosterone pageant
Roll up, roll up for the ancient Roman circus of a production almost as old as I am. Thrill to the catchy tunes and the oom-pah basses of flash Aram Khachaturian, played with the kind of lurid splendour you thought could only be faked on Soviet-era Melodiya recordings. Enjoy the pageant of sword-waggling, goosestepping cohorts, flagellated slaves, skimpy-tunicked maidens and golden-wigged ephebes.
Admire muscled flesh, less flagrant than in
the outrageously homoerotic telly production Spartacus: Blood and Sand
, but top quality all the same. And laugh out loud, as I did, not from a superior, ironic stance but from the insane joy of it all.
For this is the Bolshoi Ballet on energised top form, with a hungry central performance symbolising all that's best about its Spartacus. You wonder at first whether the still-ubiquitous Simon Virsaladze's sludge browns and greens couldn't be replaced by something a little more contemporary, whether choreographer Yuri Grigorovich's not-so-naughty bacchanalia might not be properly sexed up a bit. The soldiers in the first scene don't exactly have the kind of genuinely high testosterone quality of Kenneth MacMillan's brawling Montagues and Capulets in the Royal Ballet's Romeo and Juliet.

But that split-leaps on stage in the charismatic personage of 21-year-old Ivan Vasiliev's hero slave. It's not just the airborne acrobatics which have the audience applauding spontaneously; he windmills and scythes his arms so furiously and definitely that you feel they'll fly from the shoulder-sockets.

There's comparably doughty business for Alexander Volchkov's baddie Crassus, cast a bit in the shade both by Vasiliev and by his partner, Maria Allash's haughty Aegina. Regulars had paid for, and were expecting, the infinite arms and legs of Svetlana Zakharova, but she was injured and they got a fair deal here. At first you feel Grigorovich isn't prepared to go as far with the courtesan as Balanchine had been with the Siren of his Prodigal Son, but in Act Two she does multiple splits, and in Act Three outrageous things with the thyrsus (geddit?) of a strapping young shepherd.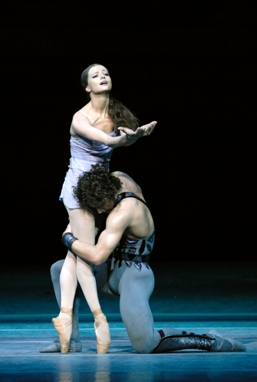 What poetry there is in a high-octane drama not out for subtlety comes from Spartacus's true love Phrygia. Nina Kaptsova (pictured right with Vasiliev by Marc Haegeman) is experienced in the role, fluid in the arms - and sometimes on the single hand - of Vasiliev, but perhaps not vivid enough with the last degree of acted pathos or heroism. I'm not sure Vasiliev is quite on a level in the Act Three crisis, if there alone, with the total identification of Carlos Acosta, who raised Kaptsova to greater expressive heights (though that I've only seen in the close-up of DVD, and in the theatre distance can deceive). What truly dazzles is Spartacus in relation to his various supporters, an exhausting jamboree led by crook-whirling shepherds at the beginning of Act Two when we've barely recovered from the fast pace of its predecessor. The ultimate fights feel like a high-action sequence too many á la Star Wars or Lord of the Rings, but they do culminate in the wrenching image of Spartacus raised aloft on the soldiers' spears.

Never say Grigorovich doesn't know how to make good theatre. The same goes for Khachaturian's relentless, steroidal score. After the last opening I heard at Covent Garden, Pappano's tenderly nurtured seascape at the start of Verdi's Simon Boccanegra, I felt I was hurtling into a Technicolor Hollywood movie. From the first fanfares, conductor Pavel Sorokin never slackened either in pace or in fully etched volume. Hard to believe some engineer from the early days of stereo wasn't fiddling with the two clarinets of what in the original score is known as the "Dance with Crotala", or that the kind of sandblasting trumpeter who capped the famous adagio is still going strong in post-Soviet Russia. You realise how essential are the energy levels in the pit to what happens on stage: you might dance raggedly - which was certainly not the case here - but you couldn't fail to adjust heart and soul to such flaming sounds.

There are some daft touches of overkill both in the score and in the choreography, but neither has a dull moment. Some of Virsaladze's daubs could have been done by a not over-gifted 10-year-old, yet at least the cloths and nets move fluidly to allow for the 11 scene-changes. Hyper-kitsch and over-animated, as a whole, perhaps; tatty and tired, never. Standing ovation-worthy? Absolutely. And on the way out, with the exception of the odd dance critic, every face was beaming.
Never say Grigorovich doesn't know how to make good theatre. The same goes for Khachaturian's relentless, steroidal score
Explore topics
Share this article