Romeo and Juliet, National Ballet of Canada, Sadler's Wells |

reviews, news & interviews
Romeo and Juliet, National Ballet of Canada, Sadler's Wells
Romeo and Juliet, National Ballet of Canada, Sadler's Wells
Ballet's most popular lovers fare tepidly in the hands of Alexei Ratmansky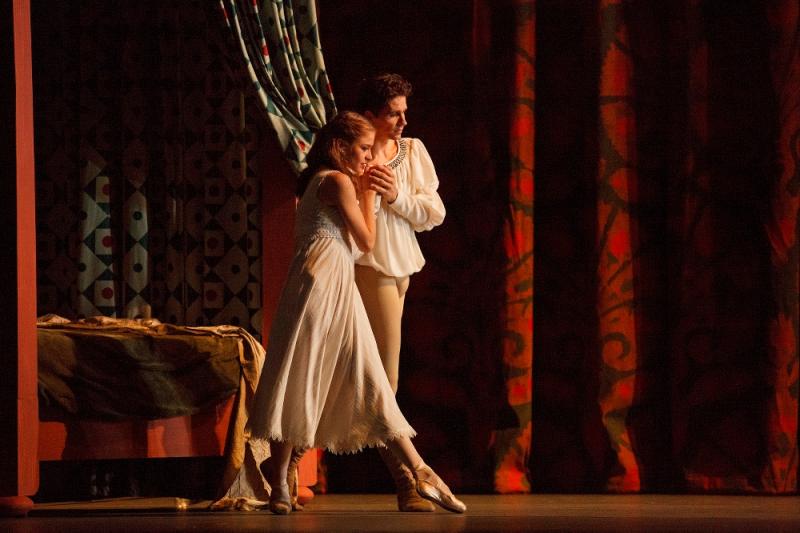 Dawn treaders: Elena Lobsanova and Guillaume Côté as National Ballet of Canada's Juliet and Romeo
The combination of Romeo, Juliet and the choreographer Alexei Ratmansky should be almost too much for the blood pressure. Those defiant lovers, that emotive yet intellectual young Russian craftsman of ballet. Hence the huge turn-out of balletomanes for National Ballet of Canada at Sadler's Wells last night.
Hence the disappointment. Any fool could tell you the keywords of Romeo and Juliet: passion, youth, rule-breaking, sex, risk, panache forever. Any fool should have told Ratmansky, whose ballet created in 2011 for the Canadians' 60th anniversary seems to have missed them altogether, being more fashioned with a duty of care rather than ardour.
True, there is no mightier ballet score to take on, none more prescriptive and less indulgent of a choreographer's eagerness to be different. But Ratmansky, surely, as a Russian, as well as the most potent and truly balletic choreographer of today, could have been expected to strive to outdo the best, most intense dance versions.
Maybe he felt too much the hand of history, for he fails to meet not only the biggest Russians, Leonid Lavrovsky, whose 1940 Kirov staging set the pace with Prokofiev's grand new score, or Rudolf Nureyev's, which so provocatively sets up the social context of tribal warfare - but even the foreigners, Kenneth MacMillan's extraordinary love duets and psychological urgency, Angelin Preljocaj's sinister political war of authority against the young, Frederick Ashton's epicureanism and tenderness.
The stage is designed with a flat colour cut-out cleanliness that contrasts strongly with more opulent and cushioned materials. Richard Hudson, who decorated the Royal Ballet's Invitus Invitam and Goldberg Variations with suggestive élan, here provides Tudorbethan Capulets and Montagues with less zest before cardboard battlements of flat Kremlin red. The men look like playing-card kings and knaves, the women have neat block-coloured dresses in a palette from dark red to grey, touching on pink and aqua on the way. It is a nice, zingy colour spectrum but it offers no place for individuals to rebel and customise, and the blood-red is too uniform to suggest the bloodiness of the story.
Nor does Ratmansky's choreography, although do-or-die rebelliousness must be key to these particular young lovers. There can be no surprises in the narrative; Prokofiev's music is too firmly programmatic for that. It is huge and 20th-century, not Shakespearean - it crackles momentously with the terror of recent historic events, revolution and Stalinism, the peremptory martial blasts of tubas and trombones, relished by the Royal Ballet Sinfonia last night. Any Romeo and Juliet ballet staging worth its salt has consciousness, historic defiance, iconoclastic personalities, irresistibly irresponsible adolescents, somewhere inside.
Guillaume Côté's Romeo springs up and down as if bouncing happily on the trampoline of his love
Ratmansky's action, though, is quite small and conservative. He relies on much mime and his moments of originality mostly concern the sprightly, well-knit boyband trio of Romeo, Mercutio and Benvolio. The death scene does take an original tack, but is puzzlingly undercooked as drama. It may be that the modest and modestly skilled Canadian company just didn't jibe with a Russian idea, but it all leaves this production feeling spiritless and lightweight.
Canada has produced some magical mavericks among ballerinas, Lynn Seymour, Evelyn Hart, Jennifer Penney and NBC's own artistic director Karen Kain among them, but as Juliet Heather Ogden is an unremarkable dancer, whose facial beauty is not matched by physical style or musical sensitivity. Guillaume Côté (her husband in real life) is more taking as Romeo, he springs up and down as if bouncing happily on the trampoline of his love, twiddling his feet in neat entrechats. Still, he has too little else to do in Ratmansky's thin choreography of his solos to make up for the staidness of his duets with Juliet, which say nothing about these lovers' tearaway souls.
Underwriting of the dance and oversupply of mime led to much scenery-chewing by Lord and Lady Capulet, and hence no taut sense of the reality that Juliet foreswears to follow her imperative passion for Romeo.
For those who have never seen a Romeo and Juliet ballet, this may do, it may hold the fort till MacMillan's version returns to the Royal Ballet next autumn, but it is not the best of the gifted Ratmansky, and it's a reminder that even the best of them - Mark Morris was another - can come a cropper taking on a too iconic score and story.
Even the best of them can come a cropper taking on a too iconic score and story
rating
Explore topics
Share this article