The Prince of the Pagodas, Birmingham Royal Ballet, London Coliseum |

reviews, news & interviews
The Prince of the Pagodas, Birmingham Royal Ballet, London Coliseum
The Prince of the Pagodas, Birmingham Royal Ballet, London Coliseum
For all its lush design, this valiant effort is still not the definitive Britten ballet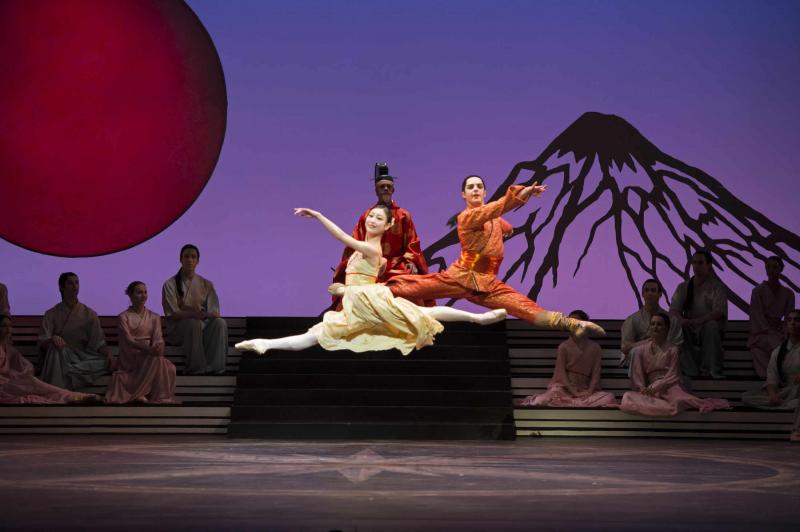 Beautiful dancing from Momoko Hirata as Princess Belle Sakura and Joseph Caley as The Salamander Prince: their airiness and precision are among the production's highlights.
When three good choreographers can't get a ballet right, there must be something wrong with either the story or the music. In the case of the Prince of the Pagodas (a Poirot mystery waiting to be written, that, but I digress), it's hardly the music: Benjamin Britten's gamelan-leavened, melodic score, his only for a ballet, is compelling.
Of course, it hardly serves up Classic FM-worthy five-minute flower waltzes à la Tchaikovsky, Adam, Minkus et al, but then neither does Prokofiev's
Cinderella
and that has no problem getting produced.
So, story then. Both John Cranko in his 1957 original and Kenneth MacMillan in the 1990 version still in the Royal Ballet's repertoire used a King Lear/Sleeping Beauty/Beauty and the Beast mash-up, in which the lovely Princess Rose, her father's favourite, is prevented by her evil older sister from inheriting the larger portion of his kingdom. With her betrothed turned into a loathsome salamander by the sister's curse, Rose must fight off importunate suitors and learn to love the beast to release the man inside, who then helps her to restore order and happiness to the kingdom that is rightfully hers. It actually sounds better in summary than it is to watch over three hours. Even though MacMillan's focus on Rose's journey to emotional and sexual maturity makes for some intriguing pas de deux (seek out the videos featuring Darcey Bussell and Jonathan Cope, the original cast), the ballet as a whole has proven too strange and too tedious for popular success.
Enter David Bintley, director of Birmingham Royal Ballet, British-trained choreographer in the lineage of Cranko and MacMillan, and a man who knows what audiences like. Could he build on Britten's score the ballet it deserved?
The production which Birmingham Royal Ballet brought to London last night (it has been touring since late January) was created in 2011 for the National Ballet of Japan, which may be why Bintley chose to set his version of the story there. It's a setting brought gloriously to life by Rae Smith (of War Horse fame), whose designs supply stunning set-piece after stunning set-piece. A stylised Mount Fuji, defined by its white snows, is overshadowed by a huge moon, lit (by Peter Teigen) in a succession of painterly shades including the papery translucent red of plum skin (pictured top). Flats of pale curlicues fly in against a black stage to represent the sea, accompanied by dancers in frothy tutus like whipped wave-foam. It's not all pretty – there are seahorses weird in the proper sense of the word, like Dr Who monsters, characters muscled like apes, yet covered in deep-sea spines (pictured above right), and yellow-eyed grotesques with outsize heads: all excellent, odd and compelling.
With such visual seduction, and a delicately-textured performance of the score from the Royal Ballet Sinfonia, it's a real shame that Bintley's story treatment can't quite deliver magic to match. He has revolved family relations so that the villain becomes the Princess's stepmother (not sister) and the Salamander Prince becomes her long-lost brother. Though this allows for some gains – particularly the increased threat posed by the evil Empress, played as coolly sinister by Elisha Wills, and a mime sequence for the childhood backstory which is a true delight of storytelling (also a rare instance in ballet of a non-irritating use of children on stage) – it also means sex is not available as a driver of relationships.
While it is tremendously to the credit of Momoko Hirata as the Princess and Joseph Caley as the Salamander Prince, both neat dancers and appealing actors, that they build a relationship through pas de deux without the easy recourse to desire, the lack of passion is a deeper story flaw, leaving the definitively childlike Princess oddly directionless on her fantastical journey in Act II (perhaps inadvertently, the effect is to add Alice in Wonderland to the Pagoda honour roll of story influences). Not unrelatedly, Bintley's choreography is mostly workaday, particularly in the group scenes, though the latter problem I suspect inheres in the music: Britten's often delicate orchestration always seems best set off by just one or two sets of limbs. The best variations are for a series of effeminate yet animalistic male characters, the King of the East, the Prince as Salamander (pictured above with the yellow-eyed grotesques), the Seahorses and the spiny Deep-Sea Creatures, all of whom are sinuous and, yes, suggestive. A hint of sex does speed a story along.
There are plenty of reasons why this production is worth seeing, and David Bintley's achievement is worth rewarding. But this slippery, enigmatic ballet is still more salamander than prince, and still awaiting its definitive interpretation.
The best variations are for a series of effeminate yet animalistic male characters, all of whom are sinuous and, yes, suggestive. A hint of sex does speed a story along
rating
Share this article