The Nutcracker, Moscow City Ballet, Cambridge Corn Exchange |

reviews, news & interviews
The Nutcracker, Moscow City Ballet, Cambridge Corn Exchange
The Nutcracker, Moscow City Ballet, Cambridge Corn Exchange
A decent touring production fails to set the Fens on fire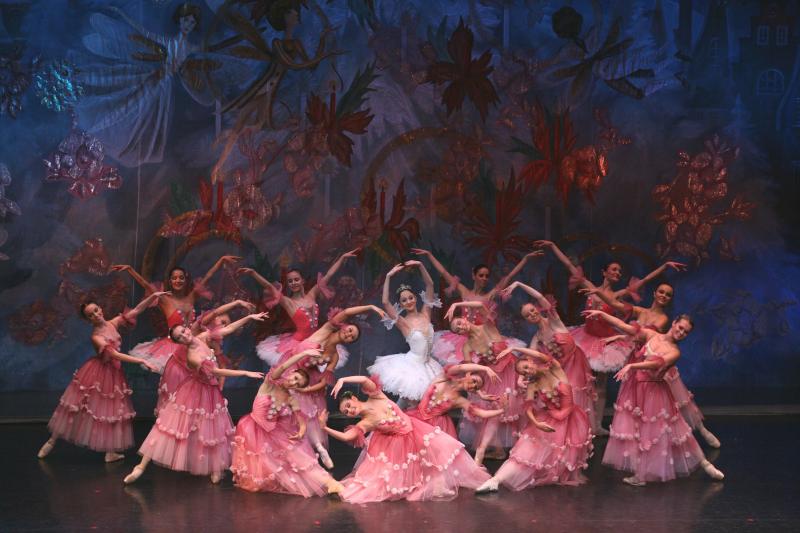 The 'Waltz of the Flowers', highlight of Moscow City Ballet's 'Nutcracker'
England is the biggest and richest market for the small privately-run company Moscow City Ballet, which stands in a long history of touring companies peddling "authentically" Russian ballet to international audiences. I am forced to admire the business acumen which makes their success possible, given that English National Ballet notoriously makes heavy losses every time it ventures out of London.
The strategy of company founder Victor Smirmov-Golovanov (who died earlier this year) and his wife and successor as Artistic Director, Ludmila Neroubaschenko, has three prongs: staging popular classics in provincial cities never visited by domestic ballet companies, using a live orchestra, and recruiting very young dancers, for whom any kind of stage work is an opportunity worth enduring a gruelling tour schedule for.
Given these factors, last night's performance of The Nutcracker at Cambridge Corn Exchange was pretty much exactly what you would expect. Its main selling point was the live orchestra, which gave a very creditable account of Tchaikovsky's glorious score. Igor Shavruk had only a small group of players in front of him and several key instruments, including the children's voices at the end of Act I, had to be doubled by an electric keyboard, but despite this severe handicap he managed to wring an impressively warm sound from the strings and the lower woodwinds, and in general to give the impression of a man who genuinely cared about the music.
That kind of care was not so evident in the company's dancing, which was mainly lacklustre and sometimes actually bad. The realities of the touring schedule and business model must leave little time for rehearsal, or for a serious daily regimen of classes, and it shows, with many dancers on stage executing sloppy jumps, ending turns clumsily, and – worst of all – letting their turnout (alignment of the hips, legs and feet) turn in. Smirmov-Golovanov's choreography has a definite look of being created around his youthful dancers' abilities, rather than the other way round: it features lots of comic jumping in the music hall style, country dance elements, and simple sequences repeated on both sides (nothing is ever done without its mirror-image repetition as complement). Even the principals were guilty of less than tidy technique, and some corner-cutting. I felt particularly bad for Yuliya Zhuravleva, a rather charming – if brittle – Clara, whose Nutcracker Prince, Kanat Nadyrbek, didn't so much lift her as houf (v., Scots colloq., to carry in an effortful, ungainly manner; to lug) her about in holds that looked both uncomfortable and insecure.
But this kind of criticism probably misses the point of a performance like last night's, and of a company like Moscow City Ballet, who do an important job in bringing an affordable taste of a wonderful art form to a public outside its traditional metropolitan centres. To do that, they have to provide constant entertainment, and so everyone is decked out in lurid costumes, smiling fit to burst, and hopping madly around the stage. Yes, it can be jester-ish (the less said about the hideous stuffed toys employed as props in the children's party scene, the better), but it's not boring.
at its best, the simple but dynamic choreography can be both energising and enjoyable to watch
A story treatment that gives us an obviously pubescent Clara is a smart choice, allowing her to flirt with the audience, as welll as with both Drosselmeier and the Nutcracker Prince. This love triangle, while decidedly odd (Drosselmeier created the Nutcracker, after all), certainly spices things up, partly because Talgat Kozhabaev made a rather good-looking and charismatic Drosselmeier (despite his horrendous wizard costume, pictured above left), and partly because a bit of tongue-in-cheek Lolita-ing gives an amusing twist to this sugary Christmas staple.
At its best, the simple but dynamic choreography – helped along immensely by Tchaikovsky's score – can be both energising and enjoyable to watch. At a couple of moments, most memorably the Waltz of the Flowers, even a jaded ballet critic watching her third Nutcracker of the month in – effectively – a glorified town hall, felt a bit of toe-tapping magic, which just goes to show that Moscow City Ballet shouldn't be dismissed too quickly. You can do a fair bit on a budget if you've got a big heart.
Moscow City Ballet is touring the UK with The Nutcracker, Swan Lake, Don Quixote, and Romeo and Juliet in repertory until 5 March.
A bit of tongue-in-cheek Lolita-ing gives an amusing twist to this sugary Christmas staple
rating
Explore topics
Share this article