Love, Art and Rock 'n' Roll, Rambert, Sadler's Wells |

reviews, news & interviews
Love, Art and Rock 'n' Roll, Rambert, Sadler's Wells
Love, Art and Rock 'n' Roll, Rambert, Sadler's Wells
Dancers shine in two new works and a rocking old favourite
Wednesday, 04 November 2015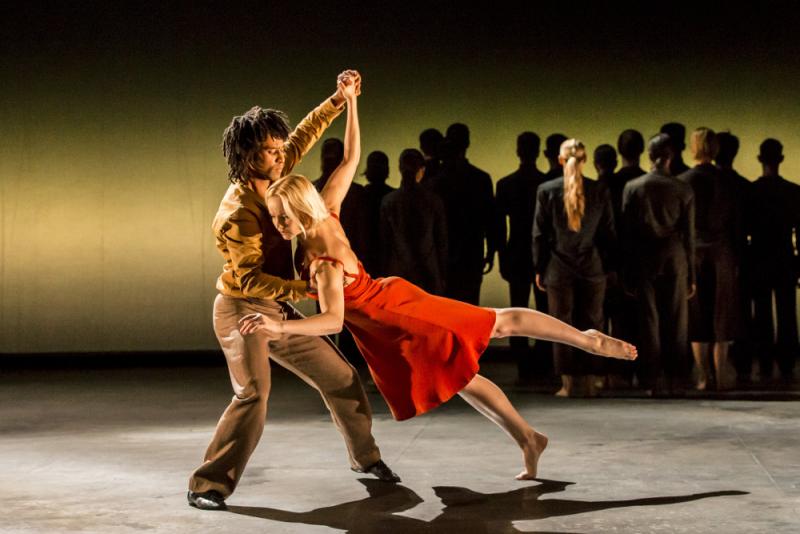 Forgiven: Miguel Altunage and Simone Damberg Würtz in Kim Brandstrup's new work, 'Transfigured Night'
A good triple bill should have something for everyone, so Rambert have all bases covered with their latest: rare must be the person who likes neither love, nor art, nor rock 'n' roll. In fact, it's a safe bet that most people like all of them, and so last night's programme at Sadler's Wells was something of a crowd-pleaser – no mean feat for an evening with two new works, created for this season and here receiving their London première.
If you want to count in whole numbers, as it were, then Didy Veldman's new The 3 Dancers is probably Art, inspired as it is by Picasso's 1925 painting Les Trois Danseuses. Veldman explores the painful, fractured relationships underlying this painting: as he painted it, Picasso was thinking of his recently-deceased friend Pichot and the time 25 years before when Picasso had been having an affair with Pichot's wife Germaine Gargallo, and another friend, Carlos Casagemas, had shot himself for unrequited love of the same woman.
Rambert are putting 'Rooster' to bed for a while: catch it while you can
Two groups of three dancers – each containing two men and one woman – suggest the public and the hidden faces of the same three people. At first the two groups, all holding hands like the figures in the painting, perform the same movements, but then they drift out of sync: public and private (if that's what they are) increasingly at odds. The opposing forces within one person becoming visible in antagonistic duets between the black- and the white-clad versions of the same character; particularly striking is the "black" Liam Francis's puppet-master manipulation of bonelessly pliant Daniel Davidson, dressed in white – is this the doomed Casagemas at the mercy of his passion? Later on the interactions become too complicated to follow, the groupings increasingly convoluted and multipolar; we get the sense of perspectives fragmenting and crossing one another.
As this might suggest, Veldman's choreography attempts, though (wisely) not too dogmatically, to interpret Cubism formally in dance. She includes lots of extended legs, making angles with the dancers' bodies that echo the acute angles in Kimie Nakano's designs, and even in highly fluid movement passages like Miguel Altunaga and Dane Hurst's weight and counter-weight grappling, the fight is a series of lines rather than curves. Elena Kats-Chernin's original score also takes Cubist inspiration, supplying melodic lines of clear shape but varying length and colour, all set atop a pulsing four-square beat and rhythmic variations on the number four. High-class, thoughtful work from all concerned, and well performed by a line-up of Rambert's top talent, including Brencda Lee Grech and Simone Damberg Würtz in addition to the four male dancers already mentioned.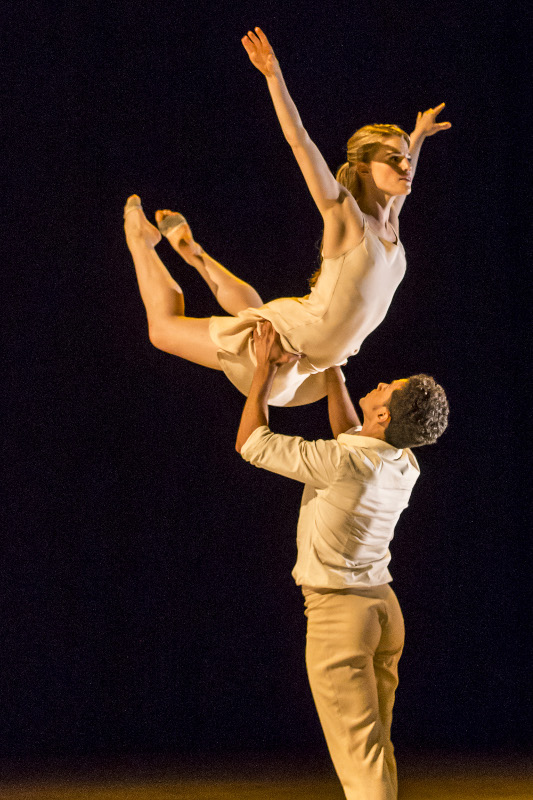 Kim Brandstrup had singled out many of the same dancers for solo parts in his new piece, Transfigured Night – making it more like Exhausting Night for Würtz, Hurst and Altunaga. This was the Love section, set to Schoenberg's programmatic chamber piece Verklärte Nacht and taking inspiration from that piece's scenario, in which a woman (Würtz) confesses to her lover (Altunaga) that she is pregnant with another man's child. It's a strong scenario typical of Brandstrup, a choreographer with good narrative and dramatic instincts – which here help to carry a piece that, choreographically, relies a litte too heavily on a restricted repertoire of running and desperate leaps into a partner's arms.
A cloud of black-clad dancers functions like a Greek chorus, judging and questioning the main characters, and at the same time suggests visually the dark wood in which the encouter takes place. Brandstrup imagines three possible outcomes of the woman's confession: in the first, Altunaga repeatedly rebuffs a hurt, desperate Würtz (clad in the red dress of adultery cliché, main picture) in an encounter that loses its power through lasting too long. In the second, Hurst and Hannah Rudd (pictured above right) appear as the imagined alter-egos of the lovers to enact a beatific vision of forgiveness in which Brandstrup puts Hurst's astonishing ability to dance on his hands to good use. Finally, Würtz and Altunaga reappear to show us the "real" outcome, a more tempered and painful kind of reconciliation which, through being set to the shimmering apotheosis of the music, still suggests the transfiguring effect of forgiveness.
Rock 'n' roll is, of course, Rooster, Christopher Bruce's ironically affectionate 1991 homage to 60s machismo and the Rolling Stones. Enormous fun in its energy and humour, it's also full of strongly intelligent choreography, particularly in the details of hands and heads which convey the cockiness of the guys in their coloured velvet jackets. Dancing plaudits all round – for it's not easy, this souped-up rock dance – but especially to Hannah Rudd as a dreamy Ruby Tuesday, and Miguel Altunaga, headlining for the third time in one night, who plays the Rooster with panache (pictured right). Still, the poor guy could have been given a break: I for one wouldn't mind seeing Daniel Davidson of the expressive hands take on the Rooster. Who knows when I'll get the chance, though; after these London performances, Rambert are putting Rooster to bed for a while. Catch it while you can, then, and enjoy Veldman's art and Brandstrup's love with your rock 'n' roll.
Love, Art and Rock 'n' Roll is at Sadler's Wells until 7 November. The 3 Dancers and Transfigured Night are in Rambert's tour repertory until March.
Veldman's choreography attempts to interpret Cubism formally in dance
rating
Explore topics
Share this article