Jewels, Royal Ballet |

reviews, news & interviews
Jewels, Royal Ballet
Jewels, Royal Ballet
Balanchine, a conduit for the music of the spheres
Wednesday, 18 December 2013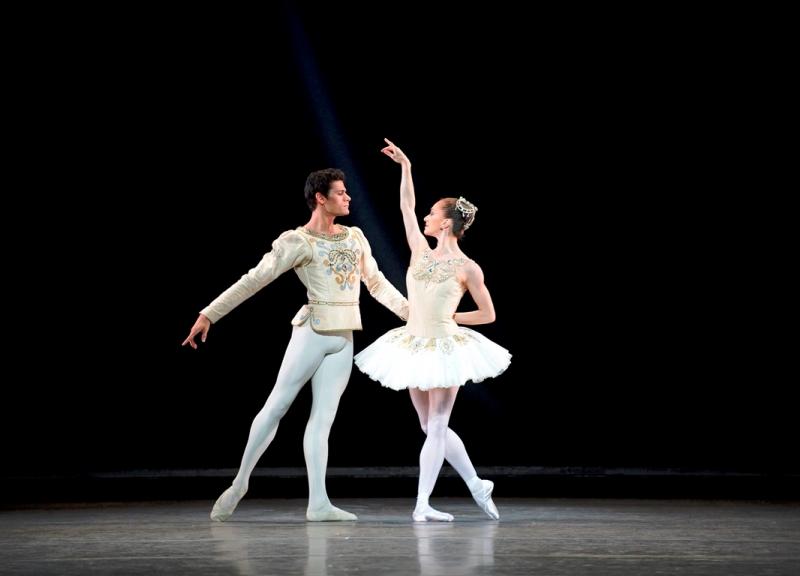 Marianela Nuñez and Thiago Soares in 'Diamonds'
It has been said that Mozart, so prodigiously talented so young, seemed to be merely a vessel through which God, or the music of the spheres, or whichever higher being one chooses, channelled the sounds of heaven. So, too, sometimes, does Balanchine appear to be a vessel through which music is channelled, to take solid form in front of our eyes. And never more so when the music in question is Tchaikovsky.
Jewels can be a tricky piece to get right. In less than 90 minutes, it covers 150 years of dance in three plotless acts: mid-19th century French Romanticism, via Fauré, for Emeralds; American syncopated 20th-century rhythms, courtesy of Stravinsky, for Rubies; and then, to end, the late-19th-century grand classicism of Petipa, to Tchaikovsky in Diamonds. For a single company to encompass this range is never easy.
Emeralds is almost a scent rather than a ballet, a drifting, ephemeral mood of past happiness. It floats gently by, and if you try, as a dancer, to make your mark on it, you have already stepped too heavily. Akane Takada in the pas de trois alone captured the style; Alexander Campbell danced well, although in a four-square Petipa presentation that would have been better left to Diamonds. Otherwise Emeralds was what it too often is, a sort of Presbyterian heaven, where everyone stands around looking refined, but boredom prevails.
Happily, once past that, as Stravinsky's Capriccio for Piano and Orchestra sounded (played with good pace by Robert Clark, under Valery Ovsyanikov), one could feel the audience relax into enjoyment with Rubies. Sarah Lamb (pictured right) is probably at her best in Balanchine, and Steven McRae has syncopation in his bones. But the audience's heart was, rightly, with Zenaida Yanowsky's slick showgirl. On the outside she's smooth and sophisticated, inside all bump-and-grind: fur coat and no knickers, as she picks up Stravinsky's dirty little shimmies.
And then on to the grandeur that is Diamonds, Balanchine's distillation of Tchaikovsky in dance (it is his Symphony no. 3 in D major, minus the first movement). So rich, so multi-faceted is this piece that some performances light on the references to Swan Lake, others to Sleeping Beauty. Marianela Nuñez and Thiago Soares (main photo, above) shimmered glacially, and Nutcracker was never far from the surface (especially with the four excellent soloists – Yuhui Choe, Melissa Hamilton, Hikaru Kobayashi and Itziar Mendizabal – whose delicate precision deserves a review all of its own).
On some evenings Nuñez, with her rock solid technique, almost seems to find things too easy, and just skates along the surface. Not tonight. Her technique was no less rock solid – indeed, her balances were little short of astonishing – but it was her embodiment of the deeper grief that always underlies Tchaikovsky's sweetness, his eternal yearning, that gave her performance not merely beauty, but weight. Soares too imbued his scant few moments (this is, emphatically, a ballet for women) with more than pyrotechnics: his fouettés, precise and admirable though they were, had also that despair that is never far from the surface in Tchaikovsky.
And throughout the movement Ovsyanikov drove the orchestra brilliantly, allowing the reeds and winds to predominate. The scherzo, with its pas de quatre of soloists, was haunting, its tragic waltz never quite overcome, even in the grand polonaise of the finale which Nuñez and Soares blazed through.
Watch a trailer for the Bolshoi's production of Jewels
'Emeralds' is a scent rather than a ballet, a drifting, ephemeral mood of past happiness
Explore topics
Share this article