Dutch National Ballet, Hans Van Manen, Sadler's Wells |

reviews, news & interviews
Dutch National Ballet, Hans Van Manen, Sadler's Wells
Dutch National Ballet, Hans Van Manen, Sadler's Wells
Elegant, sexily archetypical - five ballets by the superb Dutch master
In a world crying out for even below-mediocre ballet choreographers (Benjamin Millepied, anyone?), the Dutch old master Hans Van Manen is an extraordinarily well-kept secret. Why a man of such superb balletic accomplishment, theatrical instincts and calligraphic and technical skill remains barely acknowledged in Britain is presumably down to sex. His idea of sexy ballet, that is, being alien to upright British sensibilities.
But if it's a good mind that you're after in ballet, Van Manen's is one of the very best, as a long-overdue exhibition of his ballets at Sadler's Wells this week shows - but hurry, they end tomorrow. The Dutch National Ballet - though only a shadow of their old sophisticated world-beating selves - display five works ranging over 25 years, in which even a nominal duet is far from what it appears, and if you love late Beethoven, you may flinch when you see what Van Manen determinedly does to it.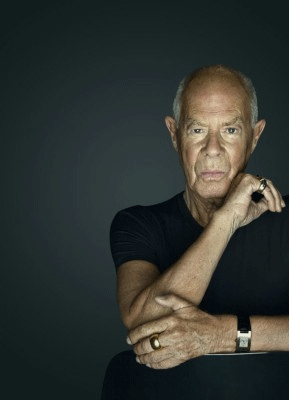 Two of the pieces are amuse-bouches, Solo - three men in purple T-shirts sharing one very nimble solo - and Trois Gnossiennes, in which a male-female duet of wary complexity has to avoid the perambulations of the piano and pianist, being pushed around the stage by other dancers. Both of them exhibit Van Manen's quick-wittedness and fertile articulacy in ballet language. But it's the three big pieces that set the challenges.
While Van Manen writes supposedly "abstract" ballet, this is a misnomer, as the ballet writing is driven in part by his deep-felt reaction to the music, which brings on tensions, regrets, tiny fragments of stories between people, but also by his archetypical division of male jobs and female jobs in ballet. (Van Manen pictured right by Erwin Olaf)
He essentially strides on from the symbolic archetypes of the 19th century and then Balanchine, preserving the yin-yang differences, the feminine elegance of women, the hard black-clad warrior edge of men, and producing pas de deux that laconically ignore the squeamishness of generations softened up by the psychological realism of our own Kenneth MacMillan. Men jump and lift, women arabesque, curl and twine, like tendrils up trellises. You don't get a man and a woman reacting to each other consistently and in psychological development, as you do with MacMillan - with Van Manen you have archetypes, I'd say: a male dancer and a female dancer, opposing types drawing apart and uniting, not necessarily sexual, and yet distinctly erotic - and it is sophisticated, detailed and aesthetically eloquent.
All the same, while granting that Van Manen is fervently music-driven, I cut adrift from him in his Beethoven works. Adagio Hammerklavier and Grosse Fuge are his celebrated landmarks from the early Seventies, set to three extraordinarily pathetic pieces where an ageing Beethoven climbs, lonely in his deafness, through discordant, bare and jagged places into music that seems to me shatteringly unchoreographable. The slow movement from the Op 106 Hammerklavier piano sonata would be unchoreographable even if it were not being played so indifferently as Olga Khoziainova did last night, treacly, vague (though she may not have been helped by the quality of the piano).
As a programme opener, the ballet is daringly slow and still, and the strongly classical technical base of the steps makes demands as great as Balanchine does. The bare-chested men wing their arms and wheel in arabesque like seraphs, while one wonders distractedly why they are wearing diamond necklaces. When you can tear your thoughts away from this spicy little puzzle, you notice how the shape-making and balancing expose a deterioration of Dutch National Ballet's technical finesse over the past decade. A pair of glorious Russian legs and feet under a pair of filigree hands proved to belong to DNB's long-time ballerina Larissa Lezhnina, now 42, who quit the Kirov for Holland in her twenties. Next to her clarity and cut-glass graphic refinement the other five looked rough and ordinary, and this is a pity, as the thrill of classicism lies firmly at the core of Van Manen's ballet writing and that crystalline Russian accent is a treat in it.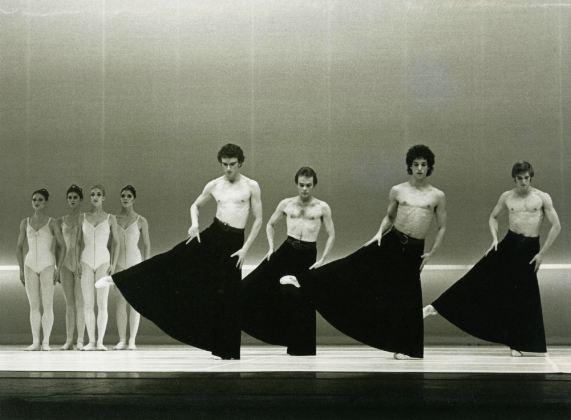 At the other end of the programme lies the biggest piece, Grosse Fuge, also the most problematic (pictured above by Jorge Fatauros/DNB). Van Manen chose to use a vacuously doughy movie-time orchestration of Beethoven's skeletal, almost fleshless quartets, and he gives eye-watering movie-time sights too. The piece looks like a rutting ritual. The four men wear black samurai skirts with big macho belts, on which the pinkly corseted girls hang like eager geishas. The moves are powerful - Van Manen argues his yin-yang case in forceful contrasts without concession to spectators who expect "relevance" in male-female relations. But while in aesthetic terms this contrast-and-complement tactic works extremely well, it also asks to be coloured and nuanced by the performers, and DNB aren't looking too strong in this either.
While Lezhnina's Russian delicacy stands out, she was rather too strait-laced in the mischievous manipulations of Trois Gnossiennes, which could surely be much sexier with a lither, quicker-witted partner for her than Casey Herd. More like it, more Van Manenesque, were Alexander Zhembrovsky and Igone de Jongh, an intense, intelligent central couple in Concertante, the evening's highlight. This is an acutely alert and deft work for eight dancers set to Petite Symphonie Concertante by the Swiss composer Frank Martin, where harp, harpsichord and piano share solo spotlight across the chamber orchestra, sometimes sounding like aspects of a single instrument.
Here, more than 20 years after the Beethoven pieces, Van Manen seems to have moved on from fission to fusion. Dressed - or slicked - in tight, dark, striped unisex bodysuits, the dancers look set to dance in total abstraction, which makes it a surprise how much direct sexual challenge, refusal, invitation and neediness emerges in the quick exchanges. It's fascinating to watch and to listen to (well played by the Royal Ballet Sinfonia) - more than that, it's fascinating to read. And I'm sure one would read it differently each time. What a fine thing it would be if the Royal Ballet would rediscover Van Manen with a piece like Concertante. He really is an old master and we need to see much more of him here.
Watch the Mariinsky's star Uliana Lopatkina and Ivan Kozlov in an excerpt from Van Manen's Trois Gnossiennes in 2007