Coppélia, Royal Ballet review - a real charmer |

reviews, news & interviews
Coppélia, Royal Ballet review - a real charmer
Coppélia, Royal Ballet review - a real charmer
Overdue revival of a sunny favourite
Wednesday, 04 December 2019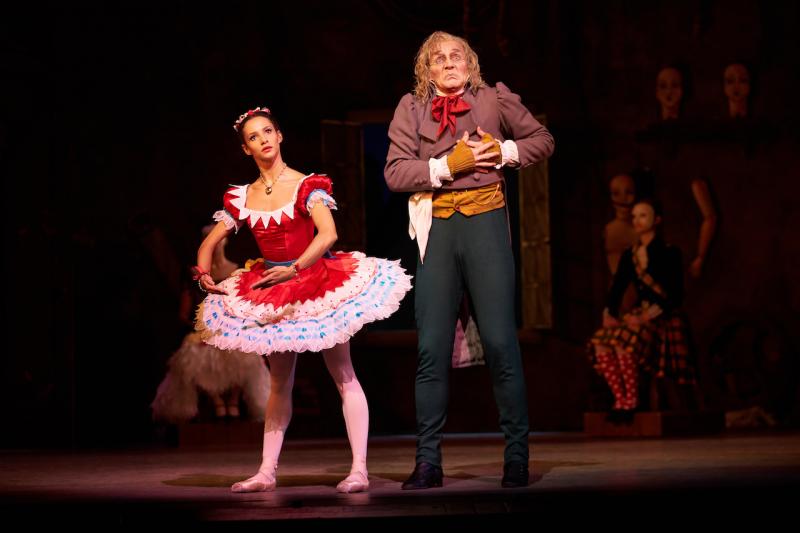 Hello dolly: Francesca Hayward as Swanilda and Gary Avis as Dr Coppélius
In featuring ordinary people and things rather than magic curses or avenging ghosts, Coppélia stands apart in the canon of 19th century ballets. The only mystery about this delightful old production is why the Royal Ballet has not programmed it for more than a decade.
For not only does it make a joyful end-of-year alternative to
The Nutcracker
but arguably a better first-ballet experience – and Covent Garden is pushing accessibility right now.
The ballet's title refers not to its feisty heroine but to a life-size dummy – a mechanical doll positioned in the window of its maker, the inventor Dr Coppélius. Piqued to find her boyfriend Franz falling for this vision of loveliness, Swanilda determines to have words with the hussy and, egged on by friends, breaks into Coppélius's house unaware that Franz, with a very different motive, is doing the same. Ballet doesn't often do interval cliffhangers, but as Swanilda and her girl-gang tiptoe up the stairs to the laboratory, and Franz mounts a ladder to enter via the window, Délibes' fun-filled score milks the tension for all its worth.
As with all story ballets, there are chances for the ensemble to shine, including a string of gutsy folk dances (pictured above) – a mazurka, a heel-clicking Hungarian czardas, a harvest dance with scythes – none of which feels like padding nor a minute too long. And I defy anyone not to whisper to their neighbour at some point in the evening: "So this is where that tune comes from!" The hits go on and on.
But it's the characterisation of the heroine – be that as clever minx or cutie pie – that determines how strongly we root for her, and ultimately sets the tone of the piece. Francesca Hayward, new to the role, finds an appealing middle way: her Swanilda is funny, cheeky and spontaneous, but certainly not fearless. Much of the comedy, beautifully timed, in Coppélius's workshop trades on her initial terror and visibly knocking knees.
Technically, there is little Hayward can't do, her small, flexible feet making darting stitchwork of Swanilda's fast jumps and fiddly steps. A sequence impersonating a Scottish doll by rights should have brought the house down, but Hayward's virtuosity left spectators dumbstruck. Alexander Campbell (pictured right) plays Franz as a bit of a dork, likeable but dim, while Gary Avis's Dr Coppélius introduces a balancing note of off-colour pathos. He's just enough of a generic mad scientist to throw children off the scent, but sufficiently unsavoury to suggest to adults a darker backstory. This is, after all, a lonely old man who has built himself what amounts to a sexbot, and is prepared to sacrifice human life in the cause of animating it. It may come as no surprise that the plot originates in a tale by ETA Hoffmann, master of darkness, and it's to the credit of this production, revived by Monica Mason and Christopher Newton after the 1954 staging by Ninette de Valois, that hints of this remain.
Ballet doesn't often do interval cliffhangers, but this one milks the comedic tension for all its worth
rating
Explore topics
Share this article