Confirmation: Nacho Duato to lead St Petersburg ballet company |

reviews, news & interviews
Confirmation: Nacho Duato to lead St Petersburg ballet company
Confirmation: Nacho Duato to lead St Petersburg ballet company
Confirmation today of the astonishing news from Russia - Nacho Duato will indeed become the new director of the Mikhailovsky Ballet, St Petersburg's second company, from the New Year. The Spanish contemporary choreographer will be the first foreigner to lead a Russian ballet company for more than a century.
The Mikhailovsky General Director, fruit tycoon Vladimir Kekhman, said at today's press conference in St Petersburg: "Engaging an internationally known choreographer in the prime of his strength and talents is incredibly significant not only for the Mikhailovsky Theatre, but for Russian ballet as a whole. Today you can count the number of master choreographers in the whole world – meaning choreographers with their own, fresh dance idiom who think in choreographic images – on the fingers of one hand. The opportunity to work under such a master is both a privilege and a responsibility: our troupe will take on the style, idiom and choreographic vision of a great artist whose work is set to form the future of international ballet. (Pictured above, Kekhman and Duato at the conference.)
"At the same time, and I really do hope this will be the case, Nacho Duato's work in Russia will serve as a catalyst for us to foster home-grown young choreographic talent in Russia. It is no secret that as things stand, we have, to all intents and purposes, no new big names."
This is an extraordinary and unprecedented departure for a Russian ballet company. The intention is said to be to run a radical two-track future for the company, with one foot in contemporary work and the other in classical, though how this can work is far from clear. Duato, 53, whose background was with the Cullberg Ballet and Nederlands Dans Theater before he became chief of Spain's Compania Nacional de Danza in 1990, will have a five-year contract, with an option to renew further.
Where this leaves the current artistic director Mikhail Messerer, who has just led a critically applauded tour to London of the company with revivals of Soviet landmark ballets, is unclear. The press statement today on the Mikhailovsky site makes no mention of him.
Kekhman, a 42-year-old industrialist billionaire who imports more than half the bananas consumed in Russia, is said to have been much impressed by the populist international shows staged recently around Russian ballet stars such as Nikolai Tsiskaridze and Diana Vishneva by Duato's close associate, the American promoter Sergei Danilian. Vishneva's Beauty in Motion - a solo show of work created for her - has been a huge success in Russia, while the all-male Kings of the Dance in particular has been a travelling world hit, with its irresistible format of scooping up the top male dancers all around the world in a rotating show of choreography by major ballet choreographers, from Frederick Ashton to... Nacho Duato. Danilian appears to be a key figure in Kekhman's change of direction, given the task of masterminding the first of an annual series of contemporary dance festivals in St Petersburg from next spring.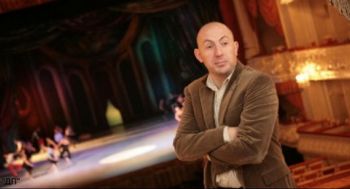 This is an astoundingly bold move by Kekhman (pictured left in the theatre) and one can see its immediate appeal. Russia has long been left behind as the world embraced modern dance. Yet in fact the Mikhailovsky's history is as the Soviet Union's original experimental dance-theatre company in the 1920s and 1930s, the Malegot Theatre of Leningrad - where Shostakovich's most radical theatre productions were staged, his ballet The Bright Stream and operas The Nose and Lady Macbeth of Mtsensk.
And as St Petersburg classical ballet is wholly dominated by the Mariinsky, rightly, arguably the Mikhailovsky's more interesting potential is as the city's version of Rambert Dance, complimenting ballet with contemporary work, and attracting and stimulating much-needed experiments in Russian choreography.
Russian ballet, for all its classical class, has long been criticised for its obliviousness to modern dance which has swept Europe and America over the past near-century without touching Russia. In the 1930s Stalin killed off experimentalism and in the long Soviet period conservatism became so ingrained in Russian training that as Messerer described on the London visit, even a mildly contemporary ballet by a former St Petersburg dancer caused the company's ballet dancers discomfort.
The Russian newspaper Kommersant reports that the august Vaganova Academy, the source of Russian classical excellence, is now to put contemporary dance studies on its curriculum.
Yet such a massive cultural switch would take more than five years to breed success either in establishing new training methods or in generating high-quality modern choreography. It is also an irony that generally, while Duato considers himself a giant of contemporary dance, the reason Spain got rid of him after 20 years at the helm of the Compañia Nacional de Danza was because more energetic interest is now springing up in the country's classical potential than Duato's now tired idiom. However, the Russian public is starved of modern dance and Duato may have found a plum spot to be in to renew his career.
Share this article