The Best Exotic Marigold Hotel |

reviews, news & interviews
The Best Exotic Marigold Hotel
The Best Exotic Marigold Hotel
The Dames have it in John Madden's tale of British travellers abroad
Tuesday, 21 February 2012
'Are we there yet?': Judi Dench and Celia Imrie hit Jaipur in John Madden's story of itinerant Brits
Travel, health permitting, knows few age barriers (if it did, there would be no Elderhostel), nor does charm, so there are two reasons up front why The Best Exotic Marigold Hotel fully deserves to win over the so-called "grey pound" market and much more besides. The story of a septet of British retirees abroad who need to leave home in order to learn any number of home truths, John Madden's film provides a welcome corrective to our youth-obsessed celluloid age without going to the opposite extreme and offering up an Anglo-Indian Cocoon, schmaltz and all.
In fact, the film's flintiness is one of its most appealing aspects, and not just because this adaptation of Deborah Moggach's 2004 novel These Foolish Things offers Maggie Smith (pictured below) in quite possibly the most unapologetically vinegary performance of her mighty career (well, at least until a redemptive grace note at the end that Dame Maggie graciously soft-pedals). The fact is, you don't hire talents of the calibre of Judi Dench, Ronald Pickup, Penelope Wilton, Tom Wilkinson, Celia Imrie, and Bill Nighy, not to mention Downton Abbey's star dowager, and ask them merely to play cute.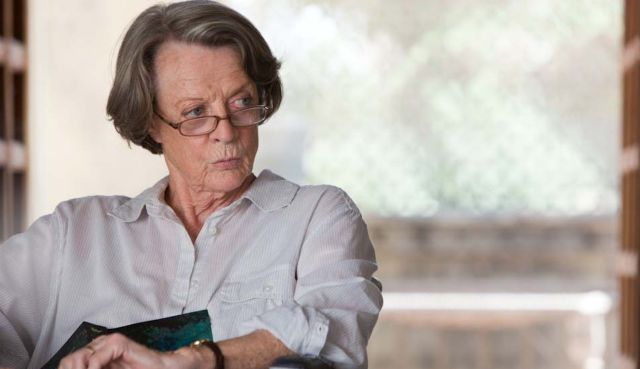 Sure, the prevailing arc of Ol Parker's script more or less requires that the oldies' travel should prove broadening, as per the time-honoured adage. But one is always aware of this ad hoc retinue's itinerant impulses furthering a collective sense that life exists not just to be endured but also explored. Where better to begin than with the Indian hostelry of the title? Even if what's actually "best" about the ramshackle if once-splendid Marigold Hotel only becomes apparent long after they have settled in.
The early scenes back in England deftly establish the personalities concerned, most concisely in a droll shot of the assemblage gathered at Heathrow, where departure lounge body language reveals all. Wilkinson, playing a gently spoken high court judge, is off to India to make peace with what he still regards as the defining love affair of his life, while Dench's newly widowed Evelyn hopes that fresh environs will enable her to cope anew with losses, financial as well as emotional, that she has suffered back home. Friction abounds in the ever-snappish tone of Wilton's Jean, playing the wife of a visibly worn-down Nighy, and in the rampaging bigotry of the wheelchair-bound Smith, en route to India for the hip replacement that waiting time and/or cost has prevented her from having in the UK.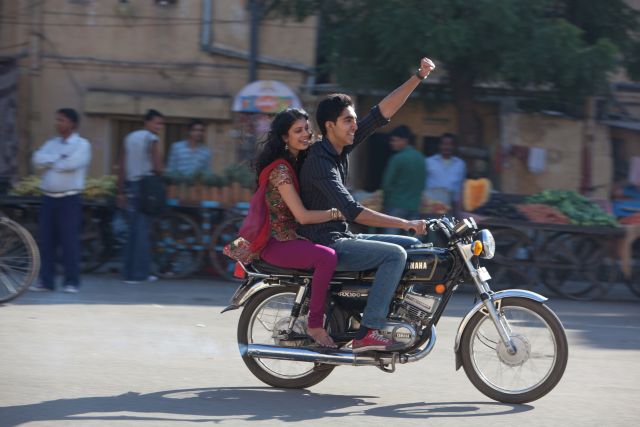 India proves transformative for almost (though not quite all) the assemblage, any initial resistance met head-on by the open-faced enthusiasms of Sonny (Dev Patel, pictured left with Tena Desae as his girlfriend), the lovesick entrepreneurial local who meets the Britons upon arrival at their new Jaipur home. While Sonny dreams of "out-sourcing old age", his visitors in varying ways allow the exoticism of their chosen destination to take regenerative hold, which in the case of Ronald Pickup's ever-libidinous Norman comes with a music-fuelled shedding of clothes.
The cast look invigorated by their buzzy, sprightly surroundings, as may those holiday-minded filmgoers who are spurred on by the movie to give the Indian tourism ministry a call. (On the other hand, if you thought traffic in London was bad, a Jaipur snarl-up costs one of the couples their marriage.) Among a thespian line-up awash in so many awards that they possibly traded acceptance speeches between takes, special mention must go to Dench, whose shimmering voiceover threads through the narrative, proving every bit as alluring as the bright colours of the climes to which she and her countrymen have all repaired.
I suppose you could describe the narrative as Shirley Valentine for seniors, with India here standing in for Greece. But anyone who's ever dreamed of a fresh start is sure to be touched in some way and if this delicately expressed paean to life's onward possibilities doesn't get you, well, then the flowering anew of Dame Judi surely will.
DAME JUDI DENCH ON THEARTSDESK
A Midsummer Night's Dream, Rose Theatre (2010). Judi Dench is a glorious Gloriana in Peter Hall's flat production
Jane Eyre (2011). Dench plays kindly housekeeper to Mr Rochester in invigorating version of the novel with Michael Fassbender and Mia Wasikowska
Skyfall (2012). Dench's M (pictured) is written out of the franchise in possibly the best ever Bond movie
J. Edgar (2012). Dench as Hoover's mother lacks commitment to her American accent in flawed Eastwood biopic
Philomena (2013). Judi Dench touches the heart once again in the Dame's latest bid for Oscar glory
Peter and Alice, Noël Coward Theatre (2013). Judi Dench and Ben Whishaw step through the looking glass in Michael Grandage's elegiac production of John Logan's new play
Spectre (2015). Dench's M cameos in a video message beyond the grave as Daniel Craig and Sam Mendes carry on without her
The Second Best Exotic Marigold Hotel (2015). The expats are back in that rare sequel that betters its predecessor
The Winter's Tale, Garrick Theatre (2015). Judi Dench brings gravitas to Kenneth Branagh's West End season opener
The Hollow Crown: The Wars of the Roses - Richard III (2016). Dench is a matchless veteran opposite Benedict Cumberbatch chills's crook-backed king
Overleaf: watch the trailer for The Best Exotic Marigold Hotel
Anyone who's ever dreamed of a fresh start is sure to be touched by this delicately expressed paean to life's onward possibilities
rating
Explore topics
Share this article